OnFireNorCal Jam!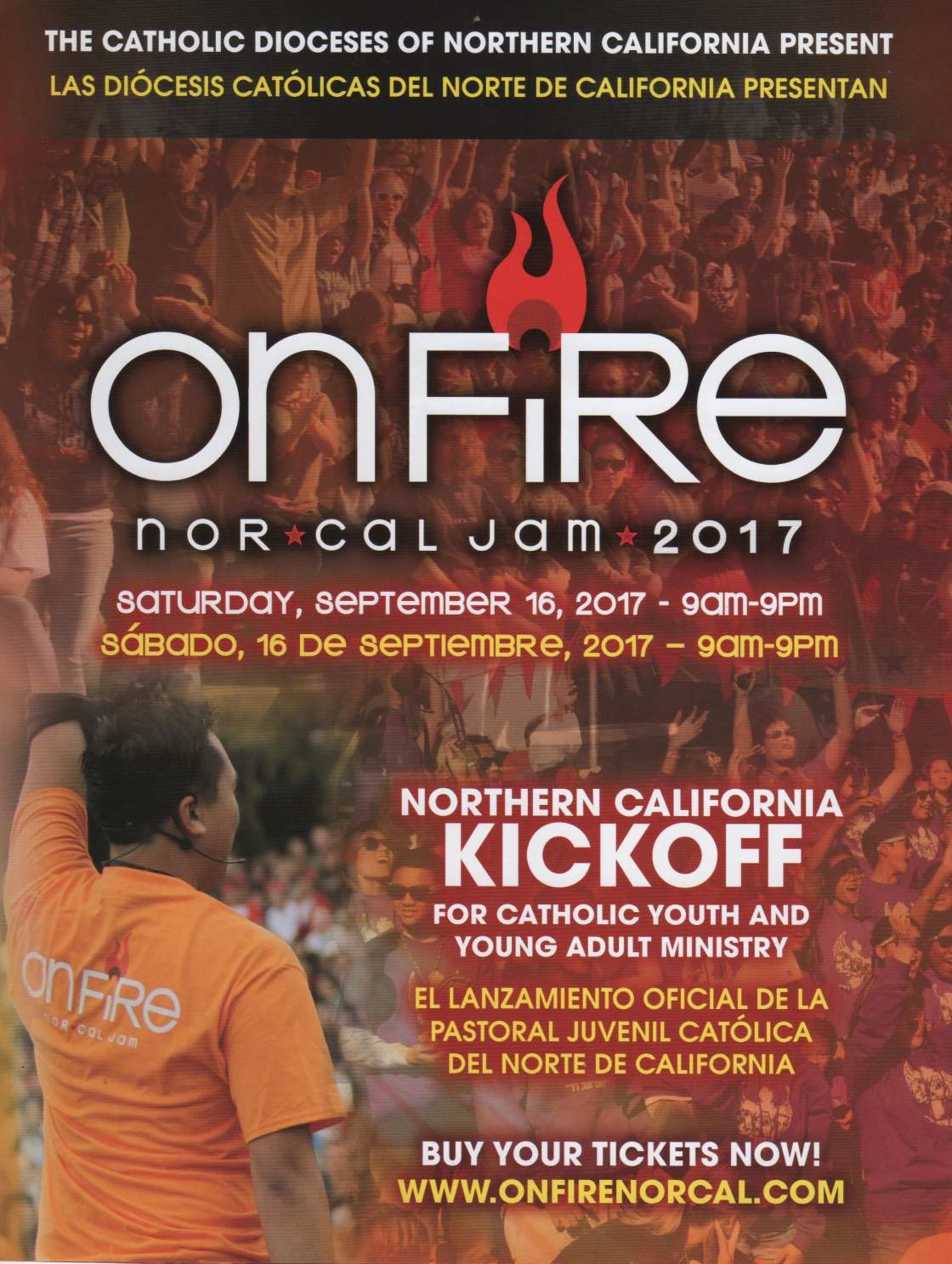 Join our Youth Ministry At Six Flags for On-Fire 2017!
We are filling spots for teens and adult chaperones that would be interested in going to On-Fire this year where we can build fellowship among our teen community, interconnect with other parishes, and develop our on going relationship with Christ. On-Fire is a diocesan event where churches from all over the Oakland Diocese come together to set our hearts and spirits on fire for God!
If you are interested and plan on going please:
Send an email to youth@stmichaellivermore.com confirming your attendance
Bring a check or cash for the  total event cost which is $65 (includes admission to the park, keynotes, and lunch) make check payable to St. Michael's Parish (please bring to faith formation office in the school and we don't accept credit cards)
Print and fill out release form attached below (there's one for youth and one for adults)
We will be meeting at 7:00-7:20 AM to leave by 7:30 AM and we will be in the park until 9:00 PM plan and dress accordingly. I am looking forward to meeting with more of teens in the St. Michael's community and growing together with all of you in Christ. This event is going to be a blast, if you like roller coasters and are want to learn more about Christ, you are not going to want to miss this event. I look forward to being your new Youth Minister! Thank you for your time and God Bless! For more information about the event visit www.onfirenorcal.com or call my office line at (925) 667-4093.
- Joseph Garcia
Youth Ministry Director
Teen Ministry at St Michael's
...Where teens are on-fire and on-purpose in living their Catholic faith.
Come to Mass!
Sunday's at 6:00 pm is the LifeTeen Mass
Join LifeTeen Choir & Band!
Rehearses Sundays during the school year at 4:30 pm, then sings/plays at the Youth Mass at 6:00 pm. (on break for the summer) 
Come to LifeTeen!
High school students, come join in the Convent after 6:00 pm Mass on Sundays
Edge Coming Soon!
Middle school students will soon be invited to come to Edge Middle School ministry in the Youth Portable before the 6:00 pm Mass on Sundays.
Contact
For more info, contact Priscilla Stutzman at 925-447-1585 x 11 or Youth@StMichaelLivermore.com