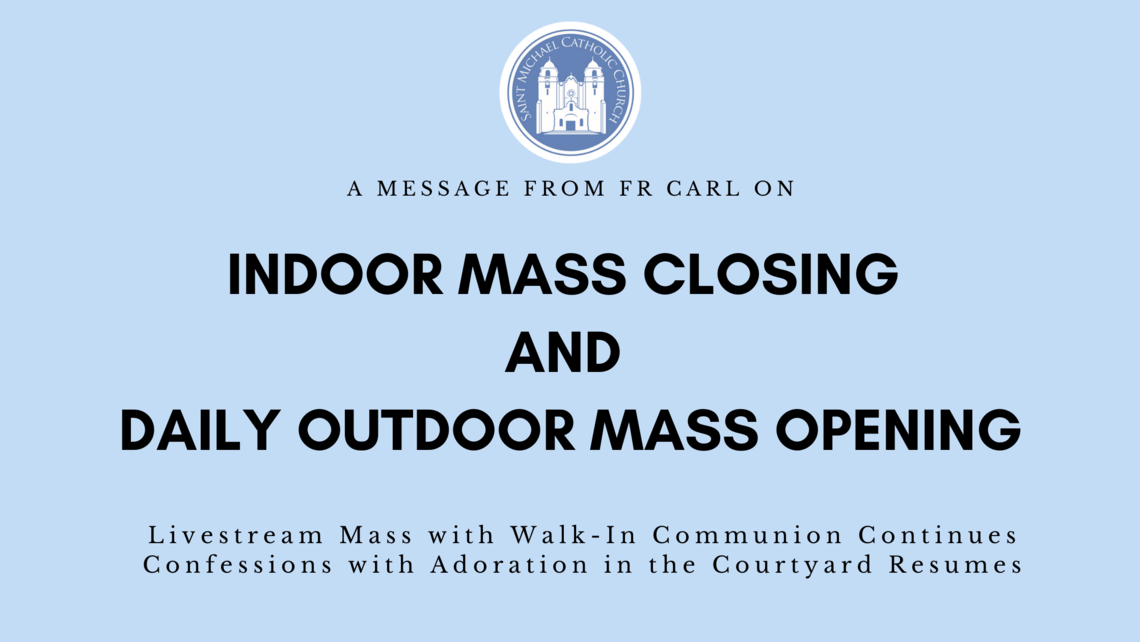 July 15, 2020
Dear St Michael Family,
Sadly, the pandemic is surging around the country and Livermore is no exception.  As you may have heard, Alameda County is now taking a step back and closing businesses and activities that had recently reopened.  Indoor worship services are included on that list.  I am frustrated, as I am sure you are too.  However, your physical safety is as important to me as your spiritual safety.
Hence, effective July 17 we will close public indoor Masses until further notice.
But fear not!  Since the beginning of the pandemic, St Michael's was at the forefront of meeting the spiritual needs of the community when Shelter in Place started in March.  We know how to do this, and so do you. 
We will continue to livestream Mass on Facebook and YouTube with opportunities for "Walk In" Communion.  We will go back to Confession in the Courtyard.  We will also begin with Outdoor Mass in our Courtyard every day at 6:45 am in English and Wednesdays at 6:00 pm in Spanish, staring Monday, July 20.  Additionally, I want to encourage all of you to join the parish Zoom Rosary every day at noon in English or 8:00 pm in Spanish.
Because the weather is much hotter now than it was in March, I had to make necessary changes in the schedule, so that our clergy, parishioners and guests do not overheat. I know it is frustrating to keep track of yet another new schedule.  I encourage you to save this graphic below to reference it often.  It can also be found on the home page of our parish website StMichaelLivermore.com and on our social media platforms.
We can do this together, united as the Body of Christ.  This is a special community that we have, filled with love of the Lord, a devotion to our Blessed Mother and dedicated to prayer.  Let us pray for one another, especially those who are sick, for those who have died, and those who are grieving. Let us lift each other up in prayer, and smiles - even though they are behind masks! 
Thank you also for your continued financial support that make these accommodations for our community during this difficult time possible.  You may mail your offerings, or drop them off, use Faith Direct or text any dollar amount to 925-258-2969.
I leave you with the words of our Lord:
"I have said this to you, that in me you may have peace. In the world you have tribulation; but be of good cheer, I have overcome the world." John 16:33
May God continue to bless you and your families.
Fr Carl