February 15, 2022 - 10:11am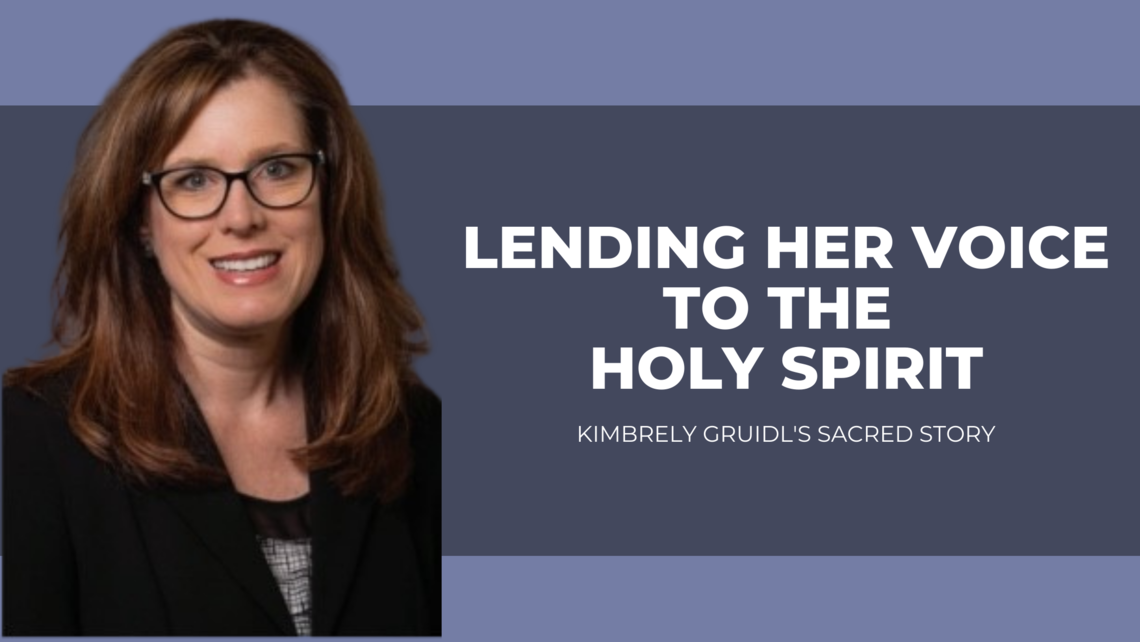 Kimbrely Gruidl's Sacred Story
Kimbrely Gruidl has been a reader at Mass for over 20 years.
She says that proclaiming the Word has ingrained the Lord's voice into her soul and heart. She says that she probably would feel nervous speaking in public in other situations but reading Scripture at Mass is different. Here's her Sacred Story:
When did you feel called to be a reader at Mass?
I probably started reading at Mass way back when I was a student at St. Michael School.  We would always have school Masses, and everyone had a turn.  That was when I had my earliest thoughts of becoming a reader.  Then later when I was in youth ministry, I would read. But that was on such a basic level. I would just walk up there, open the book and read. That led to some mishaps to say the least!
What made you take reading at Mass more seriously?
20 years ago, my grandmother passed away, and I was asked to read at her funeral. We were super close. I wasn't sure if I could manage the readings, being in an emotional moment, but I did it. And I thought that if I can read for her funeral, I can read at Sunday Mass. That was about the time that I saw in the bulletin the need for readers. I took it as a sign. I signed up for the training and have been serving ever since. 
The fear of speaking in public is among the top fears. Was that something you needed to overcome?
It's funny how it wasn't a problem! I've had people come up to me and say, "I don't know if I could ever read Scripture in front of everyone! I would be shaking in my boots the whole time."  I mean, if I was asked to address my whole company or speak in front of a different audience, I think I would have been more nervous. But at Mass, it is a different space and purpose.
What do you have to do to prepare?
I learned early on that you just can't wing it. If you try to, those will be the days that the readings have hard-to-pronounce cities and names!  When I first started, I would go over the readings a couple of days ahead of time.  Now, I can get ready the night before and feel comfortable with it. I read it a few times, to myself and then out loud. If there are difficult words, I go to USCCB.org to listen to the readings to hear how to pronounce them.
And you pray when you're practicing?
Yes, I do. Here's what's interesting: I always pray before I read. I just say, "Lord, let me proclaim your Word to Your people. Let them hear what they need to hear from You. Let me be Your instrument." I'll practice at home and be as prepared as I can, and then I'll get to the ambo and something… happens. The words come out in a totally different tone, pitch or emphasis than I had practiced. I'm getting chills right now just saying it! It feels like an answer to that prayer, and the Holy Spirit just uses my voice. Scripture takes on a totally different meaning when you pronounce things a different way. It doesn't happen like that every time, but it's humbling and wonderful when it does.
What are some of the trickier words?
Elijah and Elisha in 2 Kings are probably the ones that come to mind! They sound so similar, but if you switch them the whole meaning changes. It's a tongue twister.
What do you do if you mess up?
Mess-ups happen. You just keep going. I've read the wrong reading before and not noticed at all until the priest gave his homily. He said, "Well, I prepared my homily to reflect on a different reading…" Yeah, that's embarrassing. One time I was well into proclaiming and the priest walked over to the ambo and turned the page to the correct reading. Another time, I rehearsed the reading for the wrong year! Yeah, these are rookie mistakes, but we all make them. And people are usually pretty forgiving.
How has being a reader helped you on your faith journey?
Studying and reading and then later proclaiming the Word has ingrained the Lord's voice into my soul, into my heart. After reading at Mass for 20 years, I've probably read almost every reading, right? So, a lot of the stories and messages are so very familiar to me. But even so, I get something new and different out of them every time.
There is a difference between reading and proclaiming the Word, right?
Yes, it's one of the first things readers learn. We are never to memorize the readings. And we do not just read, head down in the book robotically mumbling words.  It's important to hold our head up and proclaim to the person in the last pew. Punctuation and pauses give people time to absorb what they heard.  Remembering to breathe helps keep the pace too.
It's also important to not put your own spin on the readings either, because that can change the meaning. When I'm at the ambo, I am very aware that these words are not my words. These are not my thoughts, not my messages, ideas, rules, or laws. They are His. It can be truly overwhelming at times to think that God is allowing me to speak for Him.  And that's what proclaiming is, letting God speak.
Do you read at any particular Mass?
On Sundays, I try to be flexible and serve where I am needed most. Some people say, "I only want this Mass, and I'm only going to sit in this pew. It's my thing."  But serving at Mass is a ministry. I am a servant. I have prayed and told the Lord that I am here to do His will… but just please not at 6:45 am!" [laughing]. Also, my New Year's resolution is to go to at least one daily Mass each week. So, I might read then if I am needed.
Do you have any words for someone considering training to be a reader?
I would say reach out to somebody that you admire. We do have a lot of great readers, and I think most of us would be more than happy to share our experiences. And if you're truly being called, just go for it! God will provide everything that you need.  On the practical side, there's really nothing terrible that's going to happen. Just give it a try.
The trainers will give you time to practice too.  When I was first starting, I would go into the church when it was empty to practice reading. It was helpful to get a feel for the details, like where the book goes, how to position the mic, how to angle your head with your progressive lenses so you can see the words!
Thank you for sharing. I think your story may inspire someone to consider being a reader.
You are welcome. I hope so too!
If you were inspired by Kimbrely's story and are feeling called to be a reader at Mass, do not hesitate to contact JaNet Hancock at Liturgy@StMichaelLivermore.com