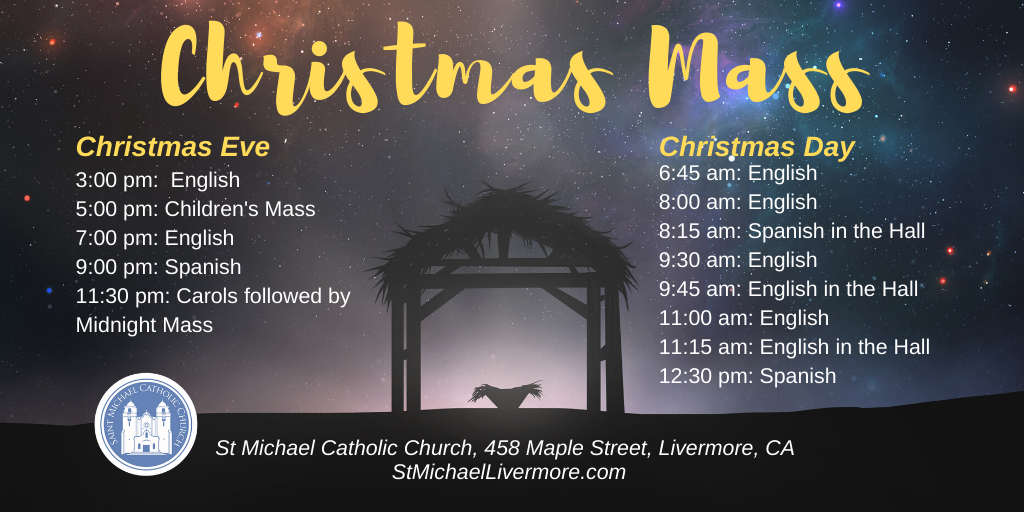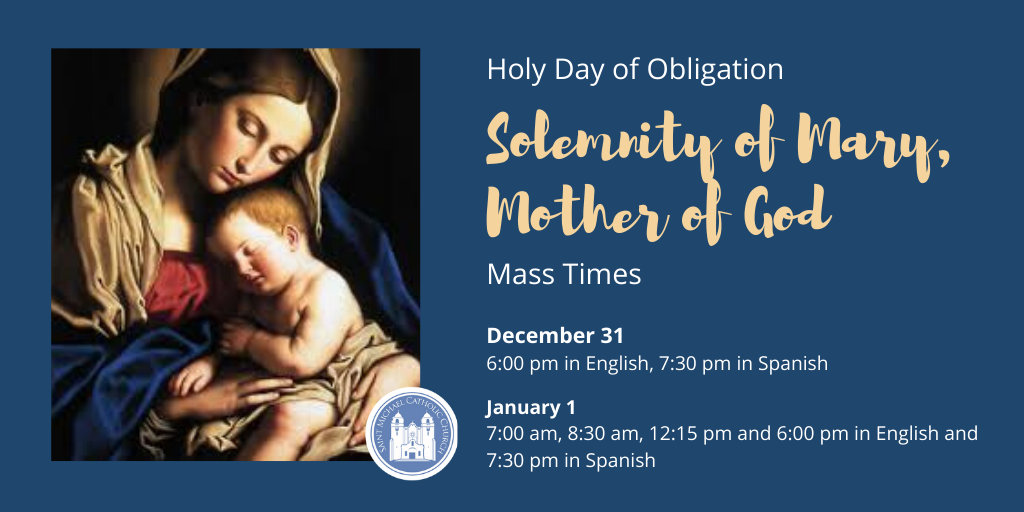 | Sun | Mon | Tue | Wed | Thu | Fri | Sat |
| --- | --- | --- | --- | --- | --- | --- |
| | | | | | | |
| | | | | | | |
| | | | | | | |
| | | | | | | |
| | | | | | | |
| | | | | | | |
| | | | | | | |
| | | | | | | |
| | | | | | | |
| | | | | | | |
Sunday Mass
Saturday Vigil Mass: 5:00 pm (English), 7:00 pm (Spanish)
Sunday Mass: 6:45 am, 8:00 am, 9:30 am, 11:00 am, 12:30 pm (Spanish) and 6:00 pm
1st Sunday:
Sign Language at 11:00 am
2nd Sunday:
Traditional Latin Mass at 8:00 am
3rd Sunday:
Mass in Tagalog at 3:30 pm
4th Sunday:
Mass in Vietnamese at 3:30 pm
Weekday Mass (outside of Lent)
Monday through Saturday:  8:30 am
Wednesdays: 7:00 pm (Spanish)
Holy Day of Obligation
Vigil Mass 6:00 pm in English, 7:30 pm in Spanish
Holy Day: 7:00 am, 8:30 am, 10:30 am (school Mass, when in session),  12:15 pm, 6:00 pm and 7:30 pm (Spanish)
Find Mass Times at Other Parishes
For Non-Catholics
Firstly, welcome! We are delighted that you are here to worship with us. If you are unfamiliar with the Holy Mass, below are some helpful guidelines.
For Catholics
Whether you have been celebrating Mass every day for years, or if you've been away for a while, it's always good to review how we can best participate in the Holy Mass.  Please review the booklet below.
Postures & Gestures at Mass ENGLISH