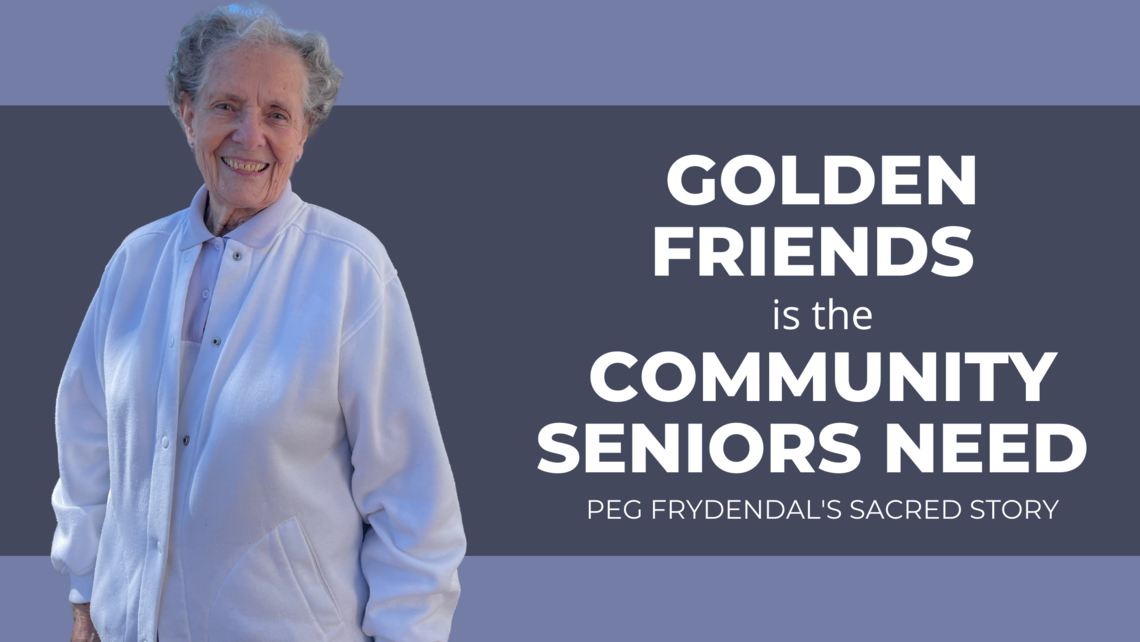 Peg Frydendal's Sacred Story
Peg Frydendal is the reason St Michael's has a group for seniors, the Golden Friends.
As a founding member, she has discovered the importance of community and friendships. Here is her Sacred Story:
You've lived in Livermore your whole life?
Oh yes, our family goes back a long way here. My grandfather was a carpenter who worked on this current church back in 1917! I was raised right over here on Fourth Street. It was a close-knit small community. A lot has changed since then. Back in the 1950's the population of Livermore was maybe 5,000; we are  close to 90,000, I think. Some of the changes are good, but it's sad that a lot of people don't even know their neighbors. This is why the Golden Friends group is so important.
How did the Golden Friends begin?
My mother, Lauretta Kelly, passed away in May of 1980. So many families and friends donated quite a bit of money to St. Michael's in her memory. Monsignor Adams and Sister Joanna started looking at the amount that they had. They said, "Well, what are we going to do with this money? Where are we going to put this?" They decided to do something for the older members of the parish. They wanted to create a group with events, something they could look forward to. They came up with the idea of a monthly Mass and luncheon. The seed money covered the food costs. Monsignor Adams asked the group of seniors what they would call this new ministry and they came up with the Golden Friends.
And you were one of the founding members?
Yes. The funny thing is that Monsignor Adams and Sister Joanna were debating on what the minimum age requirement would be to join the Golden Friends.  They didn't want it to be for those 60 and up, because I was only 49 at that time and they wanted me in the group. Sister Joanna said, "Let's make it for people age 50 and older, and you're close enough!"  Our first gathering was in September of 1980, and we've been meeting ever since. At one point, we had over 100 members!
What need does the Golden Friends meet for our community?
Well, it is a great way to meet people. We have people coming from Pleasanton and Dublin too. They heard about it and wanted to come, and we're happy to have them.  Sometimes it can be hard, especially if one spouse dies, or the adult children have moved out of the area. It's easy to feel isolated as we get older. Oh, and the pandemic made it worse!
Do other age groups join Golden Friends luncheons?
Oh, yes! At the luncheons, students from St. Michael School come over to entertain us with songs or skits. They often make centerpieces and decorate our tables. The little ones are so precious. Often one of our members has a grandchild in the class, and that's fun to show off our family to one another! Oh, and we sort of spiritually adopt the kids as our grandchildren and great-grandchildren too. Sometimes the kids sit with us, and we have nice conversations about what they are doing in school.
Also, many people come to bring their mom or dad, aunt or uncle, and of course they are welcome to stay. Several of the younger set that joins us have lost their parents or grandparents, so they need to feel a connection with people my age. And we need it too. It becomes a very multi-generational family experience that you can't often find anywhere else anymore.
You go on trips too, right?
Yes, there are often casino trips. I don't much like gambling, but many other Golden Friends really like it and make a day of it. We've gone to Apple Hill and the Hilmar Cheese Company. We've had luncheons out at restaurants too. We do know how to party!
What other activities does the group do?
We've had art classes. Those are really fun. A lot of our members are artists. We've done painting classes and they turn out some beautiful work. It's good to do something different, you know. Creative. And of course, it's a different way to connect with one another when you're involved in an activity. Even if you can't paint very well! That's a good laugh too.
Has being part of Golden Friends helped you grow in faith?
Yes, definitely. It just brought us closer together. You know, faith needs a community. Jesus taught us to stick together. It helps. Personally, having faith friends helps us appreciate what we have.  We check in on each other, take care of each other. We pray for each other. When the pandemic hit and we went into lock down, we started making phone calls.  We asked how everyone was doing, if they needed someone to shop for them, if they had someone checking in on them.  We were blessed that everyone had family and friends, but by reaching out we were another lifeline. Life is just sweeter with friends.
Tell me more about the prayer life of the Golden Friends.
Well, we have a Golden Friends newsletter that goes out by email twice a month. We have a kind of prayer chain where the names of those requesting prayers are listed. Sometimes a little story or information or follow-up is included. For those of us who don't use email, we call one another and pray over the phone.  It would be great to extend the offer to the greater parish community too. To invite anyone to send us their prayer requests.
How do you see Golden Friends growing?
I'd like to see people in their 40's and 50's bringing their parents to meet new friends. This is the age group that likely has high school or college age kids but are also caring for aging parents. It would be wonderful to see them come to Golden Friends for community and support and respite.
It would be great to see the middle school students serving lunch at the luncheon. Maybe the teens – or anyone really - could get involved with "adopting" a grandparent to call or visit or meet for coffee. I think that would be especially lovely after this pandemic. It would be a nice way to recover a sense of connection.
Oh, and it would be fun to have a game day and invite parishioners to card games or Bingo or something to meet the Golden Friends! Really, anything that can bring our parish community closer together.
How can people meet some of the Golden Friends?
We are meeting for Mass in the Church every 3rd Friday. At 10:00 am, we pray the Rosary, then Mass starts at 10:30 am. Come say hello and pray with us! We hope to resume luncheons and activities very soon.  If anyone wants to get their youth group involved or wants to help out in any way, please contact Suzanne Gutierrez at Suzibg@sbcglobal.net or Roberta Bandy at robertabandy@yahoo.com
Thank you for sharing the origin story of the Golden Friends, and the vision for the future!
You are very welcome. I want everyone reading this to know that the Golden Friends are praying for you.