September 16, 2021 - 2:05pm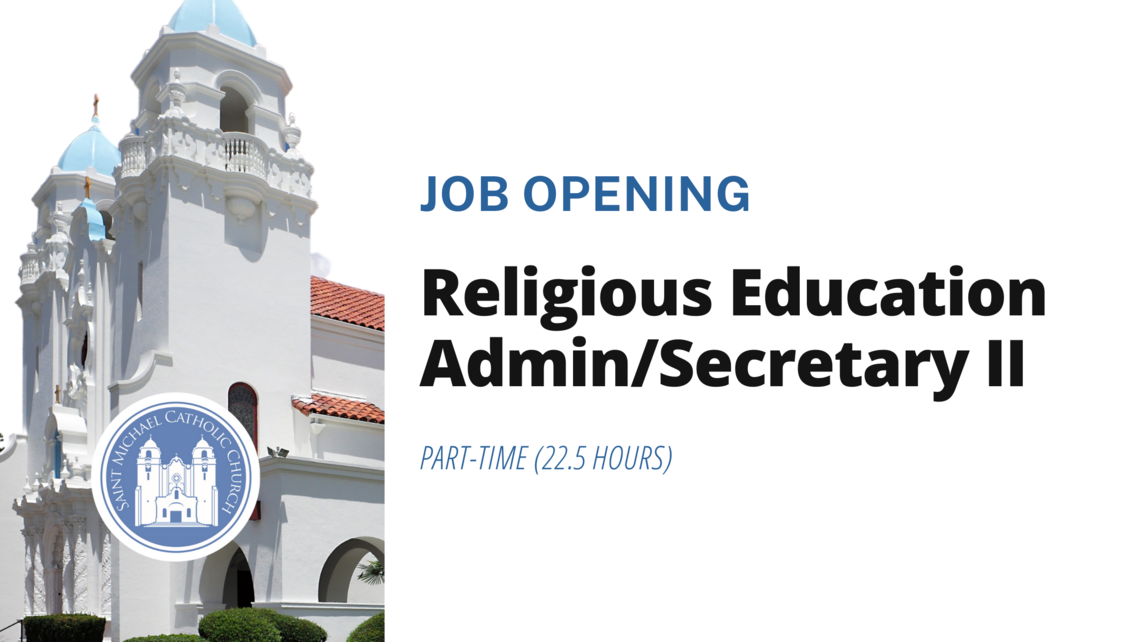 St. Michael Parish Job Description: Religious Education Admin/Secretary II
OVERVIEW:
St. Michael Parish is seeking a part-time Religious Education Admin/Secretary responsible for providing a full range of clerical and secretarial functions for the Religious Education department. Bi-lingual in Spanish is preferred. Responsible for greeting and referring visitors and keeping the office clean and organized. Will oversee the timely opening and closing of the religious education office, is responsible for maintaining all sacramental records associated with children in the programs. The Secretary II position will report directly to the Pastoral Associate/DRE.
Within this brief description, the department Secretary is expected to:
AREAS OF FOCUS:
Perform secretarial duties for Pastoral Associate/DRE

Manage safe environment program for all department volunteers to ensure Diocesan compliance

Maintain all sacramental records for children and teens receiving Baptism, First Communion, and Confirmation

Operating telephone system, taking/transferring calls and recording messages

Maintains a comprehensive filing system for central department files

Oversees an inventory of department and event supplies and orders materials, supplies or equipment as needed

When needed, Secretary will need to fill in and lead Faith Formation classes

Responsible for maintaining a comprehensive database for Religious Ed department

Responsible for photocopying and/or duplicating materials for department staff and volunteer groups as needed

Responsible for maintaining a clean, welcoming and organized office environment for the department

Assist with coordinating religious education office volunteers

Assist department coordinator in organizing and maintaining accurate financial records for the department associated with registration, program fees, and donations

Any other responsibilities and projects as assigned by the Pastoral Associate/DRE
QUALIFICATIONS
A practicing Roman Catholic with an informed understanding of Vatican II and how it applies to the mission of St. Michael Parish

5 Years'+ experience in secretarial and/or office management position

High School graduate, college graduate preferred

Bi-lingual in Spanish preferred

Excellent organizational and interpersonal skills; Efficient with computer and programs such as Microsoft word, excel, PowerPoint, publisher along with Parish Data Systems database and Flocknote

Detail-oriented, deadline-aware, persistent, helpful, team-minded and personable

Great customer service skills

Must be able to work some nights and weekends
This is a part-time (22.5 hours), non-exempt position and will not include health benefits. Salary is based upon the Diocesan Scale and depends on qualifications and experience.
Classification: S-5
All interested candidates must submit a cover letter and resume to Eric Hom, Director of Business Operations at EricHom@stmichaellivermore.com by September 15th, 2021.