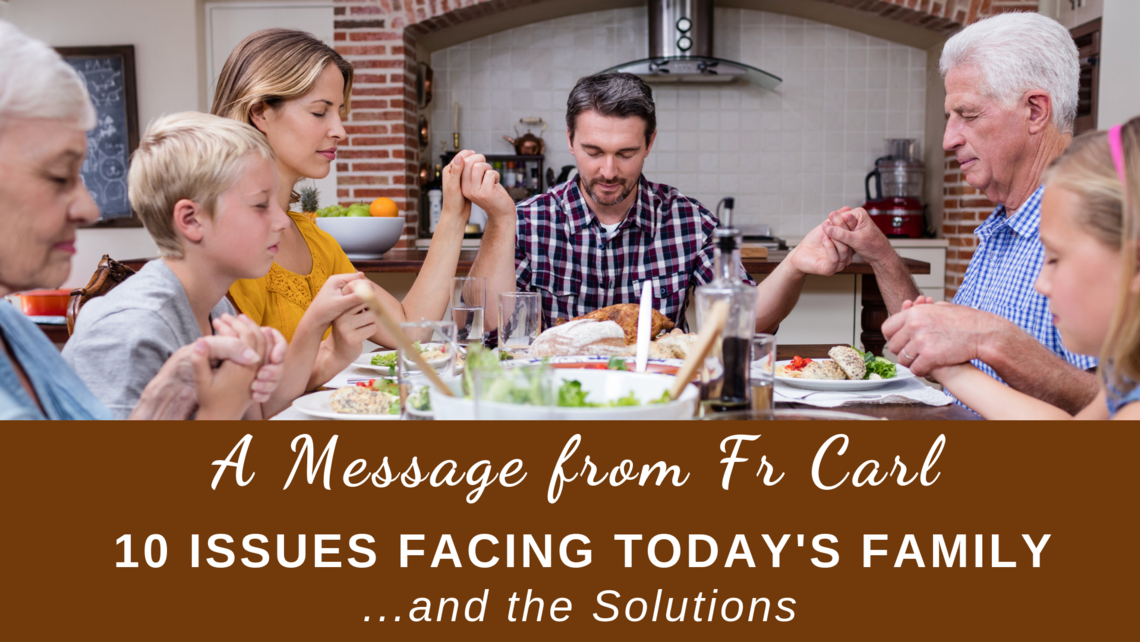 Dear St Michael Family,
In an interesting survey, LifeWay researchers solicited responses to the "Top 10 Issues Facing Today's Family." More than 2,000 people from around the country were part of this project. Here are the results:
Anti-Christian culture
Divorce
Busyness
Absent father figure
Lack of discipline
Financial pressures
Lack of communication
Negative media influences
Balance of work and family
Materialism
Here are some Christian recommendations to heal your marriage and strengthen your family from these problems:
1. Don't Make Selfish Decisions (Philippians 2:3) "Do nothing from selfish ambition or conceit, but in humility count others more significant than yourselves."
2. Pray and Study the Bible Together to Renew Your Mind (Romans 12:2) "Do not be conformed to this world, but be transformed by the renewal of your mind, that by testing you may discern what is the will of God, what is good and acceptable and perfect."
3. Surround Yourselves with Other Couples Who Will Strengthen and Encourage You (1 Corinthians 15:33) "Do not be deceived: Bad company ruins good morals."
4. Practice Being Vulnerable (Genesis 2:25) "And the man and his wife were both naked and were not ashamed." Accept your faults and be honest about them to your spouse.
5. Be Understanding of One Another (1 Peter 3:7) "Likewise, husbands, live with your wives in an understanding way, showing honor to the woman as the weaker vessel, since they are heirs with you of the grace of life, so that your prayers may not be hindered."
6. Listen to Each Other (Proverbs 18:13) "If one gives an answer before he hears, it is his folly and shame."
7. Thank God for Your Spouse
(Philippians 1:3) "I thank my God in all my remembrance of you." Always acknowledge that both of you are God's gift to one another.
Recommendations for Catholics:
1. Celebrate your marriage every Sunday with your family by going to the Holy Mass as a family and rest from servile work. Spend quality time with the Lord and arrive in the church early for a family prayer. The Holy Mass is the center of family life.
2. Regularly approach the Sacrament of Confession. My heart is always touched to see families going to confession. It is a good and holy spiritual maintenance for the nourishment of our faith. It helps the family grow in humility knowing the forgiveness and mercy give joy and hope. Marriage and the entire family life has its own wounds, trials and challenges and the incorporation of the sacrament as an integral part of the family faith practice is a testimony that in the midst of the imperfection of marriage and family, God continues to heal and mend relationships.
3. Pray at home, especially the Holy Rosary. Due to technological advances and busyness of modern life, family prayer is being less practiced at home. Families watch more TV than reading the Holy Scriptures. They have more time with their gadgets and phones than finding time for a 15-20-minute rosary or a 10-minute Chaplet of Divine Mercy.
May God richly bless you and your families.
Fr Carl