February 9, 2021 - 9:36am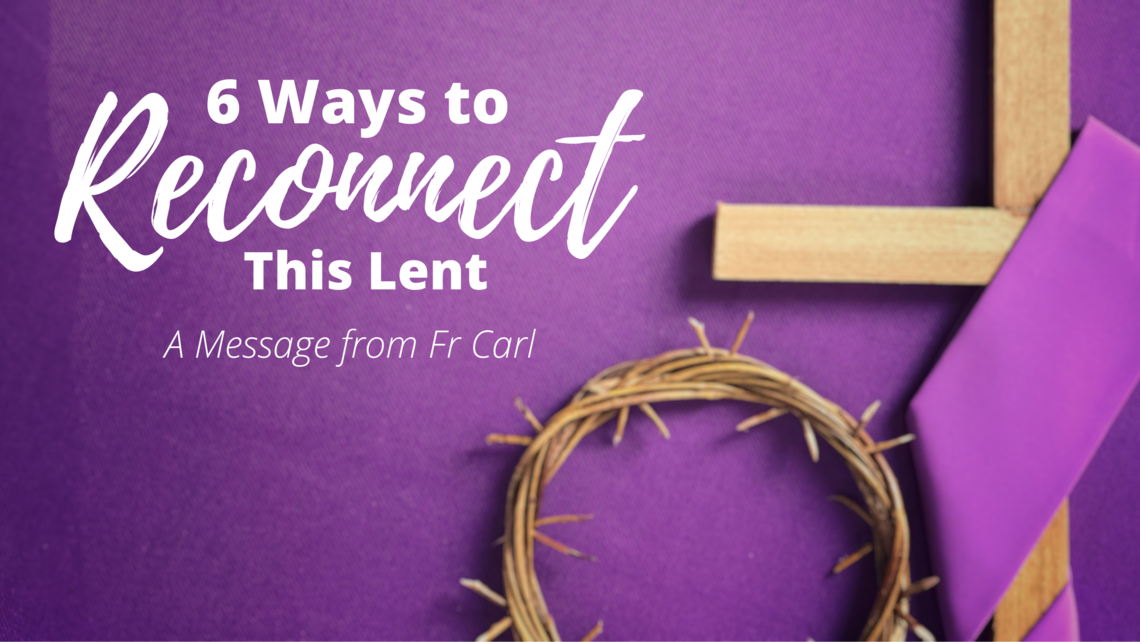 Dear St Michael Family,
This Wednesday is Ash Wednesday, the beginning of the season of Lent, when we will spend 40 days (not counting Sundays!) preparing for Easter with prayer, fasting and almsgiving. This season reminds us to retrace our steps and focus on things that lead us from GOD and fail us to love our neighbor and fulfill our mission that Christ entrusted to us.
Obviously, the pandemic has made it difficult for many of us to feel connected to each other and to our Lord.  I invite you to enter this season with me and with your fellow parishioners with a contrite heart and a desire to reconnect. Allow the Lord to realign us to Him!
Here are five ways to connect this Lent:
1.  Ash Wednesday
Even though Ash Wednesday is not a Holy Day of Obligation, it is a fitting way to begin the season. I invite you to come for the Mass which is the central highlight of the Lenten Season.  Please see our schedule of Masses.  Ash Wednesday is also a day of fasting and abstaining from meat.  Please see the fasting infographic here.
2.  Lent Retreat Online
I personally invite you to join me in an online gathering on Ash Wednesday and on the Mondays of Lent for a Lent retreat. We will be using The Ascension Lenten Companion, which includes a daily journal for your personal devotion, a video that we will watch together and discuss. Fr John will also lead a Lent retreat online in Spanish on Tuesdays, exploring the beauty of the Sacraments of Reconciliation and Eucharist. We, your priests, are here for you and we want to journey with you.  Please see the Lent retreat pages for more information.
3.  Mass, Confession and Adoration
The Holy Mass is the highest form of prayer! This Lent, I encourage you to rededicate yourself to attending Mass. Confession and Adoration are available to you Monday through Saturday. Wednesdays and Saturdays are bilingual confessions. Steep yourselves in the Sacraments. See the worship schedule here.
4.  Live Online Rosary Gatherings
We have active online rosary groups for you to join every day.  The English group meets in the morning at 7:15 am, before school or work.  The Spanish group meets in the evening at 8:00 pm. Visit StMichaelLivermore.com/Rosary for info about how to join.
5.  Stations of the Cross
We will offer a livestream bilingual Stations of the Cross on Fridays during Lent, broadcast on Facebook and YouTube at 4:00 pm.  You can tune in live or pray along with the recording each Friday.  Visit StMichaelLivermore.com/Stations to download the prayer booklet.
6.  Community Care and St. Vincent de Paul
Almsgiving and caring for those in dire need are part of our Christian Lenten Discipline. Charity is part of our spiritual DNA. It is faith in action and I encourage you to make this a habit by sacrificing non-essential spending for a greater good.
Our parish distributes free groceries to anyone in need in Livermore on Saturday mornings at our Community Care drive through and Monday—Thursday nights at St Vincent de Paul. Consider volunteering and financially supporting these efforts.
May God bless you this Lent.
Fr Carl