February 20, 2019 - 1:00pm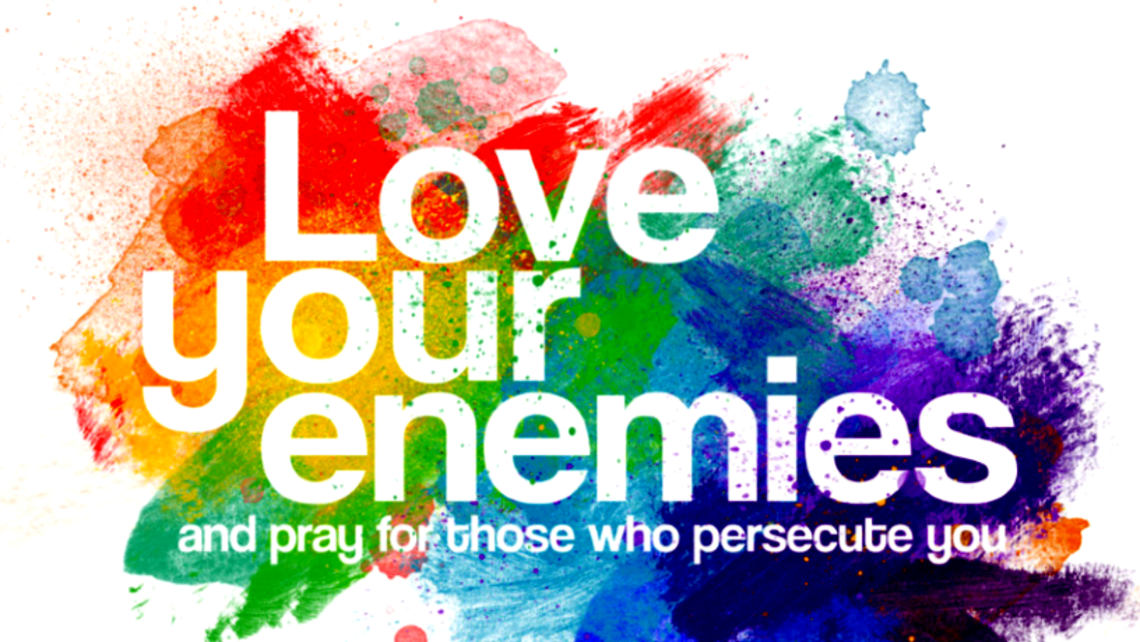 Unpacking the Mass Readings for February 24
"Love your enemy. Do good to those who persecute you."
Simply put, these are two of the most challenging statements that Jesus ever said. Yet this command is one of the basic requirements of being a disciple of Christ. Loving your enemy and doing good to those who persecute you are not just lofty ideas or a romanticized vision of Jesus—they are the basic responses of a Christian disciple.
Why would Jesus demand such a high standard of his followers? Isn't this kind of love and forgiveness extremely difficult, almost impossible? Humanly speaking, yes. But with God all things are possible, and the Lord wants to transform our hearts to enable us to love others with the love he has for us.
The first reading and Gospel reading for this week reveal the kind of love that overcomes all things, even hatred and fear. The love of God that Jesus reveals in his death and Resurrection, the fact that he loved us even when we were his enemies in sin is the same love that we as followers of Christ are to witness to the entire world. Christians are not to win converts by fear or coercion or the sword. Like our Master and Savior, we conquer overwhelmingly with our love, a love so radical that even the enemies of Christians, when they are loved by those they hate, cannot help but be moved.
Unpack the First Reading
1 Samuel 26:2, 7-9, 12-13, 22-23
David exhibits a remarkable human attribute in this reading: obedient loyalty. King Saul was determined to bring down David because he represented a threat to his sovereignty, yet David treated him with the utmost respect as "the Lord's anointed." Ironically, David was also God's anointed. Although David's men counsel him to kill Saul, David refuses to do so, believing that even though God's favor toward Saul had been withdrawn, the anointing and office of the king it bestowed was effective and enduring. David's ordeal in a very real way prepared him to wear the crown. By honoring the office of King Saul, he was made worthy of assuming and bringing honor to the office itself.
It's easy for us to become critical of those who bear the weight of office in the Church. When we think that we know better than our priest, bishop, or the Pope, we would do well to remember David's example of obedience to "the Lord's anointed."
Unpack the Second Reading
Paul recognized the principle that God's will is expressed by his anointed, however unlikely the anointed one might seem. (In this case, a man who died the death of a slave on a cross.) The point at issue is the nature of the resurrection of the body. The Greek Corinthians wouldn't have doubted that there was life after death. However, the resurrection of the body is distinctively a Christian belief and one with which the nature-minded Greeks would have trouble.
Paul explains that just as the seed is only a shadow of the plant that grows from it, the glorified body will transcend the qualities of our earthly bodies. Paul uses the analogy of the earthly man, Adam, and the heavenly man, Christ (the new Adam), to nail down the character of the Resurrection. Those who rise in Christ will be heavenly creatures. But our heavenly destiny is tied directly to our sharing of the earthly body that Christ shared with Adam.
Unpack the Gospel
This wonderful homily of Jesus calls all who follow him to a radical love of all people. If we love in this way, we'll be true children of God the Father, who loves without measure.
Christ and the Church have always explained that the Christian's life should be an imitation of Jesus. By imitating God's Son, Jesus, we become better children of God. That's why the Church continually presents the life of Christ to us, so that we may "catch" his spirit. By following the Child of God, Jesus, we become true children of God. We're to love without measure in the same way that the Father loves. He has shown that love in Christ Jesus.
Lectio Divina
This week our video presenter, Tim Gray, is going to help us to better understand why we are called by Jesus to love our enemies. As we listen to his insights, think about a time when you may have struggled to love someone who hurt you. Please watch this week's Opening the Word video (click the Opening the Word Discussion banner)
In the video, Tim Gray talked about why we are called to love our enemies and why Jesus would call us to this amazing love that surpasses any previous understanding. Why do you think Jesus calls his followers to this kind of love?
In the Gospel reading, Jesus is challenging us to love in a radical new way. Our culture has many different definitions of love and what it truly means to love. Jesus' command definitely challenges our definition of love and the demands of discipleship.
How would you define the kind of love Jesus calls his disciples to, and how is this different from the way most of us understand love?
The call to love your enemies and do good to those who persecute you is one of the most demanding and radical statements that Jesus makes in all the Gospels. He also tells his disciples to be merciful as the Father is merciful, something that is difficult for all of us.
How can taking seriously this call in your daily life to love even your enemies make a difference in people's lives—whether it be the people you forgive or friends and family who witness your merciful response toward others who hurt you?
Digging Deeper
The Power of Love and Forgiveness
Pope St. John Paul II offered a powerful example of loving one's enemy and offering forgiveness when he publicly forgave the man who tried to assassinate him. He put into practice his own words:
"Society can become 'ever more human' only when we introduce into all the mutual relationships which form its moral aspect the moment of forgiveness, which is so much of the essence of the Gospel. Forgiveness demonstrates the presence in the world of the love which is more powerful than sin. Forgiveness is also the fundamental condition for reconciliation, not only in the relationship of God with man, but also in relationships between people."
Reflections reprinted here with permission from Augustine Institute.