January 15, 2020 - 12:52pm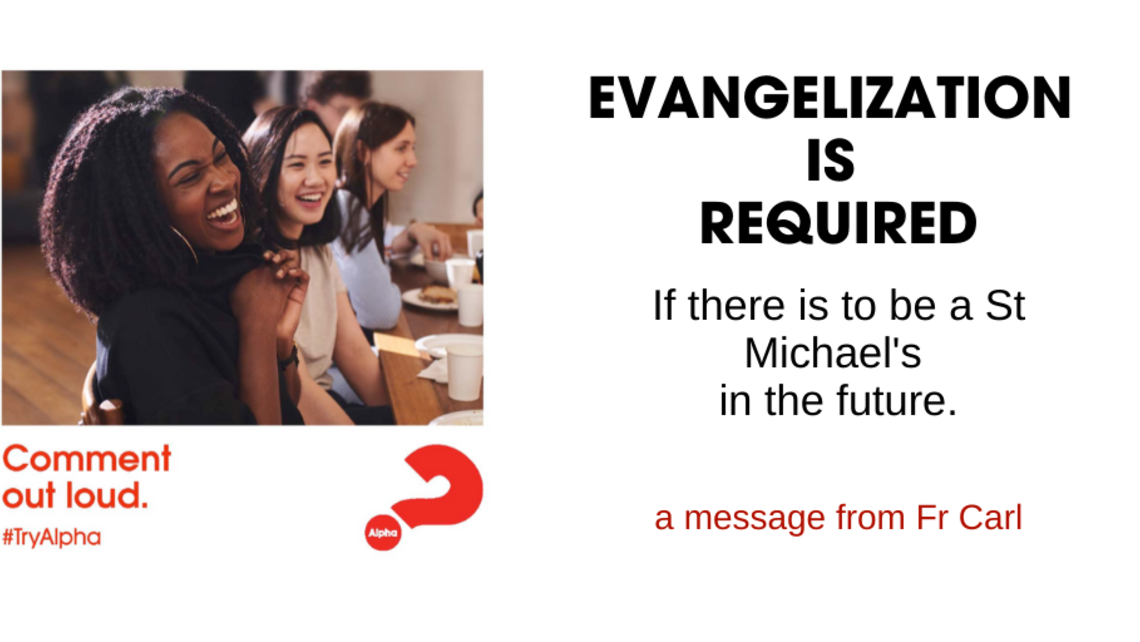 If there is to be a St Michael's in the Future
Evangelization has been in the Christian vocabulary since the very beginnings.
If you have time to study and read prayerfully the Holy Bible, one of Jesus' core messages is evangelization, a word which was derived from Greek word "euangelion" which means "the good news".  In the Christian context, the Good News is that Jesus is the Savior of the world!

Looking deeper into the life and mission of Jesus, His teachings and preach-ings are all about the Good News. When He spoke in the synagogue of Nazareth and read the Holy Scripture from the book of the prophet Isaiah, He proclaimed, "The Spirit of the Lord is upon me, because he has anointed me to bring glad tidings to the poor. He has sent me to proclaim liberty to captives and recovery of sight to the blind,
to let the oppressed go free, and to proclaim a year acceptable to the Lord." (Luke 4:18-19). He was proclaiming that He was and is the answer to our world gone bad, all that he said and did was to make His mighty presence felt in this world. Eventually, in Matthew 28, Jesus commissioned His Apostles to teach and make disciples and baptize people in the name of the Holy Trinity.
Hence, evangelization is an intrinsically connected to and inseparable from our baptismal calling.
Anyone who is baptized as a Christian has a duty and task to spread the Good News. This is our call, our mission and our very life. A Christian or a follower must and should be witnesses of Jesus' Paschal Mystery which is His Life, Death and Resurrection. A Christian must always be an embodiment of the Good News. Therefore, in order for St Michael parish to continue to exist and to be relevant for the salvation of souls, we must not waver in witnessing and proclaiming the Good News, the core message of Jesus. Bluntly speaking, a parish without evangelization efforts is a dying parish.
This is why Alpha is vital in the work of evangelization at St Michael's. Alpha is a series of get togethers centered around a meal, a video talk and a discussion. It is informal and fun, but not trivial. It's an easy entry place for people to explore their own thoughts and feelings about the Christian faith.
My invitation to each one of you is to bring a friend or a member of your family to our Alpha Dinner set for February 10 at 6:30 pm. Let us build a culture of hospitality and inviting community so that people may feel and experience the awesome presence of Jesus.

Our parish was built in 1872 and if we want to see her existing, thriving and vibrant, please do support our ministries, programs, sacramental preparations and keep on welcoming everyone with a smile, enthusiasm and great conviction empowered and inspired by the life and teachings of Christ.

"Therefore, go and make disciples of all nations, baptizing them in the name of the Father and of the Son and of the Holy Spirit, and teaching them to obey everything I have commanded you. And surely I am with you always, to the very end of the age."  (Matthew 28: 19-20)

Fr. Carl