January 24, 2017 - 3:28pm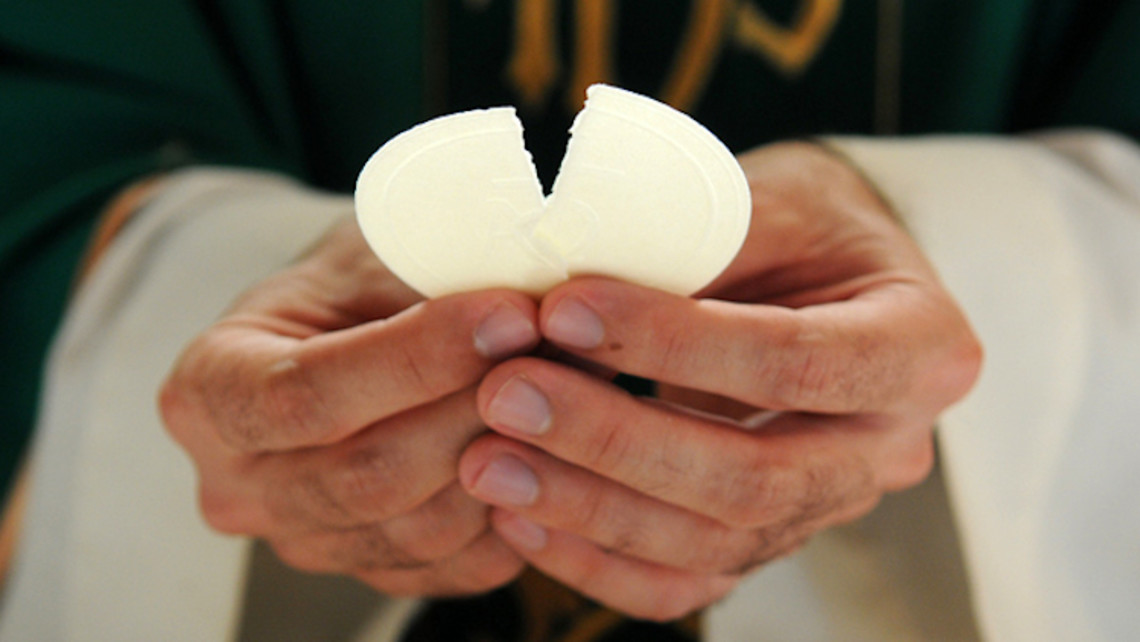 What wonderful majesty! What stupendous condescension! O sublime humility! That the Lord of the whole universe, God and the Son of God, should humble Himself like this under the form of a little bread, for our salvation.

St Francis of Assisi
How to Receive Holy Communion
The Eucharist is the source and summit of our faith: the most precious center point of our lives.  As Catholics, we understand that the Eucharist is the Body, Blood, Soul and Divinity of Jesus.  Therefore, receiving Eucharist must be done so with the highest form of reverence:
· Approach with a bow
· When the minister says "The Body of Christ" or "The Blood of Christ", respond clearly with AMEN.
· If receiving in the hand, support one hand under the other.  Lift your hands at chest level.
· If receiving on the tongue, slightly tilt your head, open wide and extend your tongue.
· Consume the Eucharist immediately.
Note: We never "take" Communion.  We "receive" Communion.  This verb choice will help keep us in the correct mind-set.
When You Should Not Receive Holy Communion
1. If you are Catholic and have not yet received First Communion.
To enroll in Sacrament prep, please call 925-447-2925 for adults and 925-447-8814 for children.
2. If you are Catholic and have a serious sin on your soul.
Some serious sins include (but are not limited to) being married outside the church, being unmarried but living together or purposely not attending Sunday Mass or holy days of obligation.  If you are unsure of what is a serious sin, see the examination of conscience guide available at the StMichaelLivermore.com/Confession or ask a priest.  God's mercy and love await you in the Sacrament of Confession!
(also see Marriage Convalidation Program)
3.  If you are Catholic, but you have not observed the Eucharistic Fast one hour before receiving.
Plan to eat your breakfast after Mass!
4. If you are not Catholic.
Because Catholics believe that the celebration of the Eucharist is a sign of the reality of the oneness of faith, life, and worship, members of those churches with whom we are not yet fully united are ordinarily not admitted to Holy Communion.
For those who cannot receive Eucharist at this time, we welcome you to join in our liturgy, to pray and sing with us.  Please remain in the pew during the Communion Procession, offering your heartfelt prayers to our God of love and mercy.  We eagerly await the time when you will join us at the Eucharistic table!