August 11, 2020 - 10:26am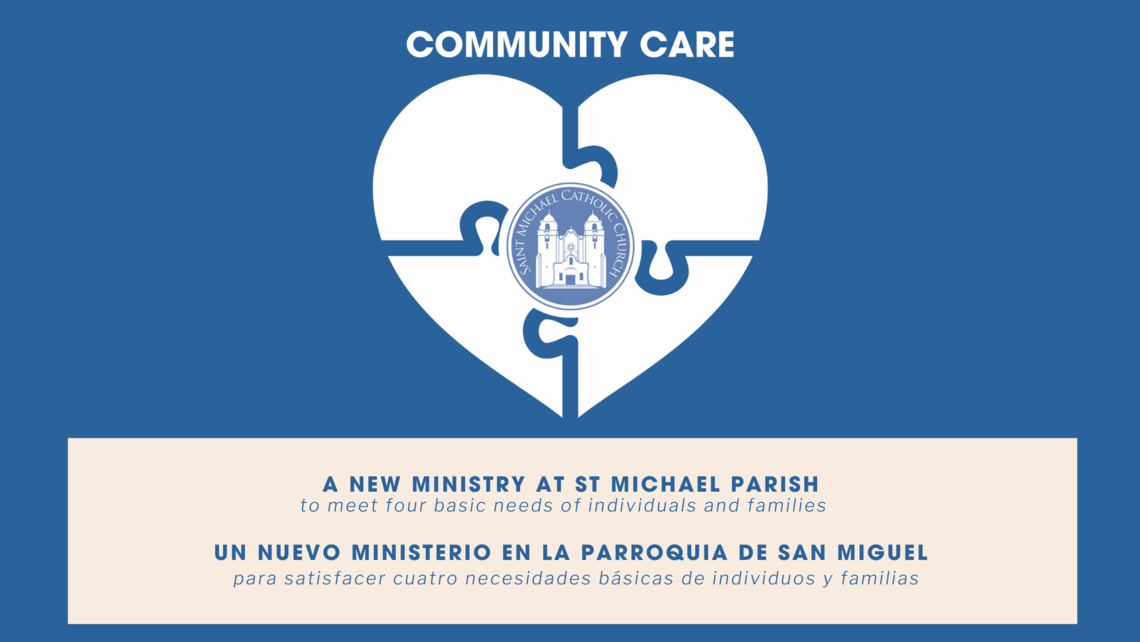 Dear St Michael Family,
I am constantly inspired and encouraged by the deep devotion to our Lord that I see at our parish. Your commitment to prayer, your love for Jesus present in the Eucharist and your dedication to the sacraments is a beautiful witness to our Catholic faith.  Your commitment to the liturgy is an example to the Diocese of Oakland.  Your obvious love of the Lord is the foundation of our parish!
But now is the time to take our faith to the next level, in service to those in need in our greater community.  While many families and small groups within our parish have taken the initiative to serve our neighbors in need, St Michael's has lacked a unified, parish-wide ministry of outreach. This terrible pandemic is a tragedy, but also an opportunity for us to organize, to stand and act out our faith in visible and accessible ways to the Livermore community.
Hence, I am pleased to introduce to you a new ministry at St Michael's:  Community Care.
Community Care will serve the basic needs of people of Livermore in four areas:  free fresh groceries, onsite prayer, emergency financial assistance and counseling workshops.
Free fresh groceries will be distributed in a drive-through format starting on Saturday, August 22, from 10:00 am – 12:00 pm, then every 1st and 3rd Saturday to follow.  Anyone in need of food is welcome to drive up to receive basic staples, especially fresh produce.  Delivery options will be available for the sick, elderly, homebound or those without transportation.
Onsite prayer teams will be available during grocery distribution to pray for and with our guests in their cars.
Emergency Financial Assistance will be available for those in crisis and in danger of homelessness.  Help with utilities, rent and transportation can make a dramatic impact on stabilization. We hope to offer this aspect in the fall.
Counseling workshops and referrals will also begin this fall, to offer online support groups for a variety of topics. Watch for a survey coming soon where you can let us know what topics are most interesting to you.
Please join with me in supporting Community Care.  We will need volunteers, financial donations and in-kind donations.  There will be opportunities for everyone to be involved, families, ministry groups, individuals.  We will need people with different skills:  introverts and extroverts, listeners and organizers, leaders and heavy lifters!  We will need people to work behind the scenes and out front with the guests.  Most especially, we need people to pray for this new ministry.  Please watch your Friday Flocknote for information on how to get involved or email Care@StMichaelLivermore.com
This is a new movement at St Michael's and the timing is right.  People are out of work, lonely, suffering, grieving.  Let us bring Christ to them in the most basic ways!
 "For just as a body without a spirit is dead, so also faith without works is dead."  James 2:26
God bless you and your families.
Fr Carl