October 30, 2019 - 1:10pm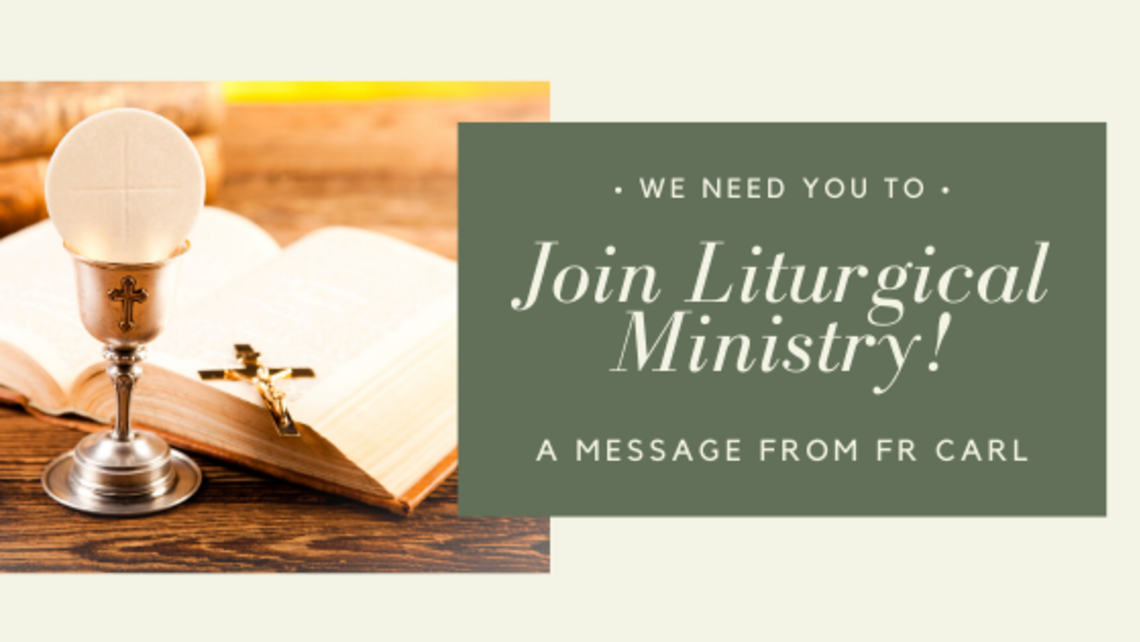 "If we really understood the Mass, we would die of joy."             – St. John Vianney 
Dear St Michael Family, 
The Mass is the source and summit of Christian life; there is no higher form of prayer or praise. Although hidden to the casual observer, it is the most joyful moment of all of creation, because heaven actually touches earth as the Son of God becomes truly present in the Eucharist.  I am inspired and encouraged by the number of people who attend Mass at St Michael! It is a sign of a healthy parish.  But with our pews so full at each Mass, I need your help. Will you consider training to become an Extraordinary Minister of Holy Communion (EMHC) or a Lector? 
Some are wondering if all our liturgical ministers have quit. No!  Rather, it has come to my attention that a small number of people have been doing multiple jobs and offering their time every single week. While I am grateful for the generosity of these faithful parishioners, it is my duty to both care for them spiritually and to invigorate a culture of invitation by welcoming new people to join.  
It is my vision that each Liturgical Minister works just one or two Sundays each month, allowing for the other days to simply rest in the Lord as a member of the Assembly. This is both a healthy approach for our parish community and for each minister personally. It is also my goal and desire, as guided by our baptismal call, that each family and each individual take on a ministry to serve the liturgical, pastoral and evangelical work of the parish.  Imagine if all or even 50% of our families are intentionally serving the Lord and His Church! 
In order to make this vision a reality, we need to pray that God chooses new members of this vibrant community to be trained to become Extraordinary Ministers of Holy Communion and Lectors. We have training dates coming up in November.  After this training, you will know exactly what to do! Is the Lord speaking to you to join Liturgical Ministry? 
Need Per Mass: 
Sat, 5:00 pm:  5 EMHC 
Sun, 6:45 am: 18 EMHC, 4 Lectors  
Sun, 8:00 am: 13 EMHC, 1 Lector 
Sun, 9:30 am: 6 EMHC  
Sun, 11 am: 13 EMHC, 2 Lectors 
Sun 6 pm: 13 EMHC, 4 Lectors 
Daily Mass at 8:30 am: 1 or 2 EMHC and Lectors for each day, Mon-Sat.
Our scheduling system allows you to choose how frequently you serve, or if you just want to fill in at the last minute!
Thank you for your prayerful consideration, and may God richly bless you and your families. 
Fr Carl