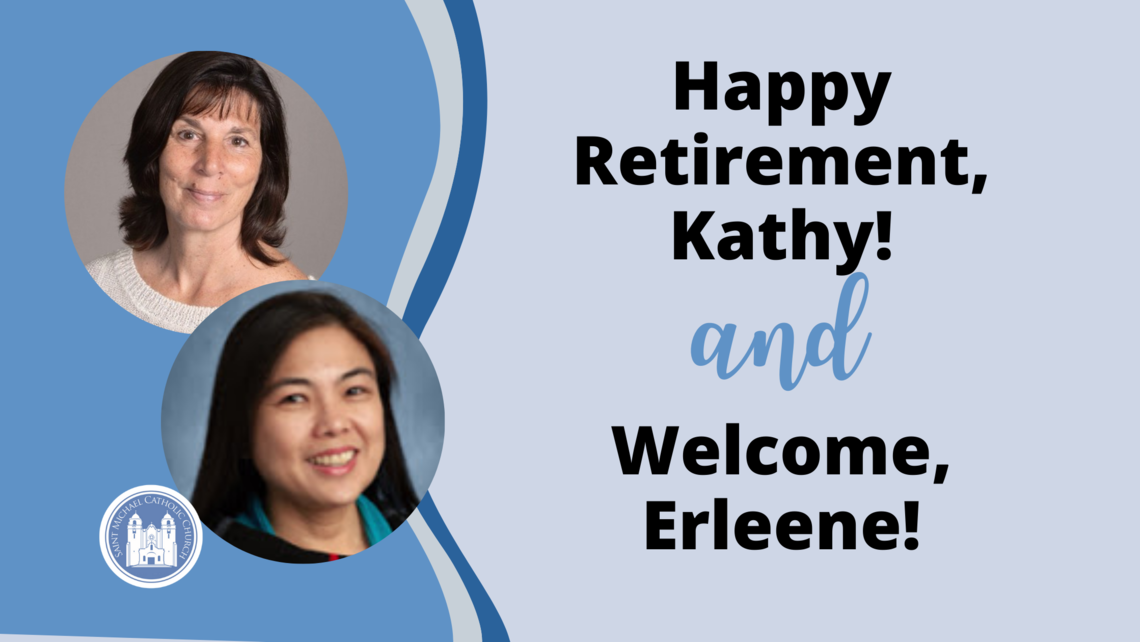 Please join me in congratulating Kathy on her retirement and welcoming Erleene to her new role as our parish bookkeeper. 
St. Michael Community,
I hope this note finds you all doing well.  As you know, there comes a time in our lives when we will hopefully get the opportunity to create our own schedules and live where every day is a weekend.  After over thirteen years in ministry with St. Michael Parish our bookkeeper Kathy Hawkins has decided to retire effective June 30th, 2021.  Our community has been extremely blessed by Kathy's unwavering commitment to serve in our parish and also in our school where her children attended.  Although we are sad to see Kathy leave, we are extremely excited to see her move into the next chapter of her life: retirement.  I'm sure you will see Kathy and her husband Steve at Mass, so when you do, please thank her for serving us at St Michael as our bookkeeper. 
As we transition, I want to welcome Erleene Echon as our new St Michael Parish bookkeeper effective July 1, 2021.  Currently the bookkeeper at St. Michael School (and will continue in that role), Erleene brings a wealth of knowledge and experience to this position with accounting and payroll experience working as a Staff Accountant for De Guzman & Associates and other banking jobs as a Credit Analyst and Financial Analyst prior to joining St Michael School in July 2020.  Erleene has also been on our parish Finance Council since October 2018 and is very familiar with much of our parish finances, budgeting, and accounting processes already in place which is great for this type of transition. 
Should you have any questions, please feel free to contact me at EricHom@stmichaellivermore.com. 
God bless,
Eric
Eric Hom
Director of Business Operations, St. Michael Parish
925-667-4052 (direct) | 925-447-1585 (main office)