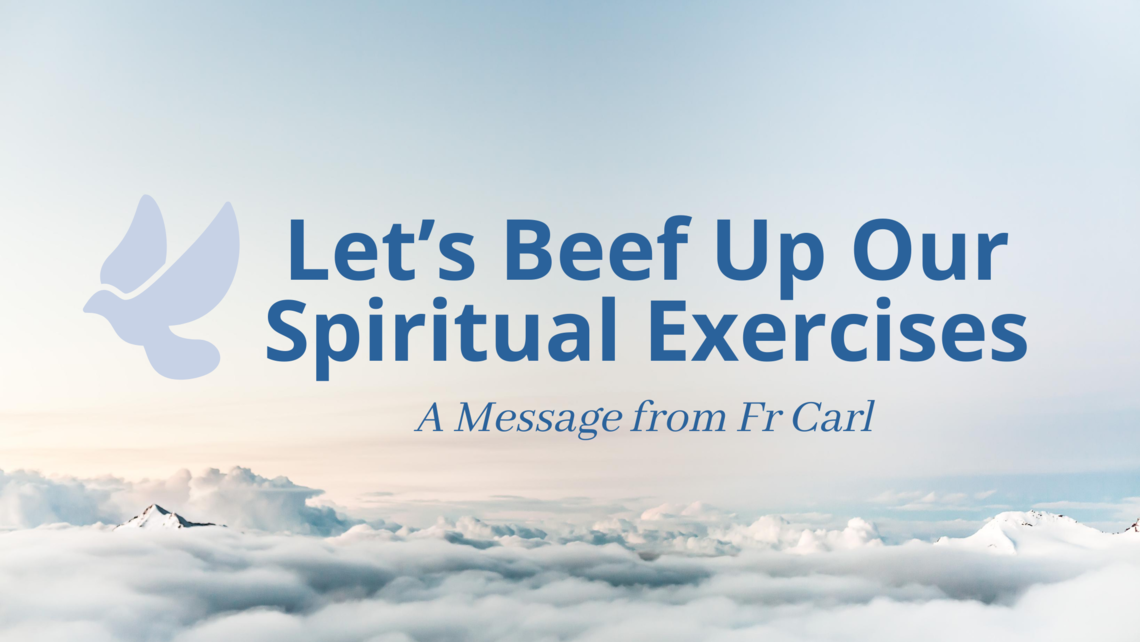 Dear Parish Family,
A pandemic and an unprecedented thunderstorm with hail.   A smoky heat wave and worrisome grass fires.  Students struggling to distance-learn and parents struggling to support them. Businesses failing and employees out of work.  Power outages!  What next in 2020?  Truly, when it rains, it pours!
On a positive note and despite these challenges, we can use this difficult time to be courageously prayerful.  I suggest to you that times of difficulty offer a unique opportunity for spiritual growth.  Hence, I have a challenge for you.  Let's beef up our spiritual exercises by taking some time to meditate on these three Scripture passages this week:
Hardship is temporary and has purpose
"For this slight momentary affliction is preparing us for an eternal weight of glory beyond all measure, because we look not at what can be seen but at what cannot be seen; for what can be seen is temporary, but what cannot be seen is eternal." (2 Corinthians 4:17-18 NRSV-CE)
God will show His strength through your weakness
"...but he said to me, "My grace is sufficient for you, for power is made perfect in weakness." So, I will boast all the more gladly of my weaknesses, so that the power of Christ may dwell in me. Therefore I am content with weaknesses, insults, hardships, persecutions, and calamities for the sake of Christ; for whenever I am weak, then I am strong." (2 Corinthians 12:9-10 NRSV-CE)
You will grow in Christ-likeness when God is in the picture
"We know that all things work together for good[a] for those who love God, who are called according to his purpose. For those whom he foreknew he also predestined to be conformed to the image of his Son, in order that he might be the firstborn within a large family. And those whom he predestined he also called; and those whom he called he also justified; and those whom he justified he also glorified." (Romans 8:28-30 NRSV-CE)
Let us together see our suffering and our discomfort to be more a blessing. Let us especially unite these hardships with Jesus' suffering on the cross for our intentions.  Pray for an increase of vocations to the priesthood and religious life, for respect of human life, for respect of our religious freedom and for the protection of the sacredness of marriage and family. We may be going through a rough time, but we know there is spiritual benefit when we join our pains with the suffering of Christ. 
United with you in the Body of Christ,
Fr Carl