January 9, 2020 - 12:52pm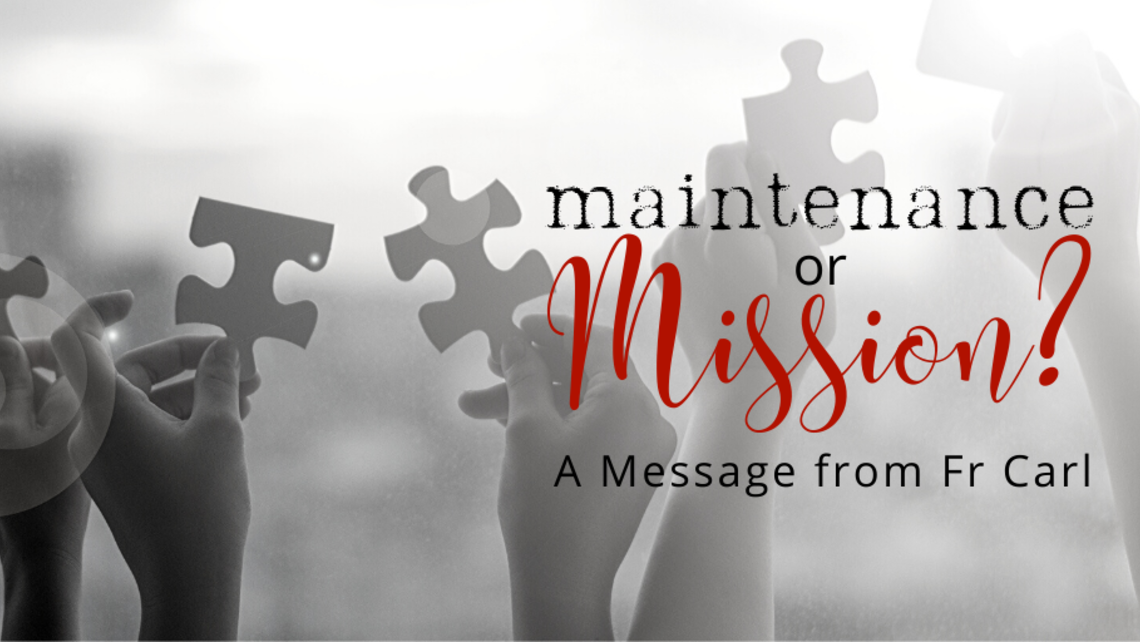 Father James Mallon, diocesan priest from Nova Scotia, has a book entitled Divine Renovation: from Maintenance to Mission. He starts with his observation and experience that parishes around the world are emptying, aging, sleeping, dying. For years – even decades – they have allowed themselves to fall into a "maintenance" model and have forgotten the mission.
What does a maintenance church look like?

1. Parishioners go to Mass and follow a patterned routine, with bare minimum effort.

2. Zero evangelization effort, and all energy focuses on those inside the church and neglecting those outside.

3. Leadership aims to just make people happy, without rocking the boat and certainly without challenging anyone.
4. Ministries and groups who haven't invited new members and are therefore dwindling.
5. Lack of happy faces, joyful exuberance and energy.
Do we want St Michael's to look like this kind of maintenance church? I believe this is not the direction that God desires for us. Matthew 28:20 always reminds us to go out through all the world to tell the Good News and make disciples. God wants us to be in Church where we can use our gifts and talents for the spread of the Good News and to humbly submit to the direction and guidance of our Bishop and Pastors. Even our Church Leaders need also to be aware of this direction and pursuit towards an evangelizing and missionary church.
But here is the hope:
Our ministries of charity, such as St Vincent de Paul, Homebound Ministry, Drive Through Prayer, Grief Support and our parish volunteers who serve meals at St Mary's Center and Open Heart Kitchen are just a few, touch lives with the mercy of Jesus. Our welcoming ministry, liturgical ministers and all parishioners who warmly smile and greet people make Jesus present.  Our Parish Prayer Team and all of our devotional groups who pray for our community connect us to the Lord. 
But I must ask you to take a step further:
Invite as many people as you can to Alpha which starts on February 10.  Alpha is a series of dinners perfect for those who don't consider themselves "religious" people.  It's a non-intimidating event that might be an easy entry into exploring Christianity.  You and your guests will be greeted by friendly people and have dinner around a table of fun people.  On the first night, you'll watch an engaging video asking the question, "Is there more to life than this?".  Then you'll have a chance to discuss it amongst your tablemates. Alpha offers a welcoming environment to take the first small steps toward encountering Jesus.  Alpha is also perfect for people who are returning to the Church, for people who have a lot of "head" Christian knowledge, but not "heart" and for Catholics who are looking for a community of friends.
Please see page 6 of the bulletin.  Cut out the Alpha invitation and give it to someone.  Everyone is welcome to attend: parishioners or non parishioners, religious or non-religious.  No matter where you are on the spiritual journey, Alpha is for everyone.
Share the link with as many as you can:  StMichaelLivermore.com/Alpha
Together we can ensure that St Michael is a parish geared for the mission. God is calling you!
Fr. Carl