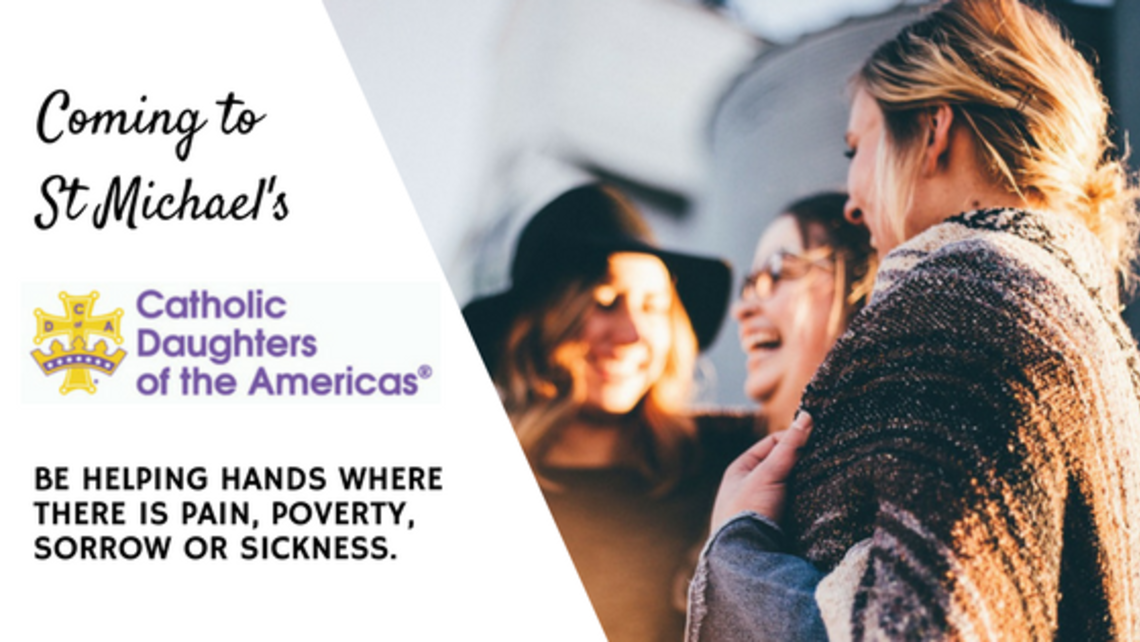 All Catholic Women are Invited to Join
The Catholic Daughters of the Americas is one of the oldest and largest organizations of Catholic women in the Americas… and a new court (like a "chapter") is forming at St Michael's!
Catholic Daughters of the Americas engages in creative and spiritual programs which provide its members with the opportunity to develop their God-given talents in meaningful ways that positively influence the welfare of the Church and all people throughout the world.  
Catholic Daughters of the Americas strives to embrace the principle of faith working through love in the promotion of justice, equality, and the advancement of human rights and human dignity for all.
Catholic Daughters of the Americas donate to charities, administer scholarship programs and strive "to be helping hands where there is pain, poverty, sorrow or sickness." 
Deeply spiritual, together Catholic Daughters share faith, love of God and a distinctly feminine spirituality alluded to by Pope John Paul II when he spoke of the necessity of "feminine genius" in today's world.
Interested in Joining?
We will meet monthly, and members can choose to be as active as they wish in our various activities.
Please stop by the table in the Courtyard on Sunday, April 22 after Mass for more information and for a membership application.
Or feel free to email Nicole Allen at mom_of_12@yahoo.com or Tess Chiampas 925-577-4994
We are excited to start this new women's service ministry at St Michael's!