September 18, 2019 - 4:57pm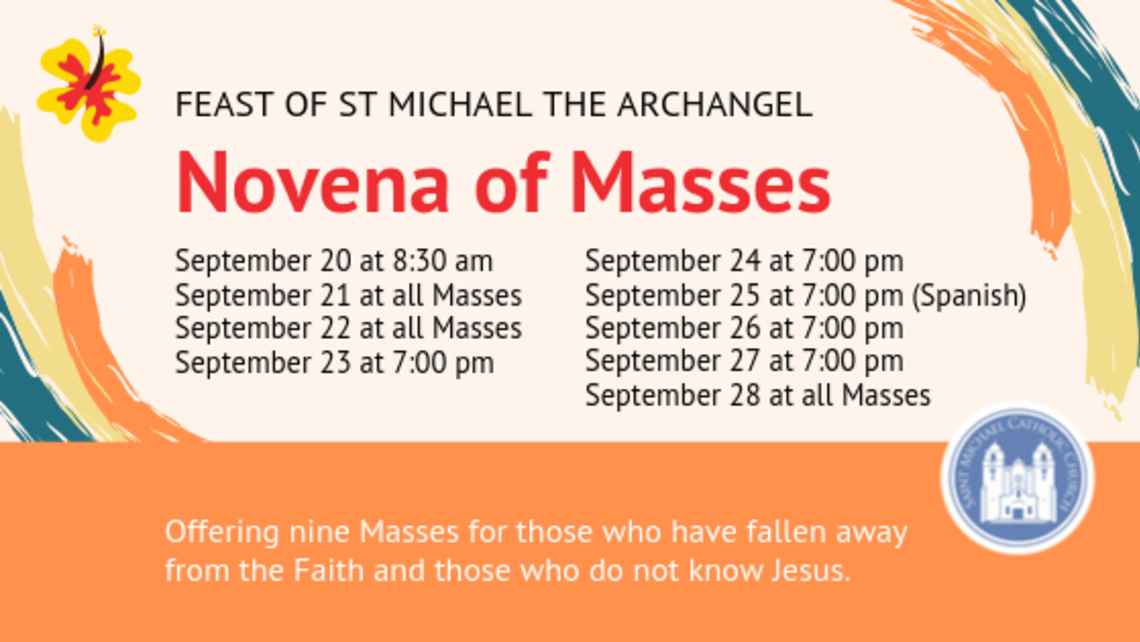 "And whatever you do, in word or deed, do everything in the name of the Lord Jesus, giving thanks to God the Father through him."   - Colossians 3:17
Dear St Michael Family,
Every activity or celebration that we enjoy should have prayer at the center.  Putting God first is what orders everything in our lives.  Our annual parish festival is no different.  Yes, our Dinner Auction and raffle will be fun and exciting.  Yes, our Ministry Fair will be a great opportunity to gather as a parish and discover what our groups do for the Lord.  But without prayer, all our efforts will be useless.  
Therefore, I am encouraging every parishioner, every family, to pray the Novena to St Michael the Archangel, a nine-day prayer commitment, from September 20 through September 28.  This year, our novena is offered for those who have fallen away from their Catholic faith and for those who do not know Jesus.
The novena booklet of prayers – in English or Spanish – will be available in church September 20-28.  Please return the booklet after Mass for the next person.  On the last day, you can take it home.  
You can also view the prayers here to pray the novena from anywhere. We will be praying this simple chaplet together at the Masses listed below.
If you cannot attend all the Masses, that is okay! Just continue praying each day at home, on your lunch break, in the Adoration chapel or your favorite prayer spot.
Don't stop there! This wonderful novena can be prayed any time throughout the year. It is my prayer that this practice will strengthen you in faith and give you comfort in the knowledge that you and your family are spiritually protected.
May our patron, St Michael the Archangel defend us in battle.
May God bless you and your families,
Fr Carl