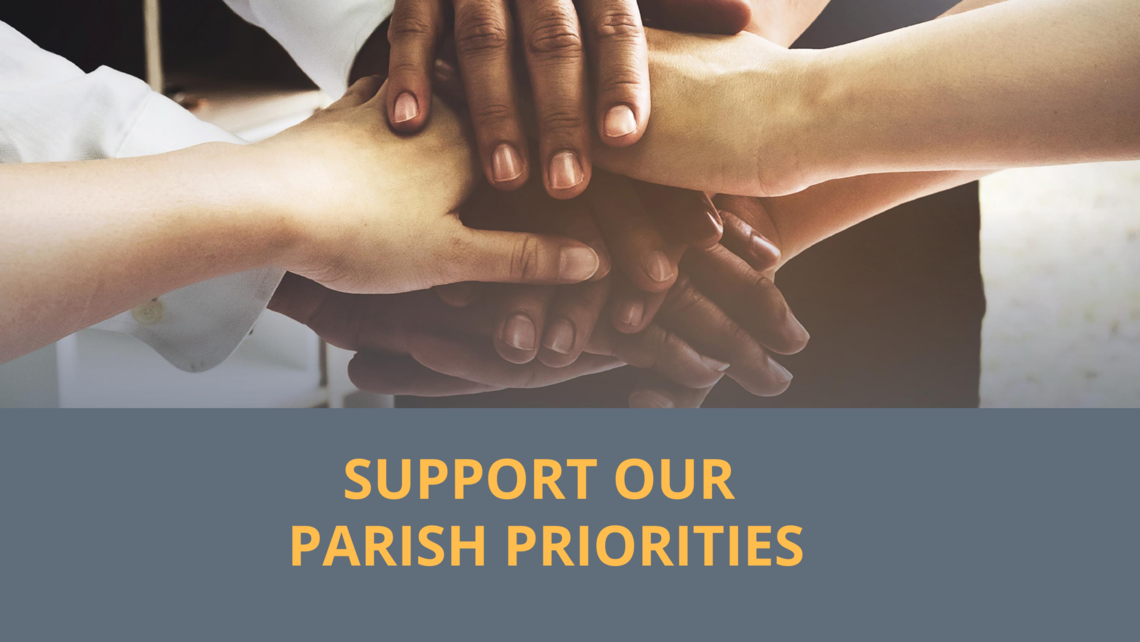 Dear Parish Family,
As this pandemic continues, our community is faced with many new challenges. Yet we remain faithful, rooted in our love of the Lord and our commitment to be His intentional disciples.  Therefore, united as a parish, let us all – individuals, families and ministries – focus upon these following areas:
Liturgy and Prayer
As we continue with livestream Mass, we need more volunteers to join the Parish AV Team.  For outdoor Mass, we need volunteers to be ushers to help direct the faithful to keep us safe and healthy.
Social Media and Online Formation
We need volunteer photographers and videographers to capture our vibrant parish to share with the community at large.  We need small group facilitators to lead Zoom faith studies to help us continue to grow spiritually.
Community Care
We need financial support to provide free groceries to members of our community: $50 sponsors 5 families.  We need more onsite prayer team members to pray with our guests who drive through for groceries.  We need small support group facilitators and care team members to help people going through times of difficulty.
School and Families
We need your prayers for our teachers and students who are moving forward with excellence in Catholic education distance learning.  Share news about our school on social media and talk to friends with school age kids and grandkids.
To volunteer, please email Care@StMichaelLivermore.com to find the right fit for you.
We are blessed to have a great team at our parish and school. Our dedicated staff has been very busy and active, working remotely and behind the scenes.  My thanks to our clergy and seminarians who are giving their best effort to serve and nourish souls during this pandemic. And thanks to all our ministry leaders, volunteers and generous donors! Thank you, dear parishioners, for your love for Jesus, our Church and for our parish.  God truly has blessed us with many gifts, and I am so humbled by God's abundance and providence.
In addition to the above priorities, I wanted to quickly address some questions we are getting from our various ministry groups here at St. Michael about scheduling space for events and meetings.  At this time and until further notice, we will not be scheduling facilities for ministry groups.  Until it is safe to be back indoors meeting and socializing together, we are putting this on hold.  Of course, as things change, we will let all of our ministry groups know. 

So, let us fix our eyes on our parish priorities by gathering all our resources and our talents to be a unified team. We are in this together, and together we are strong and effective!
May God bless you and your families,
Fr Carl