October 15, 2019 - 4:49pm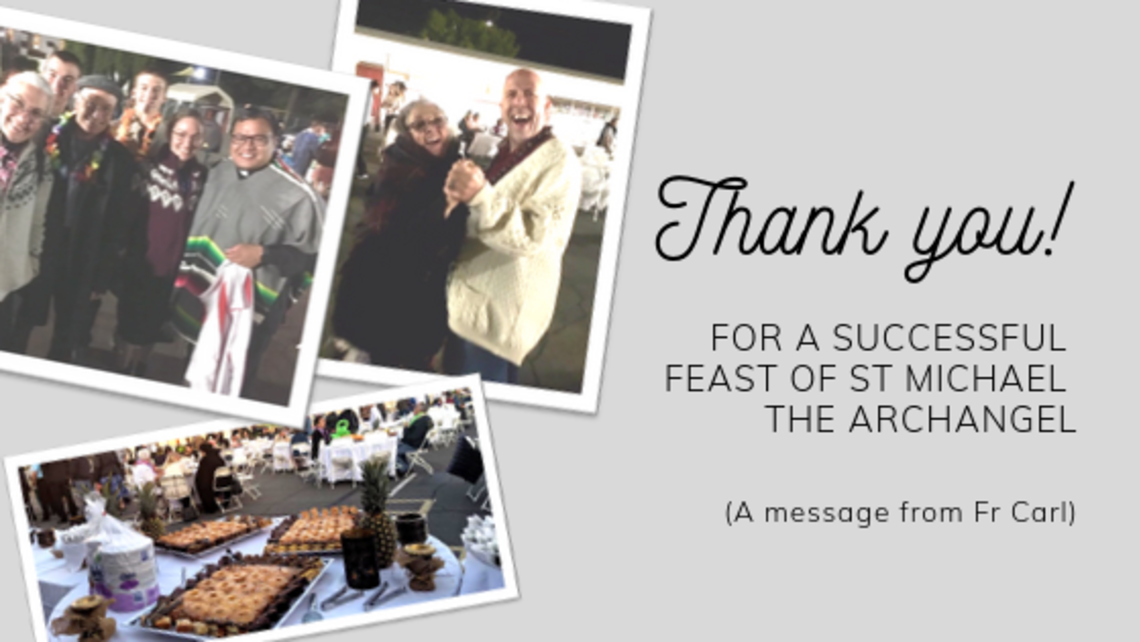 Sing to the Lord with joy and gladness!  -Psalm 96  
Dear St Michael Family,
It is my great joy to thank you for your support of our 2019 Feast of St Michael the Archangel celebrations with novena Masses, Dinner Auction and Ministry Fair. It was a wonderful success and witness to the faith of our parish community. The proceeds of our feast day celebrations will be used for the beautification of our parking lot.
I would like to also personally thank our novena Mass sponsors, our guest performers at the ministry fair and to all parishioners who participated and volunteered to make our feast truly a celebration. 
We will surely evaluate the feast day festivities for improvement for next year and to get more participation from other ministries and organizations in our Livermore community.  
I urge you all to continue to support our parish with your presence, prayers and financial support. Our unity and coming together as one community and as family of God is a reflection of what God calls us to be.  We are a community of faith, empowered to serve God and grow together as missionary disciples.  
I would like to present to you our feast day fundraising results: 
Total Income: $86,645.89
Total Expenses: $28,083.95
Net Income (2019): $58,561.94*
Net Income (2018): $45,380.48
*All net proceeds from the 2019 St. Michael Feast Day Dinner & Ministry Faire will go towards the beautification and repair of our parking lot and school play yard areas. 
I am looking forward to next year's feast day celebration. May the Lord reward you with His bountiful blessings for your generosity! 
Fr Carl