January 31, 2023 - 2:19pm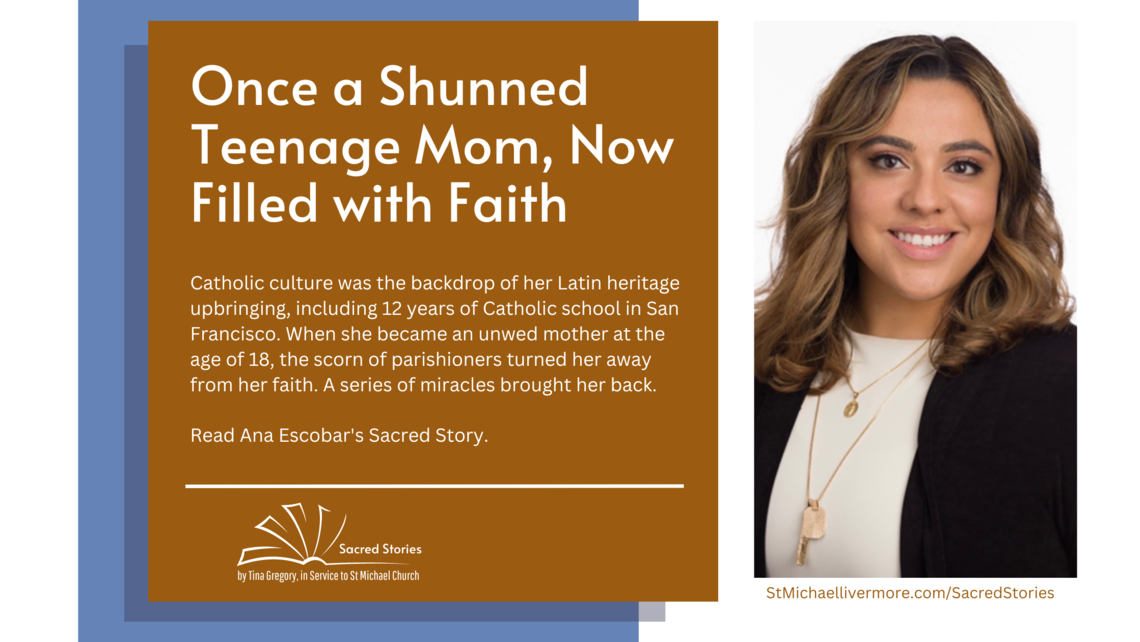 Ana Escobar's Sacred Story
Catholic culture was the backdrop of her Latin heritage upbringing, including 12 years of Catholic school in San Francisco. When she became an unwed mother at the age of 18, the scorn of parishioners turned her away from her faith. A series of miracles brought her back. Here's Ana Escobar's Sacred Story:
Tell me about your Catholic backdrop.
I am a cradle Catholic, of Latin heritage. My family comes from Nicaragua and I'm very close with my grandparents and my mom. I was baptized and received First Communion and we would go to Mass as a family. I went to 12 years of Catholic school, including an all-girls high school in San Francisco. I will say that my Catholic all-girls high school was pretty liberal, like barely Catholic. I definitely feel like my Catholic education was formed from kindergarten through eighth grade, and then in high school, it kind of got watered down. And then I got pregnant when I was 18.
How did that go over in your family?
My high school boyfriend and I, well I thought he was going to be my lifelong partner, my husband. We didn't plan on being young parents, but well, there it is. I became pregnant. I did not believe in abortion, so of course I was going to keep my daughter. My parents were actually very supportive. They stressed that if I finished school, and got my life in order, they were going to help me raise my daughter. My boyfriend's parents were very strict Catholics, and they wanted us to get married. My mom wanted that too for us but realized the timing wasn't right. I mean, we were both children ourselves. So, my mom was a real guide, and I'm grateful to this day. But at my parish, when we went to Mass, I got a lot of glaring, judgmental looks. Somebody even said to my mom, "Aren't you ashamed that your daughter is going to be an abomination in the eyes of God?" It hurt. It took me away from my faith because I knew I was doing the right thing by not having an abortion. That would be more of an abomination! My grandma would always say, no matter how kids come into your life, they are a blessing. I really believed that. But those hurtful things shut me out.
I'm so sorry that happened to you. Did you try to stay with your daughter's father?
Thank you. Yes. I graduated from college, my daughter was growing up and I was with her dad, and I was trying to make it work. But he was an alcoholic. It was a slow progression of social drinking, then being a sloppy drunk, then being verbally abusive. It got ugly. I had been telling my family that I thought he was an alcoholic, but they were like "You're exaggerating! That's not true." There was a big fear, I think because my grandma was a single mom, and it was hard for her. No one wanted my daughter to be raised without a father, so they kind of wanted us to stick together and make it work for her sake. It was when my mom finally saw with her own eyes how bad his addiction was and how awful the verbal abuse was. She intervened and advocated for us again, and we moved back in with her. My daughter's dad went his own way. We went on ours. Removed from that abuse, we flourished.
But it was still hard to be a practicing Catholic?
Correct. By 2020, I was a non-practicing Catholic, but the pandemic had a lot of us reevaluating, you know? I felt this pull like I should go to Confession. I hadn't been in a decade or more. But I had just bought my first home and all this tradition just snapped into place. Suddenly, I needed to get the house blessed, I needed to find a home parish and I even thought I wanted a Last Supper painting for the dining room! I was shocked at how important it became and how it all came back to me. But what really made me take a hard look was a question a guy I was dating at the time asked. He was broadly Christian, and when I mentioned that I was Catholic, he goes, "Why?" And I couldn't answer. I couldn't verbalize it, didn't have the vocabulary. Then I started a deep dive into myself. Why am I Catholic? Is it my Nicaraguan heritage, is it the sacraments, or my relationship with the Blessed Mother? It got me thinking. He and I ended up breaking up, but the internal investigation didn't stop. It was more heartache that came next that propelled me forward.
What happened?
Let's just say that 2022 was the worst. I was still grieving the breakup, when I got a call on May 13, which is the Feast of Our Lady of Fatima, saying that my daughter's dad was at the end stage of liver disease and his body was shutting down. We were told that it was time for us to come to the hospital to say our goodbyes. We were in shock. He was a horrific sight, connected to all these tubes and his belly was huge and filled with liquid, and he looked sunk in and yellow. I just collapsed to the floor at the sight and just said, "I forgive you for everything, all of it, all the words, all our history. I forgive you." I started praying a novena to St Anne, my namesake. Then my grandma and I started praying the Rosary.
You're not going to believe this, but he made it. He recovered from the very edge of death and now he's nine months sober! He's responding really well to the medication, and he's got a second chance at life. I believe it was our prayers, and the prayers of his family. It was a miracle and the whole experience reignited my faith. Then the unimaginable happened.
What happened next?
My Grandma, who has always been my best friend, my rock, when everybody doubted me, got COVID and declined very quickly and died. I was absolutely devastated. It happened so fast. But something miraculous happened. On her deathbed, I could tell that she saw a light and she closed her eyes. I could feel that there was some kind of opening, and I am convinced she was ascending into heaven. It was palpable. If you've ever witnessed a birth and you can just sense there is new life, it was like that, her life … moving on. In my terrible grief, I have this faith now, like a solid thing. I think it's my grandma still with me, guiding me. She sends me little reminders too! I remember I couldn't find her miraculous metal, then one day, while doing laundry, I flipped over a basket, and then there it was. One time I was praying and asking her for a sign that she is with me and then an old picture of hers fell out of a box. It's these reassurances that have been helping with the grief and also strengthening my faith in God.
That is so incredible! Do you think God is preparing you for something?
Maybe? I think so? I have this ability to connect with people very quickly. Especially girls. I think I'd like to help girls facing unplanned pregnancies. The first thing to go through their heads is that it's the worst thing that could ever happen, the end of the world. But every child is a gift, and my daughter propelled me onto a path that has been a blessing. I would not be the person I am today without her. I'm not advocating for teenage motherhood, but if it does happen, there is a path forward.
What are your next steps on the path now?
I decided that it is time to recover what I left behind and prepare to receive the Sacrament of Confirmation. All these life events are steps that kept leading me closer to God and I want to make it right. Some people get jaded with challenges and heartaches, and I had my moments. I could have stayed really angry at God. Instead, I got hungry!  I want to learn more and grow more and be active in my faith. I'm so happy that I found St Michael's! This is my parish family and I feel like I'm home now.