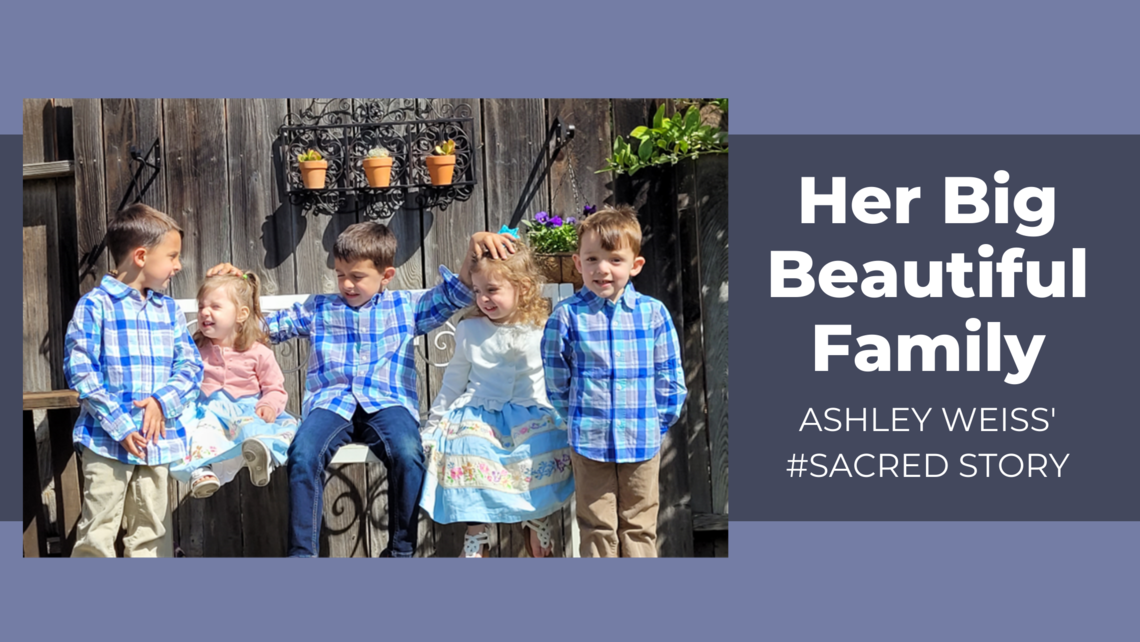 Ashley Weiss' Sacred Story
Ashley Weiss didn't picture herself getting married young and having a big family.
But after meeting Derek and becoming Catholic, her world changed in a very counter-culture way.  Now expecting her sixth child, she shares the joys and challenges of having a big, beautiful family. Here's her Sacred Story:
How many kids do you and Derek have?
Six! We have Johnny, who's seven. Michael is five. Jacob is four. Rose is three.  Lily is two, and Zachary is arriving in early December.
So, did you always think about having a big family?
No!  I didn't grow up Catholic, and I really never thought of it. Then I met Derek. I felt called into the faith and started RCIA when we were engaged, got married, and then was baptized when Johnny was a year old.  We were 21 and 22.  We talked about it, and he was thinking two kids, maybe three. I was thinking three, maybe four.  We figured we would meet the middle at three, and we had our three boys.  Then went ahead to have a girl, and we had Rose. Lily was a surprise. And Mr. Zachary was too.  Actually, Johnny kept praying for another sibling, so God listened! [laughing] We did ask him to please pray for other things now!
Getting married young and having a big family is very "counter-culture" these days.
It absolutely is.  Everything out there advocates for "living your life" first. As if somehow this isn't life?  Nothing in the mainstream world encourages large families, and all you hear is the negative: how it's a lot of work, how it is difficult and exhausting. We wanted our kids while we were young to be active with them through high school and beyond.  Yeah, sometimes it is difficult and exhausting. But it's also amazing and fulfilling! That's what isn't heard. That it's both. It's a full spectrum of everything.
What are the comments you're just tired of hearing?
"Do you know what causes that?" Yeah, we do.
"Do you guys have a TV at home to watch instead?" Yes, we do.
"You can stop now." I wasn't asking your permission.
"Wow, you have your hands full!" Thanks for pointing out the obvious.
What are some of the nice things you hear?
A customer at Starbucks where I work noticed I am obviously pregnant. She asked if it was my first one, and I just said no.  I usually leave it there, but she asked the inevitable follow-up question of how many I have. When I said this is number six, I was bracing for the typical responses. But her reaction wasn't the usual!  She excitedly said, "Oh, that is so great that you have a large family! You must be a great mom!" If she hadn't already paid, I was going to give her free coffee!
Your whole family is at Mass every Sunday. Do you get negative reactions there?
Yeah, I try to ignore it. I used to be bothered by it, but I decided a while ago that it's THEIR problem if they don't want my children to learn how to behave in church.  If they don't notice that we are trying, oh well.  Johnny will receive First Communion this year, so we've been like hammering it in that it's essential to pay attention and sit still. We instill that we are not coming for ourselves, to be entertained. Michael has always been the one since he was little who consistently wants to go to Mass, and he usually really enjoys it and lights up, especially when there is singing.  Jacob has always been our wiggly one. The girls have always been wild cards. Lily's never had volume control so that one's always interesting.  But we just kind of have to roll with whatever the day brings.
Some think that kids automatically know how to behave like adults!
I know! There's really no other place that they can learn how to be quiet and respectful unless you give them the opportunity.  Derek and I also facilitate the infant Baptism classes, and we tell parents to bring the kids to Mass when they're young, so they know what the expectation is when they're older. Otherwise, if they're coming to Mass for the first time in kindergarten or first grade, they're not going to have any clue how to be.  For the parents, it is definitely a lot of work. But the benefits are literally enormous.
What are some strategies for celebrating Mass with littles?
Well, we do try to sit with family or God-family. They all help manage the boys when one or both are having "a day."  Derek and I usually take on the girls.  We all work as a team. If they are just not able to settle down, we take them outside. The important thing is to bring them back in. Going out isn't a reward for bad behavior; it's a break to help them try again. Bringing special Mass toys like soft books or string rosaries that only come out when in the church is helpful. Sitting up front where they can see is helpful too.  Oh, and we are not above bribery! Donuts are only for kids who do well in church! But mostly, when the kids are little, I try to remember it's not about me.
How do you and Derek keep spiritually replenished?
It is hard to have a relaxing Mass experience when we are essentially working through the whole thing. But my in-laws, Deacon David, and Darcel will surprise us once and a while and let us go to Saturday vigil Mass alone while they watch the kids. It's like we are in our own prayerful bubble! It's so lovely to focus and relax and actually have a moment to pray during Mass, or we're not dealing with the kids.  And of course, our prayer life at home, in those quiet moments, takes priority.
Any thoughts for young couples thinking about starting a big family?
Really after three kids, there's no giant difference! You're already outnumbered; what's one more?!  You already have the stuff. You already know how to deal.  A big family may not be everyone's choice, and it does take a lot in the early years. But I think the rewards outshine the sacrifices.
What would you say to Catholic parents struggling to keep the family in faith?
Go to Mass! [laughing] Seriously, invest the energy it takes to get them there. And sit by us! You will see that we are definitely not perfect, but we're trying. You can try too. We'll hang out and be a big Catholic playgroup! I'd also say pray a lot as a family. Pray before meals, share Bible stories, teach them the sign of the cross. Bless them on their foreheads. Create a Catholic culture that isn't limited to one hour on Sundays. Make it a thing.
Thank you for sharing your big family with the St Michael community. We are blessed by all of you!
Oh, you are welcome!