September 13, 2021 - 3:00pm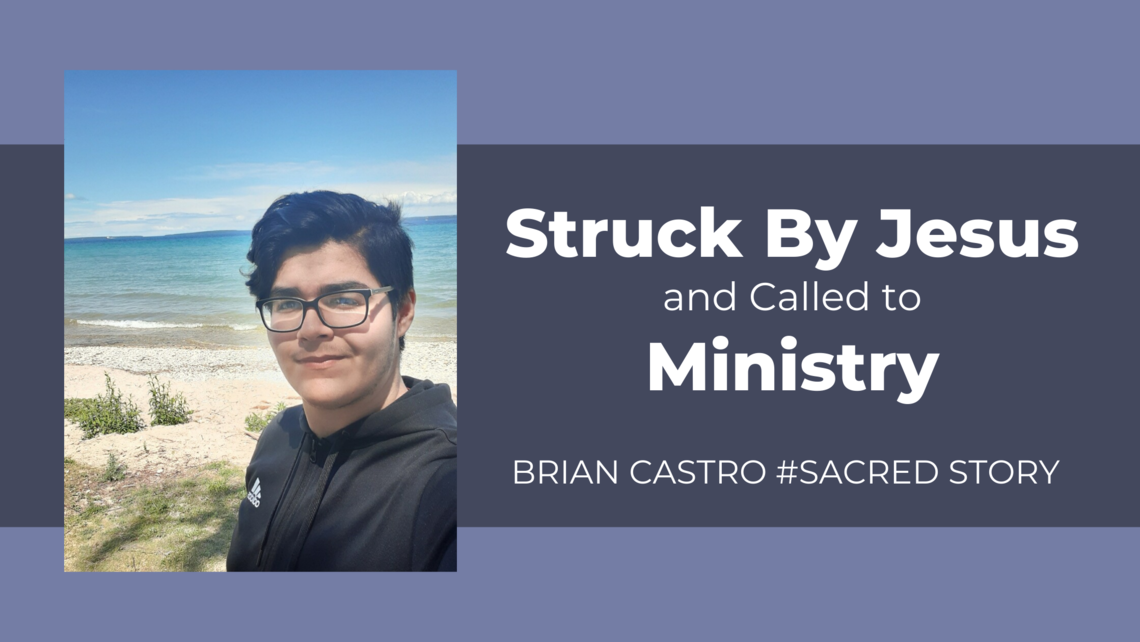 Brian Castro's Sacred Story
Brian Castro describes being "struck" by Jesus in the Eucharist at a retreat, a moment that propelled him deep into the Catholic faith.
Wise beyond his years at age 19, Brian feels constantly called to the Church, especially as a youth leader for the Teen Confirmation program at St Michael.   Here's his Sacred Story:
Hi, Brian. Thanks for sharing your story. Tell us a little about where you started.
I'm 19 years old and just started my first year at Las Positas College, after a forced "gap year" due to the pandemic.  I had a full-ride scholarship to study in Germany for a year, but then that all got canceled.  I grew up as a cradle Catholic, although I didn't always understand it as a kid.  I mean, like lots of kids, I didn't really care much about Church or faith.  But when you live in a Mexican household, you go to Spanish Mass. I didn't even really understand Spanish, making it harder to even know what was going on. Anyway, for the longest time, I didn't even really believe in God, nor did I have any faith. If anyone asked me back then, I would have said that I'm a Buddhist.
What was the attraction to Buddhism?
Oh, man. It's like I am a huge history nerd at heart. I dig deep into anything that I'm curious about. So, for a long time, I was looking at events in history, and well, this whole God thing just didn't seem to sit right for me. For about a year and a half, I looked into different religions, and Buddhism is more of a lifestyle than a religion. It was something that I could get behind: the development of the self, the focusing, the compassion.  But I still had to go to Confirmation classes because of my parents. But that all changed when I experienced something at the Confirmation retreat that led me to say, "Hey, God, I'm able to continue. I like hearing your message. I can feel You in my soul."
What did you experience?
It was the last day of the retreat, and we had praise and worship time with the Blessed Sacrament. There was music playing, and we were all there, and I was looking at the Monstrance with the Eucharist, and suddenly I felt like I was seeing two people walking inside the Host.  I also had a vision of fire rising around it. I was startled and was like, "What's going on here?" But then the mixture of the music and the community, I think I could allow myself to experience Jesus' presence.  And at that point, I was bawling my eyes out for sure! It was definitely overwhelming, but in a good way, to the point where I was just hugging everyone at the retreat. I felt struck by Jesus if that makes sense.
Wow, that's incredible! Did your faith continue to grow after the retreat?
Oh yeah. 100%.  Pre-pandemic, I used to always go to Mass at 6:45 am during the week before school.  Then I would spend some of my lunch period in the Adoration Chapel, and sometimes after school too. I just met a lot of friends working while helping with youth ministry and teen confirmation. We just wanted to delve deeper into the faith together because we kept feeling like there was something (someone?) calling us to do more.  So, I had a small friend group of active Catholics. We did a bunch of faith-related things. I had a cool small Christian community of like 15 people.
And then COVID hit.  Everything ground to a halt, and we weren't getting together.  Church events stopped; Mass wasn't available early on.  I wasn't praying as much, and I didn't really have the motivation to watch the livestream Mass. I mean, it's proof kind of that if you don't put the effort in, it's easy to drift, even after high moments.
But you're feeling more back on track now?
Yeah, I think so, at least these past couple of months as things get back to normal. It's a bit of a re-awakening for sure. It started to flow back when Church reopened. Receiving Eucharist after so long without was definitely a very emotional moment. Without that closeness to Jesus… well, I can't really put it into words. It's one of those things that I just can't explain well, especially to non-Catholics, or really even my parents or siblings!  I guess they don't get that same feeling. It's a very weird thing and different from what they believe or experience.
Many people your age do not bounce back into faith. But you did?
Yeah, I think I kept feeling called back to Jesus. I mean, not every moment is a high point like at that retreat. There's always something at the back of my neck, nagging at me. It's like there's something I got to do in the Church. I don't know what, but I just always had that feeling.  So, there are times that I force myself to return to Mass, even when I don't feel like it.  You know? Like I'm going even if I don't get the emotional feel-goods.
And St Michael is an anchor for you?
Oh yeah, for sure. I mean, even right now, if I am feeling low, I head to Church. I can stay there for an hour, walk around the campus, hang out and pray by the different statues, or sit in the Adoration Chapel.  It is a place for me to recharge my batteries, you know? I get a sense of calmness when I spend time away with the Lord without my phone or internet or anything.  I just like to be present there and enjoy some silence.
And you are still involved in teen ministry too?
Yeah, this will be my third year because I started back when I was 16.  I was Confirmed, and then instantly joined ministry. I think my favorite part is just being able to see that I impact the group.  I think it helps that I'm close to the same age.  I see them and what they are struggling with. I remember volunteering at a teen retreat, and on the last day, we did this "circle of affirmations" thing where we basically said something positive about each other.  Almost every person in my group there said something along the lines of, "If it wasn't for you, Brian, I wouldn't have gotten much out of this retreat." I mean, it shocked me, and I'm still embarrassed and humbled by it. I didn't really think about any impact that I could make. And now I see these same people actually going to Mass, and I'm like .. whoa! It's an incredible thing when you partner with God to reach someone, you know?
How do you think you reached these teens?
I think it's a lot about just letting it flow, just trying to interact with everybody at their level. Like make it more personal, and not just about faith either.  I like building a community where everyone can feel comfortable.  And just talking, you know? Asking people, "How are you feeling today?" can be huge. I think some older people forget how to just talk.  Like look people in the eyes and see them. I mean, I think deep down, everyone is craving community.
Do you think that it's harder for your generation to build community?
Yeah, I definitely think so. Everything is so fast. Everything has to be instant, and it's scroll, scroll, scroll to the next image, the following video. It's like no one can be stuck in one place anymore, but to have those deeper connections – within ourselves, with others, and with Jesus – stopping for a while is required. You have to slow down.  I know from experience that I grow the most when I'm in a quiet or remote environment.
Brian, you are really wise beyond your years!  Thank you for sharing!
Oh, thank you.  I feel pretty grateful to be part of this community!