August 31, 2021 - 10:54am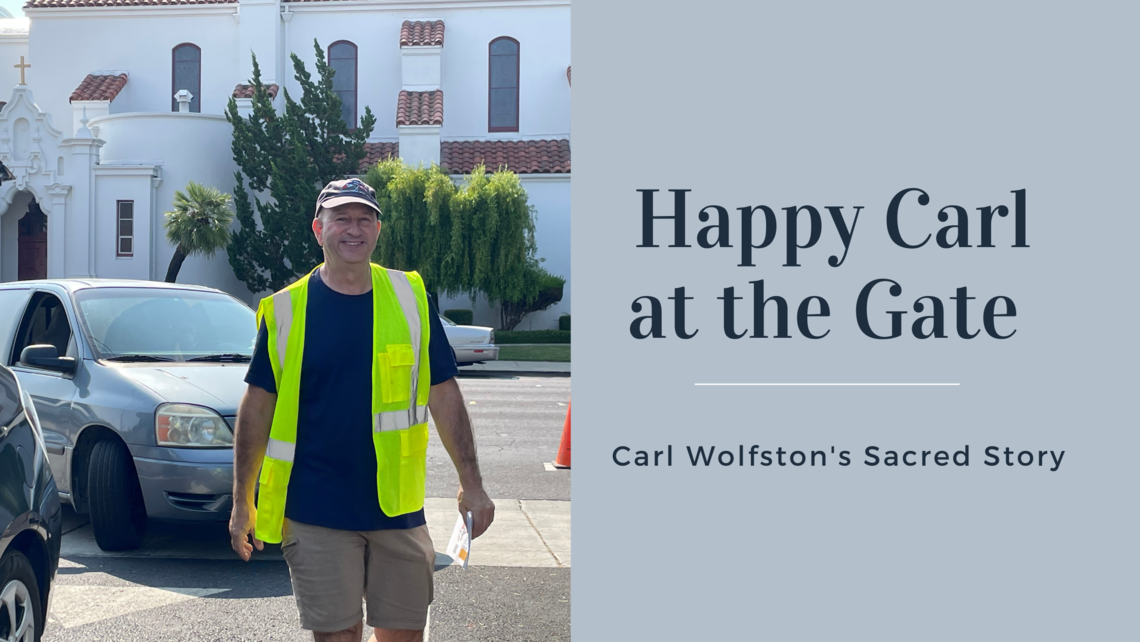 Carl Wolfston's Sacred Story
Carl Wolfston isn't a practicing Catholic, but he has been a regular volunteer at Community Care, greeting guests at the entrance gate to the free grocery drive-through. He loves giving back! 
Here's his Sacred Story:
You're not a member of St Michael parish, so how did you get involved with Community Care?
I'm a volunteer for Meals on Wheels, and I deliver every Friday.  Sally is one of the ladies I deliver to, and she had information about St. Michael Community Care.  She asked if I knew anything about it, and I didn't but promised I'd check it out for her.  I called the parish office, got some information, and I was just impressed.  I ended up donating a chunk of money because that was back when you guys were buying your own food to give out.  Then I started volunteering maybe around November of 2020 or so.  After I'm done volunteering each Saturday, I drop off groceries for Sally too.
That's really great! What motivated you to get involved?
First of all, I've been very fortunate in life, so it's time for me to start giving back.  What I see in the world is sad, especially the unemployed and the underemployed.  So many people are experiencing a temporary situation, a hiccup in life, that if they just got a little help, they could recover. I also am involved with pet therapy – therapy dogs that I bring to high schools, memory care facilities, VA centers. You know, people are not only hungry or stressed out about money, but they're LONELY.  They just want someone to talk to, and I see that when I bring in a dog to pet, deliver meals or greet guests at Community Care.  People just need a little human contact, a smile.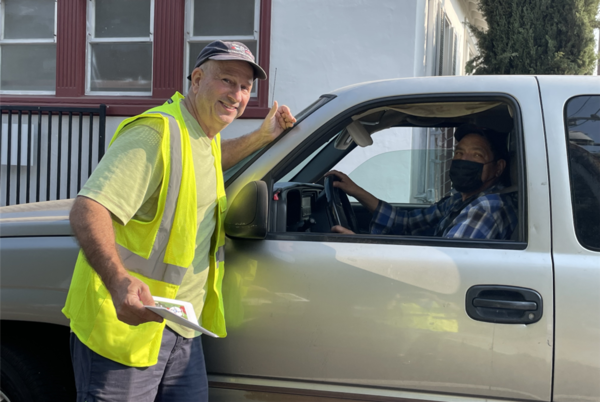 Tell us about your role at Community Care? You're "Happy Carl at the Gate"?
Ha! Yeah, I guess! And I'm going to kill you if you start calling me that! [laughing].  I'm the greeter at the entrance gate of the drive-through.  The biggest thing that I notice at Community Care is that they don't want to be there. There's a lot of pride and embarrassment.   I mean, there was a person that I knew, and he drove up one day, and I'm was thinking to myself, "What is this guy doing here? He has his life together!" But we ended up talking, and it was just one of those things.  He and his wife were both laid off, and they were struggling. But I like to be there to at least put them at ease a bit.  Greet them like a person, chat a little, put a smile on their face.  I just hope to make their situation just a little more dignified.  And I guess that's what's in it for me, knowing that I made someone feel a little better. 
And some of the regular guests have gotten to know you?
Yeah, some.  There's one guy that is almost always the first car in line.  If he isn't, I tease him, "Hey, what happened? Someone cut in front of you?" And we laugh about it.  I have fun giving back, and I think it creates a space for them to relax a little. 
It is interesting how many new people come through the line, even though we've been doing this for a year.  I just explain what's going on today, what food we have, and I say, "See ya next week!" And often, I do.  Oh, and I've become an expert at opening trunks of every make and model car!
And the welcoming doesn't stop with you…
No, and that's what is really great about this team.  After they chat with me, they can request a prayer team to meet them at their car.  Then the distribution team wishes them good morning, and the volunteer at the exit gate does too.  By the time they drive all the way through the line, they've been welcomed multiple times.  I mean, it's awful what they're going through right now, so at least we can brighten their day.
Were you always a service-minded person, or did something change?
When I turned 50, I feel like I got a second chance at life.  I recovered from a divorce, met a wonderful woman, and teased her that if she met me before I was 50, she probably wouldn't have liked me!  But my business that I started in 1993 was doing really well, and I think I just figured it was time to grow up and give back.  I mean, I've had multiple midlife crises!!  (laughing) But this was just more like looking at the fact that I don't have to work. I like to work.  So, what does retirement look like? As I move into this chapter of my life, I don't "need" a lot of stuff.  Giving back makes me happy.
Do you think that volunteering changes you?
Yeah, well, I see some of the volunteer kids in high school, and they "have" to get some volunteering done for the service hours.  But then several of them come back after they've completed their requirement. That's something.  I mean, it makes you feel good.  When you go to bed at night, can you look back at your day and say, "Yeah, I did something for someone else."
Has working with St. Michael Community Care changed your perspective on Catholics?
I grew up Catholic, and I was an altar boy and all that, but my experience with Catholicism was… well, different. I'm definitely an active Christian.  But what I see here happening at St Michael's?  I would have never seen that at Catholic churches when I was growing up.  We didn't have Bible Studies, and you guys have that going strong.  And what you've accomplished at Community Care, well, it is so outside of my experience with Catholic churches. You've really reached outside of the parish walls and welcomed both volunteers and guests from all walks of life. 
Because of volunteering, I had a chance to talk with Fr Carl, and we had some great laughs. He's a good guy.  And I got to meet Deacon Dave Rezendes, the famous Christmas light display guy! That was cool.
What you have done with the Catholic Church here in Livermore is absolutely not what I grew up with.  This is a really different experience, and it's exciting and something fun to see.
Thanks for your time, Carl! We are happy to have you on the Community Care Team!
You are welcome! See you next Saturday.  And if anyone reading this drives up, be sure to say hi!
If you need food or want to volunteer with Carl, visit StMichaelLivermore.com/Groceries