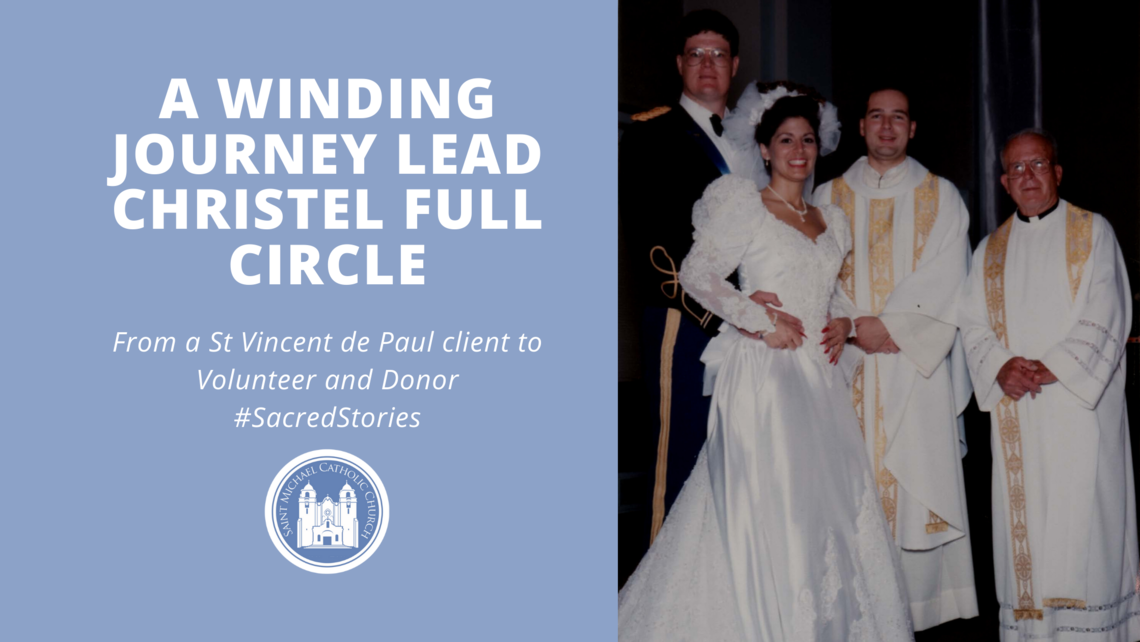 From a St Vincent de Paul client to Volunteer and Donor
Christel Cantlin has had a long, often winding life journey, but her Catholic faith has been the steady presence that fueled her forward.
From growing up in a poor family in a poor neighborhood and receiving help from St Vincent de Paul to becoming an educated, self-sufficient woman supporting St Vincent de Paul, Christel sees how God has led her every step of the way.
I met with Christel over Zoom, me at my laptop at home, and she in her car parked in Fremont.  Here's her story:
Hi Christel! Thanks for taking the time to talk a little bit about your story.  What was it like for you as a child and how did the Catholic faith fit in?
Well, I did not grow up in a financially stable family. Everyone in our neighborhood was poor and we were all Catholic. I didn't know anyone who wasn't Catholic.  I remember on Sunday mornings, all of us neighborhood kids would walk to Church together.  It wasn't that the parents didn't want to go too, it was because they were working rotating shifts at the factory on Sundays, or they just got home 4:00 am after a night shift.  But we all had this sense from a young age that you were "supposed" to go to church.  It's what we did.
And did church help you as a kid?
Yes, St Vincent de Paul helped our family quite a bit, from counseling to providing food on a regular basis. Oh and Christmas gifts! The gifts from St Vincent de Paul were often the main gifts we kids would get for more years than I can remember.
Did your faith stay with you as you got older?
It wasn't until I was older and had moved to Livermore where my kids join Faith Formation at St Michael's that I started to make some deeper connections about my faith. It was really because of Monsignor Adams and Deacon Bill Archer. They were these two amazing figures for me.
Tell me first about your connection with Monsignor Adams.
See my first marriage was not good at all. Not even a little bit good.  One day I went in and had a talk with Monsignor and told him what was going on.  He told me very clearly - I can remember it like it was yesterday – "Chris you got to get you and your kids out and get as far away as you can from him." I remember saying, "No, Monsignor, you're a Catholic priest! You're supposed to tell me to pray and that it's going to get better, and everything will be okay." But he was insistent.  He kept repeating himself.
It was with his counsel, and two years later, that I was finally able to leave the abusive relationship behind. The thing is that I don't like to be called Chris, but there was something about when he called me that was endearing. I felt such a warmth over me.
That's so great!  What about Deacon Bill?
Well at the same time I was getting trained to be a Faith Formation catechist by Deacon Bill Archer, who was a spiritual mentor to me. I taught second graders who were preparing for their First Communion and he was teaching me and helping me grow spiritually along the way. 
So between the two of them, they were like these two strong anchors in my life. I got more and more involved at St Michael's and life just got better! It's like when you have this puzzle ¾ of the way done and all of a sudden you can see the picture and the pieces just fall in to place!
In what other ways was life getting better for you?
Well, growing up my mom's mantra was, "Education is your ticket out of poverty".  When I moved to Livermore, I got a job at the Lab.  They sent me to school, and I earned my bachelor's and master's.  I was more financially secure than I ever imagined I could be.  I was involved at church and my kids were doing great, but it's at that point that I remembered what St Vincent de Paul did for me and my family.  I could teach and work, but I wanted to be able to give financially to something that meant so much to me. That was St Vincent de Paul, right way. Wasn't even a question.
The mission of St Vincent de Paul is a global mission, and it's so important.  People are in need – like me and my family were in need - and it's usually a temporary situation. People have struggles and it's hard for them to ask for help. They feel embarrassed, they feel shame, they feel "less than" … all these things. And it's beautiful when I see people accept that this is just their turn to be helped.  And when they're better, they can come back and help someone else. I've tried to do that. I have been very blessed with my education and my job and now that I'm retired, most of my contributions go to St Vincent de Paul.
And you met an amazing man…
Yes! I got remarried at St Michael's. We've been together 31 years and in May we will celebrate 25 years of marriage.  The funny story is that we got married a year after Monsignor retired, and I was told that he wouldn't be able to marry us.  But when he realized that I was going to be married, he came to concelebrate Mass… but the altar server didn't show up. So Monsignor Adams was the altar server at my wedding!  I think it was the only time he was ever an altar server as a priest, and it was for me. 
Your story is such a beautiful story of coming full circle.
My spiritual path has been very unique and yet at the same time, like everyone else's.  Everyone has their own story. While you're in it, it may seem like a winding road. But looking back, for me, it was like every challenge and every turn was for a purpose. I didn't realize it at the time, but it was God working to get me to where I am right now.  It's all been guided.
If anyone reading this is going through something big, I would say just keep moving forward every day, even if that means just getting out of bed in the morning. Just trust that God is guiding you and preparing you for something. It gets better!
Thank you for sharing your story, Christel!
Thanks for meeting with me this morning. I wish you a happy blessed day.
If you would like to be part of the St Vincent de Paul Silent Partner Program at St Michaels, providing contributions like Christel, please contact Joyce Rocha at joycemarie1947@hotmail.com
Or you can leave a message at 925-373-1303.
The St Vincent de Paul Food Locker is behind St Michael Church and is open Monday – Thursday from 7:00 pm – 8:00 pm for anyone in need of food. 
The Help Desk can be reached at 925-373-1303 for other emergency assistance.
DO YOU HAVE A #SacredStory TO SHARE?
Contact Tina Gregory, Communication and Adult Enrichment Coordinator at St Michael Catholic Church at TinaGregory@StMichaelLivermore.com or 925-667-4051