January 18, 2023 - 2:17pm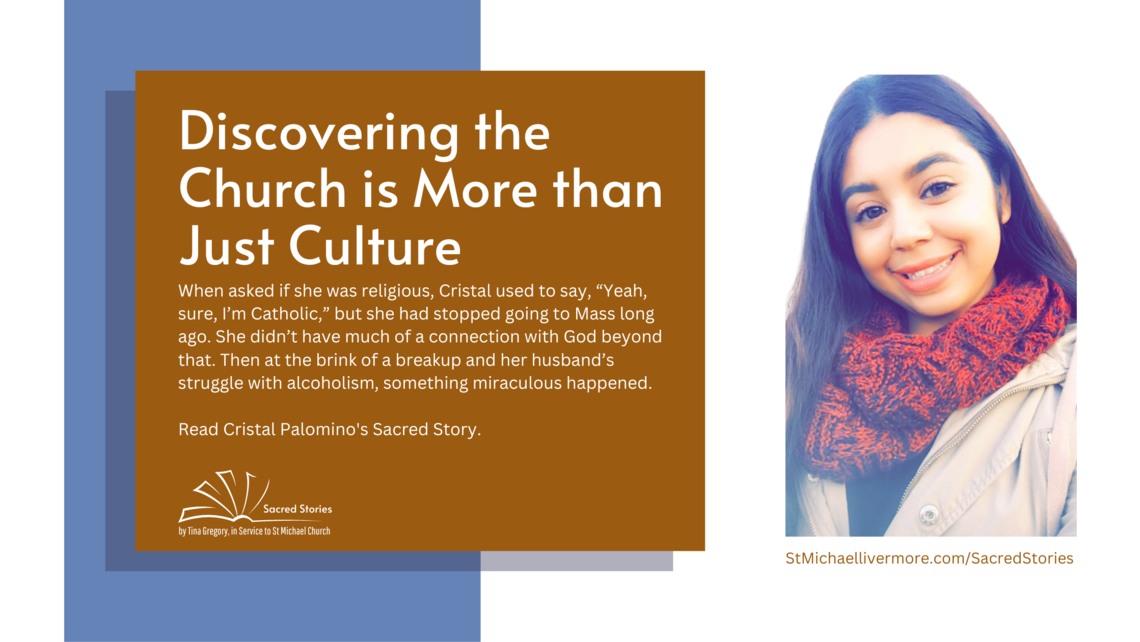 Cristal Palomino's Sacred Story
When asked if she was religious, Cristal used to say, "Yeah, sure, I'm Catholic," but she had stopped going to Mass long ago. She didn't have much of a connection with God beyond that. Then at the brink of a breakup and her husband's struggle with alcoholism, something miraculous happened. 
Here's her Sacred Story:
Did you grow up Catholic?

Yeah, well, I would say it is more like I grew up with parents that were Catholic. They separated when I was just two years old, but they would take us to church on Sundays. I was baptized and received my first communion. So, I had a child's understanding of religion but that's where it stopped.
What happened?
One of my dad's sisters passed away, and it set off the whole family. My parents' faith was low, and I don't know. I think they blamed God or something, but they stopped going to Mass. And then I was in high school and was flat-out a rebellious teenager. That became the family normal. We just didn't pray, and we didn't go to church.
What changed?
I met Juan! He's now my husband. We're married civilly, and we're preparing to be married in church. When we met, we were both like, yeah, sure, we're religious, we're Catholic. But we never went to Mass, so how does that work? [laughing]. I think maybe especially for Latinos there is usually a culture of religion that isn't always the same thing as a knowledge of Catholicism. Or even one of a relationship with God. It's like the three things are separated and don't often come together. And that's how we were. We didn't really think about church and didn't feel close to God.
But anyway, his whole family is from Mexico and they are really strict Catholics, and they go to Mass every Sunday and they pray every day. It was his parents who kept asking us to come to Mass. It took a while, though. I think we were both still young and still of a mindset of doing what we wanted to do. But they were persistent and would suggest that we start little by little, small steps to begin to include God in our lives.
What are things that changed when you let God in?
The big thing was that Juan had a problem with alcoholism. He started drinking when he was young. He was struggling with it for a while. But in the same way that we were living our lives without closeness to God and thinking we were okay, he didn't notice he was an addict. So much of life is just being in it and not aware of it. I really do believe Juan experienced a conversion and God was guiding him. Something just clicked and he said, "I need to stop doing this." It's crazy because it was to the point that we were going to separate. Our relationship was so unhealthy. But he took it step-by-step, and it wasn't easy. There were so many challenges, but he is sober. It was really a miracle. And then I got (unexpectedly) pregnant that same year!
Sounds like God was directing you both.
Oh yes because we were at the point of breaking up. God led us to this place for a reason. And my conversion and reconnection is because of him. His sobriety drew him back to church, and he said, "Hey, we should start doing this. We have a child now. We should start teaching her about the faith." He really stepped up to be the leader of the family.
How old is your daughter now?
She's two! And we go to Mass every Sunday, and she loves to sing and loves music. She knows all the songs too and she's so cute singing along. It feels nice to be a family united and to have people at St Michael that we may not know by name, but they smile. We're part of a community that has welcomed us. I don't think I could have expected this much back then. So I just think that God has shown us so many things, so many possibilities.
Where do you see the next possibilities?
I just see so many areas to grow and be better at. Things I'd like to try to do more often, like going to Adoration and praying in different ways. Juan's reading more and watching spiritual videos more. He's always coming to me with something new he's discovered. At first, I was all, "Yeah, whatever, leave me alone," but now it's exciting to learn. And I'm learning so much in the Confirmation class. Where once I just had the culture of Catholicism, I am also gaining an understanding. Most importantly, I'm growing a personal relationship with God.  It's the "all three" kind of connection.
Are you excited to receive Confirmation?
Yes! I feel like I'm catching up to Juan, and I want us to be a Catholic family. I want to show my daughter that we are all on the same page.  I want her to know that we can't do anything without God. I want her to know Him, not just "say" she is Catholic for cultural reasons. I want her – well, all of us – to be authentically living meaningful lives. We are also preparing to convalidate our marriage too!
You have come so far so quickly!
Yes! I just feel like God directs you to the best places for the right reasons if you just let Him in. Everyone is here for a reason. I imagine everyone asks themselves eventually, "Why am I here? What's my purpose?" Which I'm still trying to figure out, of course [laughing]. But I feel more at peace, steady. I know that God has us.
Do you have an idea of what your purpose might be at St Michael?
It's funny that you ask, because Jose, the leader of the Confirmation Class in Spanish asked me if I was interested in facilitating a class.  It's not something I ever thought about, but now I'm going "Hmmm, maybe! Why not!"  I like the thought of helping our community. Especially these educational classes, because I think a lot of us think we know it all and then find out that we don't know anything! I believe everyone has gifts from God and it takes time to figure them out, but it's fun to look for them. I'm just going to pray; that's the big thing, the miraculous thing.
What is your favorite way to pray?
I love the Rosary! I have a close connection to Mother Mary for sure. I feel that she's always been with me, always been the one for me to go to. I admit that I have a difficult time connecting to God the Father because I never had a good relationship with my father. It's getting better, but even now it's still iffy. So, it makes it hard for me to relate to a father. But with Mary, I can feel that nurturing that a mother gives. And I know her job is to bring me to Jesus and God the Father, so I relax in that.
And she guided your family to safety.
She did! Before returning to active participation in the church, I was like most of the world right now. You know, do whatever you want when you want. The world is getting more and more noisy and confusing. People are wandering all over the place and getting offended for this and getting offended for that. There's no reassurance. But now that I am embracing God in my life, in our lives, it feels like I can relax. I want that assuredness and peace for my daughter too, a place to go where you know what's right and wrong. She's going to go to school soon and she's going to hear and learn so many things. I won't have control over that, but at least I can give her a solid foundation in faith. So yeah, I feel there is safety in the church.
What's the biggest thing you've learned so far?
I think it's the connection with God, not just saying you believe in Him. That there's way more to religion than just saying, yeah, I'm Latina so yeah, I'm Catholic. There's a relationship to develop, and it's amazing and good. And keeping him in my life, at the center of everything. I wish that for everyone!
Cristal will receive the Sacrament of Confirmation soon and she and Juan will be married in the Church this April. Please keep them in your prayers!
SHARE YOUR STORY!
How has God changed your life?  Have you experienced personal miracles? In what ways has your faith grown? Is there a difficulty that you have overcome with the help of the Lord? Your story is a unique and beautiful gift that can inspire, uplift, and motivate someone! Book an interview with Tina to share with the community God's Glory.