September 21, 2021 - 7:44am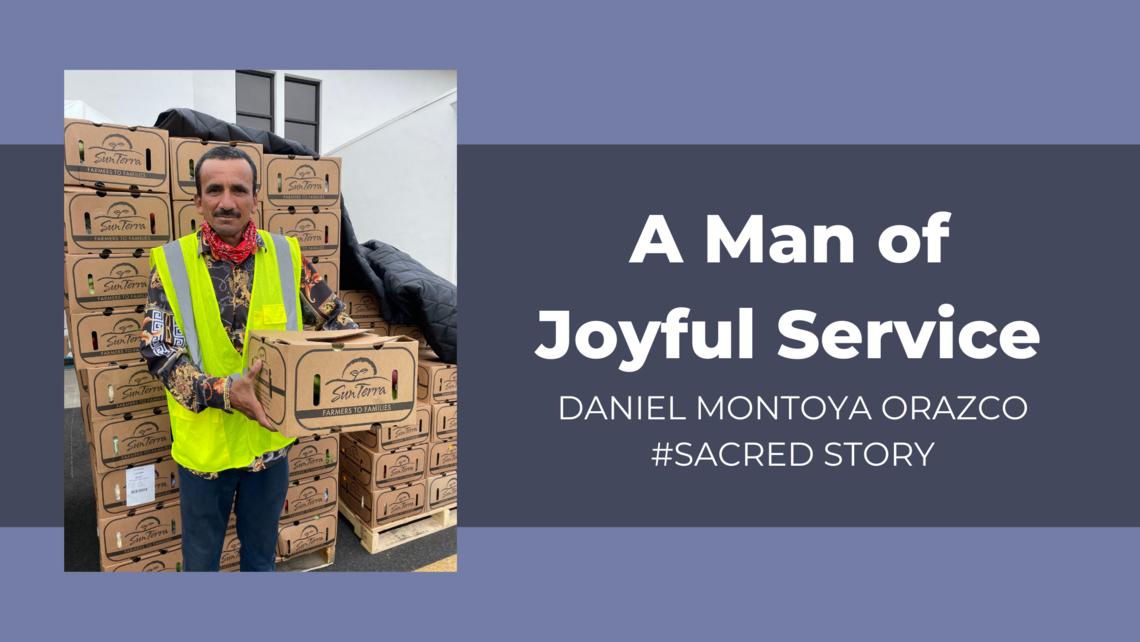 Daniel Montoya Orazco's Sacred Story
Daniel Montoya Orozco is the most joyful man of service you will ever meet.
He is always smiling, always ready to help others. Even though he has endured – and is enduring – hardships, he truly believes his life is blessed.  Here is his Sacred Story: 
Someone told me that you have a particularly blessed birthday? 
Yes! I feel blessed like my life is special to God. I was born on the first day of January, the Solemnity of Mary, Mother of God. Many people have said that those who are born on that day are special to Our Lady. I do feel like God has always taken extra care of me.   
How so? 
I don't remember a lot about my childhood. My mother says that when I was small, I fell from a huge pile of wood. I was way up high, and I fell far and hard. Large stakes of wood opened my head. I had to go to the hospital and needed so many stitches.  But I recovered just fine. My mother says that I was always a happy child. 
But that's not the only accident you suffered, is it? 
Oh no. I worked at a horse ranch for two years.  When they were building the Outlet Mall here in Livermore, the horses nearby where I was working were scared. I did not know that when a horse flattens its ears back, it means they are warning you. So I was cleaning a stall, and this horse got spooked. He flattened his ears, backed up, and kicked me right in the heart very hard. I flew a large distance and fell. Oh, the pain! I don't wish that kind of pain on anybody. Not even my worst enemy! The doctors had to operate on my heart and inside my chest. I spent six days in the hospital. It's a miracle that I did not die! 
One night in the hospital, I was hurting so much that I was moaning and complaining.  I heard the person in the room with me telling me to be quiet. When this person told me to calm down, I did, and the pain eased.  The following day, I told the nurse that my roommate told me to be quiet, which helped the pain disappear.  She said, "Daniel, there was no one in the room with you. You are here all by yourself." I was shocked, but then I thought that maybe it was God who told me to settle down to let Him heal me. 
Then the next night, I was feeling awful, and the pain was absolutely unbearable. I was moaning and praying, and then I felt someone touch me on the top of my head. And the pain went away! I looked around, and no one was there. 
Wow, maybe an angel visited you? 
Yes, I believe so.  I believe it was God who touched me to let me know that there is no need to complain. Pain will happen, but complaining doesn't help. I felt like He was reminding me that I am blessed with this life and that He is always here for me. 
Is that why you give so much of your time to the church? 
All my life, even back when I was in Guadalajara, I have always been a person of service.  I always try to be helpful.  When people are happy, that makes me happy too. Here at St Michael's, I like serving as an usher at Mass. I like greeting people and making them feel welcomed. I also help at Community Care distributing groceries to people who need them. I am God's servant, so wherever He wants me to serve, I will serve. But yes, God likes to remind me a lot! 
Your attitude is inspiring! Many who suffer would not be as joyful as you are. 
Like I said, I think I have been incredibly blessed to bear it. But it's not just the physical difficulties. I would like to share a difficulty of the heart, the emotional heart. I have a special needs child in Guadalajara; he is 25 years old. His name is Eduardo.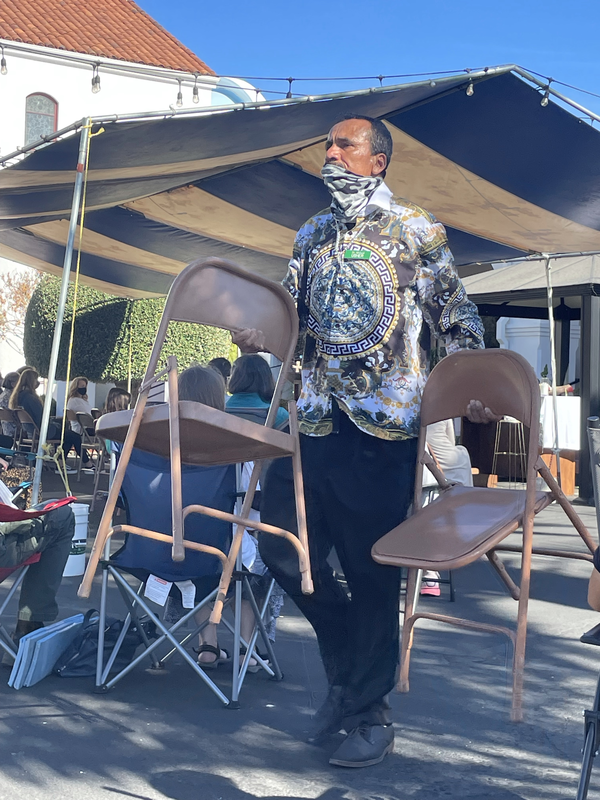 Please, tell me about Eduardo. 
He was born with a very large tumor on his upper back and spine. When he was just 5 years old, I came here to the United States for work. I was only supposed to be here for a year, but things happened. My wife and I had a misunderstanding, and that's a long story, but now we are good friends. We never divorced. Anyway, when Eduardo was 10 years old, my wife called me to say that his condition had worsened. His heart was greatly enlarged, and he needed multiple surgeries. It was so so difficult to not be there for him, to not be by his side! Even though he is an adult now, he is significantly disabled. My wife is his caregiver. I just wish I could be there to help. I love him so much, and I miss him and my other son, Daniel. 
So I pray every day. I come to church as often as I can to pray for my family. I think that Eduardo is a special from God, sent to me. He brings me to prayer, to Jesus. I like to think that my service to others here helps him there, even though we are distant. 
I haven't seen them in 20 years. I would love to go back and be able to take care of my son. I just would like to see them and hug them again. I would go right this minute if I could! [choking up with tears] I'm sorry, I did not expect to get so emotional.   
That is okay, Daniel. Please continue. 
I will always continue to help my wife and children, financially too. Some people say that I do not have to support them since they are adults, but I don't listen. I will help them for as long as I can.  I don't know if I will ever see them again, but only God knows. 
And meanwhile, you're serving and helping all of us. 
Yes, and I will be serving God forever.  I will be ready for whatever God wishes me to do, and I will give thanks.  I don't want anything else; I don't ask for anything else in exchange. I learned not to complain but to focus on the blessings. 
Daniel, you are indeed a man of pure heart. We will all pray for Eduardo. 
Thank you for your prayers. It really means a lot to me!  And thank you for allowing me to tell this story. I have wanted to tell it for some time.