February 2, 2022 - 10:41am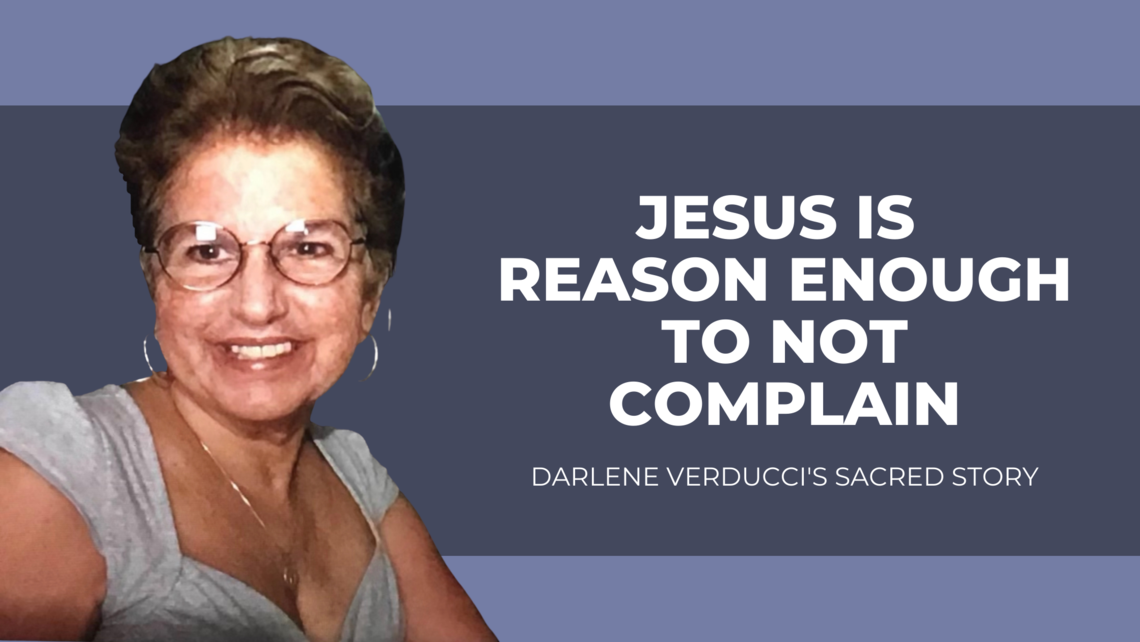 Darlene Verducci's Sacred Story
Darlene Verducci is a survivor of two types of cancer. She has grieved multiple deaths in her family, including her own son who was murdered.
But by following the example of her dear Auntie's humble faith, she finds a deep well of peace and strength in trusting Jesus. Here's her Sacred Story:
Did you always have a deep Catholic faith?
Well, I'm from a Sicilian background, and everyone in the family is Catholic. I'm from the Rockridge area of Oakland and later moved to Livermore. Made my first communion and confirmation and everything. I sure didn't go to church continually my whole life though. There were years that I didn't even go. So no, I don't think I had a deep faith just naturally.
What made you want to come to Mass more regularly?
I've always been one that listens when I am there, in the pews. I'm not talking to anybody. I'm not, you know, staring up at the ceiling or fidgeting. I just really listen. At some point, some of it just touched my heart. I can't tell you exactly what was said, but something changed, and going to Mass became just what I do. The one thing that I had in my favor was a wonderful, wonderful aunt.
What was she like?
My Aunt Lucy married my mother's brother. She was someone I was very close to. And she was so involved in the church probably from birth, literally up to the day she died at age 97. She was a Eucharistic Minister for over 40 years, she brought Communion to people in the hospitals and visited them at home. She and my Uncle Rog were married for 62 years, and when he died in 2007, it was as if the rest of the family didn't want much to do with Lucy.  So, I got involved and we got to know one another. She is the one who taught me how to truly pray from my heart. It was Lucy who helped me grow from the rules of the church to the why of it. When we were in my car, I would connect my phone to the car's speakers and turn it up loud for her to hear and we would pray the Divine Mercy Chaplet together and the Rosary. We enjoyed that very much.
Everyone needs an Aunt Lucy! Did she help you grow in your relationship with Jesus?
She was certainly an example. She taught me, or reinforced for me, how to manage and cope with tremendous pain and loss. She did not have an easy life. She buried four daughters in five years, and she was the strongest woman. You never saw her break down. She never wallowed in "why me" or anything. She talked about her grief, of course, and had moments of deep sadness. But she never fell into bitterness. She would say, "I love my daughters and I miss my daughters. But I don't blame God."  I guess you can say I haven't had an easy life either, so Aunt Lucy is my guide through it. Her attitude.
What are some of the hardships that you have had?
I've had two cancers you know, breast and ovarian. My mother died, and all her sisters died of cancer. All the cousins and my brothers all died. Then, in 2001, my son was murdered at age 30 years old. He was shot in the back of the head by someone he thought was his friend.
Oh, Darlene, that is horrible. How did you manage?
I just remember the day I found out. I could feel a wind or a breeze come by me as though someone ran behind me and wrapped their arms around me. I am not lying, I heard a voice, clear as day, "I'm okay mom. I'm okay now. Don't worry about me. I am okay."  Of course, his wife was hysterical. Absolutely out of her mind hysterical. But I received a gift of peace from Jesus. I tried to convey that trust in God to everyone. I hope I did.
That is a tremendous gift of faith.
I think so. It must be a gift because it doesn't make any sense, you know, outside of faith. I just have faith in God that whatever happens God is in charge. God knows you're going to die the day you're born. We are all going to die eventually and there's nothing we can do to avoid it. But that's where my strength is, in God. I learned some of that on my own, but a lot from being around my Auntie. I try to walk by her example.
That much loss would have broken others.
Oh yes, that's why God must have a hand in it, surviving all this pain. Aunt Lucy never ever complained about anything. And she had a real right to! I remember asking her why things didn't bother her, and she said, "Oh they do bother me, but you must accept that that's the way it is." So, I take that point of view. Whatever comes my way is going to come my way, and that's it. But I trust that God will do something about it. He's going to heal it or help someone grow from it or build from it. He works with it. Even horrifying things. Jesus is reason enough to not complain.
And you don't blame God?
Oh, no. That way is madness! God loves us more than our brains can imagine. I'm always hearing people say, "Well if God is so loving, why do these awful things happen?" I tell them, "That isn't God doing those things!" I do not believe that God causes evil at all. A lot of suffering we flat out bring on ourselves, and a lot is just us getting caught in the crossfire. And some of it is just that the world is a broken place. God is not the one that causes the pain, heavens no. He's the one who sent His Son to fix the mess we made! I don't have the answers and these things are hard to comprehend and can give you a headache trying. It's really easier to trust that God has our best interest in mind.
What is your prayer life like?
My Auntie Lucy taught me to really love the Rosary, especially early in the morning. I like to also just talk to God and Our Blessed Mother like I talk to friends. I let them know how grateful I am for waking up to see another day. I thank the Lord for still having faith, for believing and trusting. That was Aunt Lucy's way, you know, she didn't worry about the big stuff. She just put it in the Lord's hands. Every single morning. I have found peace doing the same.
It sounds like a very simple and humble prayer.
That's just it, isn't it? Prayer doesn't have to be complicated.  But I do have some favorite prayer cards and images that I like. Some are just screenshots on my phone, of Our Lady and saints. I like to look at them. Every morning and night, I will kiss Jesus on these little cards. I like the Divine Mercy Chaplet. Sometimes I switch around prayers. I really like just saying "Jesus, I surrender." You know? Like, take care of everything, will you? I love that one.
You have such a comfort!
I tell you; I do! I am so relaxed when I come into my room. It's very quiet. I love reciting prayers that have been out there for hundreds of years. It's just wonderful to know that these same words came out of so many mouths. How can I be alone in that?
Your faith through hardship is truly an inspiration, Darlene. Thank you for sharing.
You are welcome. I will continue to pray for everyone who reads this!