November 2, 2021 - 10:54am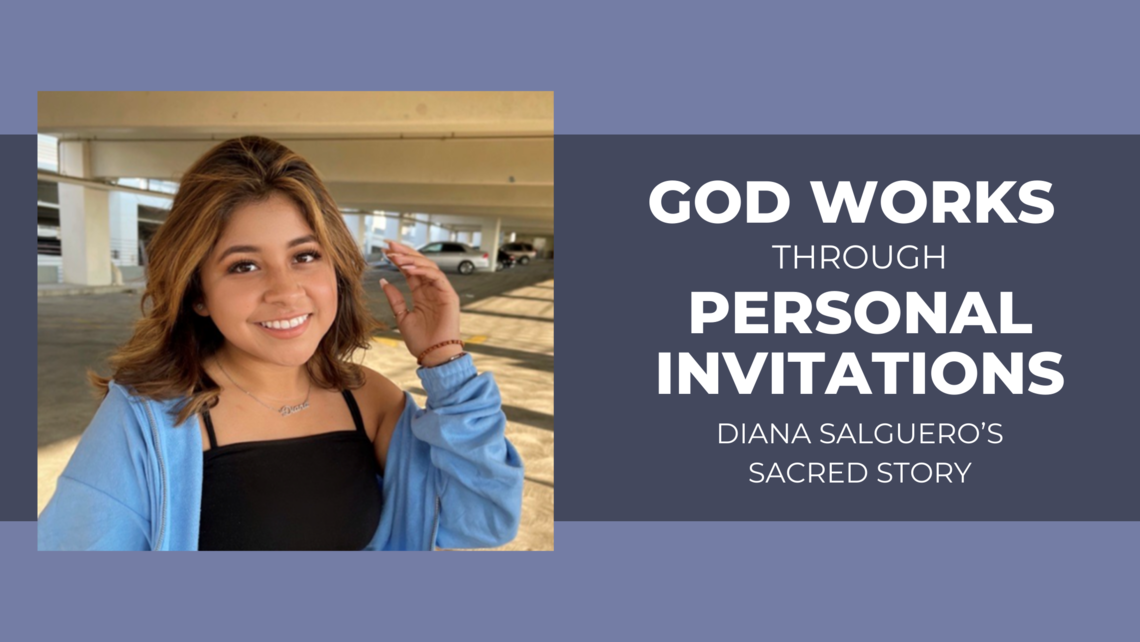 Diana Salguero's Sacred Story
Diana Salguero probably wouldn't have a close relationship with Jesus at all if it weren't for family members inviting her – sometimes a little forcefully! – to retreats where she encountered Him in profound ways.
Her journey led her to volunteer at St Michael's and then a staff position as the Faith Formation Admin. She attributes it all to the people in her life who took the risk to share their own faith. Here's her Sacred Story:
Did you come from a faith-filled family?
No, I didn't!  I'd say our family was the typical "culturally" Catholic Latino family. You know, it's tradition to go to church on Christmas and Easter, and you have to hit all those markers for Baptism, First Communion, Confirmation and such. For Christmas one year, I remember we even left church before Mass was even over because we had a big party to get to! Like we would be there for half the Mass. So yeah, it was all surface without any genuine spirituality. But when I was 17, that all changed.  
Wow, what changed?
I was in Confirmation preparation classes and attended the retreat. This was still before we were really serious about religion, but my parents made me go. It was a mandatory activity. I mean, it was all fun and games and hanging out with friends and goofing around, so it was okay. I think I kind of saw it as a giant sleepover party. But then there was one evening with Adoration of the Blessed Sacrament and praise and worship, and I felt something - someone – filter through all the superficial social experience. I don't know how to describe it in words, but I just felt held there in that one pure moment. Like time stood still, and it wasn't that long, but it felt like an eternity. I remember tears rolling down my cheeks, and even though the moment didn't last, it was a curious hint, as if the Lord was saying, "Check this out. Come discover more!"
That sounds like a fantastic experience!
Yeah, definitely, but it wasn't enough. I mean, it wasn't like that's all it took for me to instantly have a strong relationship with Jesus. I kind of resumed my teenage life a bit.
What did it take to get you more serious about the faith?
Funny thing, my Godmother invited my parents – who weren't really spiritual at all – to a Catholic retreat in Spanish called "Hijos de Maria Santísima" (Children of Holy Mary). She was the one who was like, "You guys should go to this retreat. It's going to impact you, change you and your family!" My parents did not want to go at all! They were all, "Yeah, no. Thank you, but no." My Godmother can be pretty persistent, though, and she kept emphasizing that they should at least try. It was a three-day retreat. They relented and went, probably just because there would be good food, and it would make my Godmother stop asking!
How did that go?
I remember my brother and I were staying at my aunt's house while they were away, and when they came back from the retreat, they were completely different people. We went straight home to pray the rosary as a family, and I was so shocked. I didn't even know how to pray the rosary. It's nothing we had ever done before, individually or as a family. That retreat changed them so much that it was as if they were awakened after so long being asleep. It wasn't a temporary thing either. They continue to this day to grow in their faith.
How was that for you?
Honestly, I was annoyed! They had changed so much, and suddenly we're going to Mass every Sunday (for the whole Mass!) and praying together, and I didn't like the change. They kept bothering me to go on the next retreat. They wanted to share what they had, but I was rebellious. It got to the point that I told my parents out of anger, "I'm not going to that retreat. I'm going to become an atheist!" I look back on that and see how dumb I was, but that's where I was.
But you went to the retreat anyway?
Yes. My parents said, "Okay, it's up to you." And then, just one day after the next, I kept feeling that I should just give it a try. So I went, and it was everything that my parents said it would be! It's like that slight hint from my Confirmation retreat came flooding into my heart. Like the floodgates just broke open, and I was consumed by Jesus.  
Wow, so the invitation was so important, wasn't it?  
YES! God uses people to bring more people to Him. I got a kind of "direct" nudge at the Confirmation retreat, but it took my Godmother to maybe get out of her comfort zone to invite my parents to the other retreat. Then my parents had to share their experience with me before I felt compelled to go. We all need that little push because sometimes, most of us, are just so stubborn! Most of us won't act after just one little experience. We just move on. It takes other people to shove us a bit.
It's hard to share faith sometimes.
Oh, totally! It's a little weird, and I don't think many of us feel comfortable talking about our faith or inviting other people to churchy things. But I believe that when we do it anyway, the Holy Spirit can do the job. We should never feel embarrassed to share our personal stories. It can impact lives as it did with ours. Yeah, one person. That's all it took to change our whole family!
Now you're the youngest person on staff at St Michael's?
Yes, I'm 21 years old. God works so perfectly that you know, just it's crazy. I was volunteering in my brother's First Communion class and later was a catechist myself, and I just loved it. I really admired the dedication of the catechist team; they were so hard working but making a huge difference in the lives of families and children. I have had other jobs waitressing and stuff, but I just felt like it wasn't my calling. When the opportunity opened to apply to be the Faith Formation Admin, I remember Glenda the DRE mentioned it easily three times. The first time I was like, "No, that can't be for me." Then the second time, it was, "Maybe." Then the third time, I felt like God was really insistently speaking! I applied and was selected for the job.
We are happy that you did! Do you have any final thoughts?
Well, if someone is inviting you to deepen your faith somehow, like asking you to attend an event or come to Mass or join a group, don't say "no" too quickly. Think about it and be open to the fact that maybe God is trying to reach you through them. 
On the other side, never be embarrassed to share your personal faith story with someone. It doesn't mean you are being pushy. You will know when it's the right time and place. You never know how your faith will motivate and influence others to start their own walk to Jesus.   
Thank you for being a beautiful inspiration!
You are welcome. I look forward to meeting more parishioners and families at St Michael's!