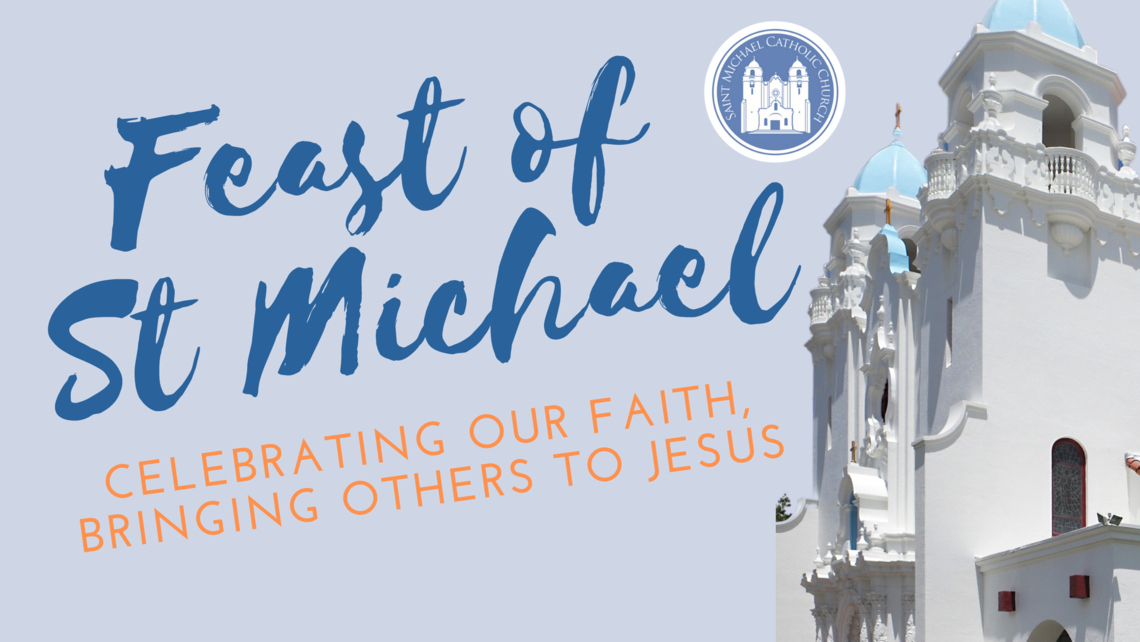 Celebrating Our Faith. Bringing People to Christ
Dear Parishioners,
September is a special month for our parish, since it is the month of the Feast of St Michael the Archangel, our patron saint. Due to the pandemic, our annual celebration will take a different shape.  As much as we will surely miss the ministry fair, the raffle and the community gatherings, we are presented with an opportunity to celebrate in a different, more grace-filled way.  In this year of unprecedented hardships, we will ask the Lord to grace us with unprecedented faith!  2020 has presented us with a unique chance to be more like St Michael, ardent and courageous, standing firm in our faith.  So as a parish, let us pray for the motivation to truly live out our Catholic faith in this troubled world.  For the month of September, let our prayers be joined in asking the Lord to fill us with all the resources we need to unite behind our parish mission to Celebrate the Sacraments, Grow Disciples and Bring Christ to People.  Let our faith in action be a witness to others, drawing them to a relationship with our Lord Jesus through the beauty of our Catholic tradition.
Hence, the theme of this year's month-long Feast of St Michael is
Celebrating Our Faith, Bringing People to Christ and will include six parts.
2. Adoration & Confessions in the Courtyard
3. XLT: Praise, Worship and Adoration in the Courtyard
4. 9 Days of Masses with Novena Prayers
5. "Discover the Angels" Zoom Retreat & Seminar with Fr Nat and St Michael Clergy
6. Community Care Fund-a-Need to help Livermore families in crisis
As a parish community we are the members of the Body of Christ.  As the Body of Christ, let us reach out to the members of the greater Livermore community, who are all made in the image and likeness of God.
And may our Lord continue to bless us and may St Michael the Archangel defend us.
Your Pastor,
Fr Carl