October 18, 2021 - 12:03pm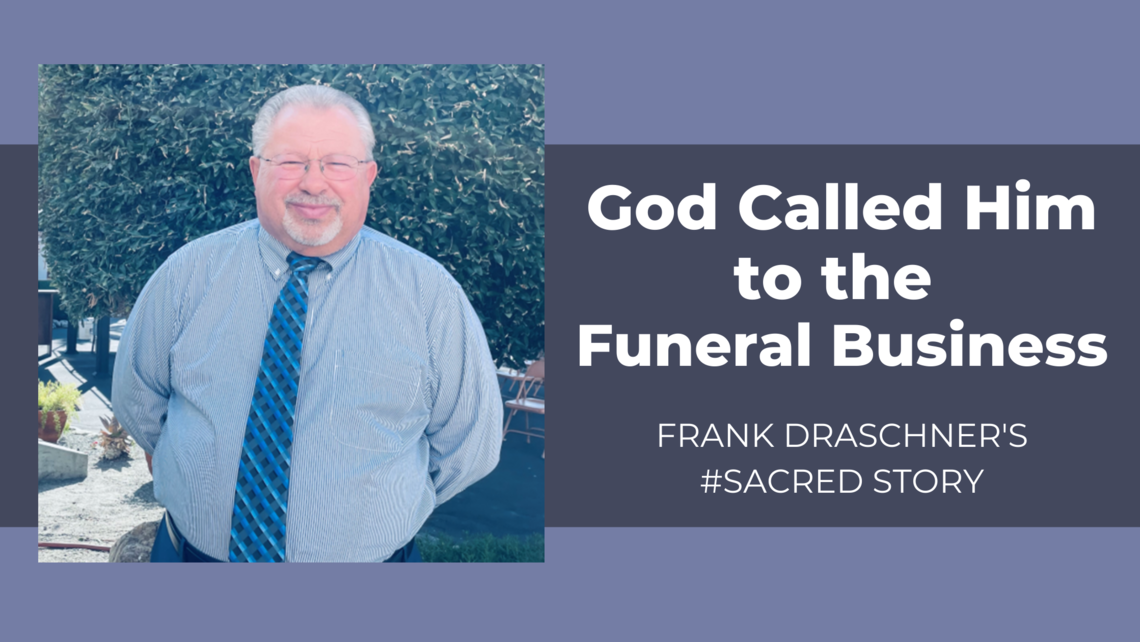 Frank Draschner's Sacred Story
Most people think people who work in the funeral business are a little creepy.
However, Frank Draschner, a Family Service Advisor for Catholic Funeral and Cemetery Services at St Michael Cemetery, is anything but!  He feels that God has called him to this particular vocation of caring for grieving families when they are at their worst. Here's his Sacred Story:
Just to set the record straight, funeral people are not creepy?
Ha!  No, we're not.  There is this stereotype that people who work in the cemetery and funeral industry are dour and death-obsessed.  I mean, when I'm at a party or when I'm meeting someone for the first time, that's one of the first questions asked, "What do you do?  Where do you work?" When I tell them, there's a long awkward silence.  They don't want to talk to me anymore!  [laughing] I want to chase after them and say, "Wait! I'm not recruiting more customers! It's okay!"
At least you have a good sense of humor about it.
Thanks. I believe it's essential to laugh every day.  When most days involve me helping grieving people, it's good to take breaks to smile and remember why I do this. That's the core of my job, though. I am passionate about walking with people through difficult times.
It sounds like this is a ministry for you.
Yes, absolutely.  I remember arranging the funerals for my parents, who died in the same year. I also assisted with other relatives' funerals, so I know firsthand what it's like and how devastating it is.  Even when death is expected, it is still a bombshell of grief.  If I can ease this process for families, let them know that this is as worse as it gets, and soon it will be better, I'm doing God's work. 
That's a beautiful way to look at it. Have you always wanted to be in the funeral business?
I guess I'm a little unique in that I have thought about a career in the cemetery and funeral industry since I was a little kid.  My first exposure was when I was maybe four or five years old. I grew up in a large Italian family in Chicago, and we were constantly going to wakes and funerals for great uncles, great aunts, and other relatives.  I had no idea who these people were, but going to the funeral was just what you did. I remember seeing this dead person in the casket, and it made me wonder what happens when someone dies, especially behind the scenes.  And as a Catholic, I would think spiritually about what awaits us after death and the promise we have in Jesus.  It has always been kind of a fascination to me, and I wanted to learn more. I had a lot of questions as a kid, but no one answered.  Later in middle school or high school, when everyone takes those personality tests to see what career might be a good fit, mine came up with funeral director or teacher.  I remember thinking, "Okay, that's interesting."
Did you pursue a job in the funeral services then?
No.  Up until about ten or so years ago, my whole life was sales. And I never liked it, but it paid the bills. I just never jumped up out of bed in the morning and said, "Yeah, I get to go to work!" But one day, I was going through the ads and saw that the Oakland Diocese needed someone to work at the cemetery. I looked back on the many funerals I attended and thought I could do the job well. I prayed on it and strongly felt God's nudge that this is where He wanted me.  My only regret is that I didn't start this career field sooner.
It sounds like faith is important in this job?
It's everything. Knowing the power of prayer is what keeps me going and that there is Jesus' promise of Heaven. And I see it in the families that have recently lost a loved one; they're in so many different levels of grieving. Everyone grieves differently and at their own pace. But the families who have faith, the Christians who believe in God, can cope so much better.  They believe there's something after this life, and they trust in the Lord. They have joyful hope amid their sadness, you know?  The families that are not very spiritual or religious, they're just a mess. They suffer so much, and they have no idea how they're going to get through it. 
What is the best part of your job?
Afterward, when the widow or daughter or son gives me a great big hug to thank me. When they are grateful for my small part in getting them through a horrible time, that means so much to me.  It is the biggest reward I could ever get. And I've established relationships and friendships with many of these families now.  They come and visit their loved one's gravesite, and we say hi and chat for a while.
Is there one thing that makes the funeral and burial process easier for families?
Well, two things.  As I mentioned, having a solid faith in Jesus cannot be underestimated. The blessings He gives are right there in Matthew 5:4, "Blessed are those who mourn, for they shall be comforted." The second thing is preplanning. Oh, my goodness, it just makes the whole process for the surviving family members so much easier.  Grieving itself is all-consuming, so if the details are taken care of, the family can focus on comforting each other.  There are so many uncomfortable questions: do they want to be cremated? Where do they want to be buried? Do they want a Mass?  If those questions are already answered, it's just so much simpler and less stressful.
It sounds like cemeteries are places of healing?
Yes, very much so. Many think of cemeteries as scary places, but we need an environment where friends and family can come together to cry together, laugh, and remember. It's good to tell the stories and have that time together because grief is a very long healing process.  Visiting a grave is often where friends and family work out the grief.  Our cemetery is quiet and peaceful. I don't think a lot of people know that.
I never thought of it that way. Do you feel God's presence there?
Absolutely. There is the strangest and most beautiful thing that happens easily 95% of the time.  We have a burial, and when we're lowering the casket, a breeze comes up.  It can be the most still day, the hottest day, rain, it doesn't matter.  There's just this perfectly timed breeze. And it's a very noticeable breeze too! It's enough to shake the canopy or to cause the priest's paperwork to blow. Almost as soon as it arrives, it's over. I like to think that it's the Holy Spirit offering comfort.
Thank you for saying yes to this unique calling, and for showing us a very different perspective on the end of earthly life.
Oh, you are most welcome.