January 6, 2022 - 12:47pm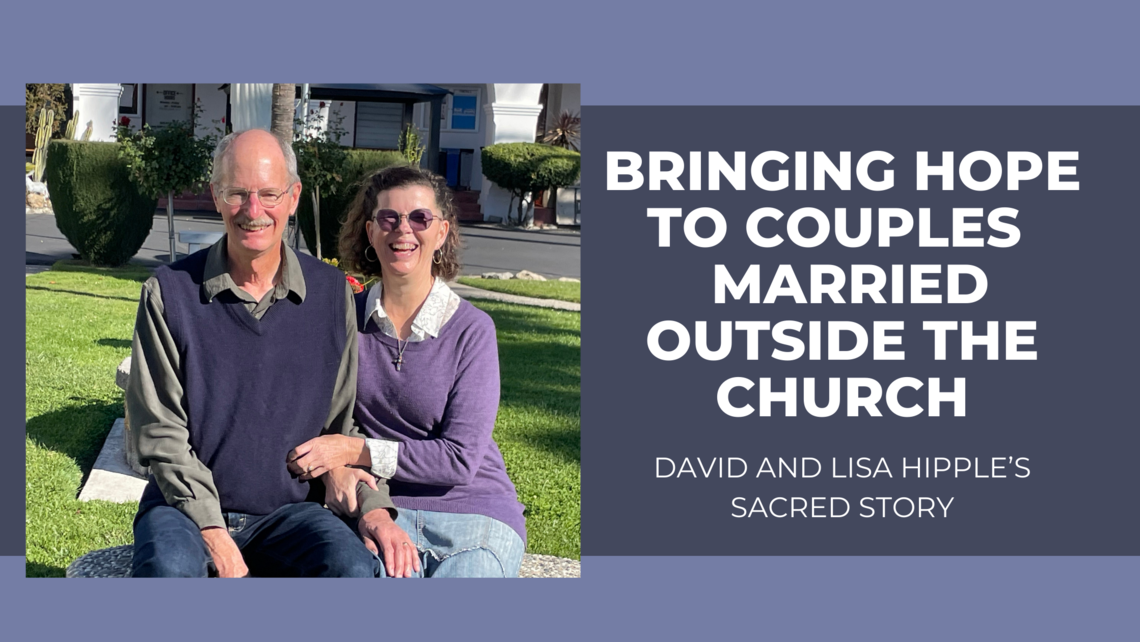 David and Lisa Hipple's Sacred Story
David and Lisa Hipple love helping couples prepare for the Sacrament of Marriage.
They have been leading groups for the engaged in the Oakland Diocese since 2014. Now, in addition, they are expanding their ministry to St Michael's to help those married outside the Catholic Church prepare for convalidation, so that they can receive Eucharist and participate fully in Catholic life. Married for 31 years themselves, the Hipple's are passionate about strengthening marriages for a better world. Here's their Sacred Story:
What drew you to the marriage prep ministry?
Lisa: We always kind of had it on the back burner, I think. We have done a lot of work in our marriage and just wanted to share the blessing. So it was something kind of always there. Then David and the kids went to the Walk for Life West Coast in San Francisco. Our son felt sick halfway and had to take the Oakland Diocese bus back. And the diocesan marriage prep coordinator was driving the bus! They had a long conversation about marriage ministry.
David: We thought, well, here's a doorway. I think it's time to walk through. I firmly believe that every successful marriage makes the world a better place. A healthy marriage is good for the children in the family. It's good for caring for elderly adults. It's good to have neighbors and friends who are happily married. Our whole society benefits from solidly married couples.
Lisa: This ministry helps our marriage too! We have grown as a couple in ways that maybe we wouldn't have. The Lord often works like that. Blessings are always two-way streets.
Why get married in the Catholic Church?
David: That's a good question! From a secular standpoint, it doesn't matter. The world out there says that consenting adults can enter a social contract. Whether verbally or not, they tell each other, "I agree to pay for these things and fulfill these needs, and in exchange, you pay for those things and fulfill my needs." In this construct, if one partner breaks the contract, they can move on, and that's that. 
Lisa: But from a Catholic standpoint, a marriage is a covenant. It's an exchange of persons. It is saying instead, "I give you all of me, I accept all of you, and we are now one until the end." Covenants are found throughout the Bible; they bind people together as one flesh. It's an inseparable bond at the deepest soul level. It's a more mature level of love than just romance or pleasure or convenience. 
Our culture really does focus on romance.
David: Yes, and there's nothing wrong with romance and attraction! We need that. But the most authentic expression of love is much more. Look at a crucifix: that is what love looks like. If that doesn't look like love to you, that might be a place to start an interesting investigation. 
Lisa: True love needs to be a decision. It's an act of will. I mean, God calls us to love our enemies… and sometimes our spouses are enemies! [laughing]. When a couple truly decides to give themselves, body, and soul to each other, they need God's grace to do it. Let's face it, some parts of marriage – a lot of parts - are not easy. There are struggles. But in a sacramental marriage, where both spouses understand that they are in a covenant and God is part of their marriage? Well, then a couple really benefits in a special way from His strength.  
What if one spouse is Catholic and the other isn't religious?
David: I like to illustrate a sacramental marriage as a triangle: God at the top angle, and husband and wife at the bottom angles. As each spouse grows closer to God, they grow closer to each other. If one spouse is prayerful, the third party in the marriage is God! The other less religious spouse absolutely benefits. How could they not? God has infused his divine life into the relationship in a sacramental marriage. He will not abandon the other spouse. 
Lisa: If a couple is engaged, and one partner is Catholic, but the other is really against the Church, I would say that needs to be put on the table. That might be a non-negotiable that needs to be resolved.
So, your marriage prep ministry at St Michael's will focus on convalidation? Can you explain?
Lisa: Yes, it looks like the Lord is putting us in that direction. Most couples planning their weddings at St Michael's don't live here. This isn't their parish. But there are quite a few active parishioners who were not married in the Church. Many do not know that it is possible to have a sacramental marriage, even if they have been married civilly for years!
David: If you were married civilly or married outside of the Catholic Church, you do have a marriage, but you lack the gift of God's own divine life in your relationship. Convalidation is a way to receive the Sacrament of Matrimony. It's the same sacrament that couples getting married for the first time receive. 
Lisa: It's such a blessing to be married in the Church! Civilly married Catholics cannot receive Eucharist – the source and summit of our faith. Convalidation can fix that for all couples who didn't marry in the Church for whatever reason. It is a joy to bring hope to these couples.
Do you find that you need to explain what a sacrament is?
David: Yes, it's the first place to start. Without understanding a sacrament, marriage really doesn't make sense. The Catechism of the Catholic Church teaches us that "Sacraments are efficacious signs of grace, instituted by Christ and entrusted to the Church, by which divine life is dispensed to us. The visible rites by which the sacraments are celebrated signify and make present the graces proper to each sacrament. They bear fruit in those who receive them with the required dispositions" (CCC 1131).
Lisa: Sacraments are the way that we receive God's own divine life! It's how we can achieve things in life beyond the ordinary human means. We can love more and forgive more. Sacraments give us access to joy! 
David: Anyone want more of that? [laughing]. The lifestyle the world offers is out of balance. There is too much of a priority on feelings and pleasure. There is more to life than only that. Sacraments remind us that we are whole people, with the dignity of body, mind, and spirit.
What are the first steps a couple needs to take for marriage convalidation?
David: The first step is to call the parish office at 925-447-1585 to set up an appointment with a priest. Then we will be in touch!
Thank you for your service to our community. We pray that more couples choose sacramental marriage!
Lisa: You are welcome!
David: That is our prayer too!