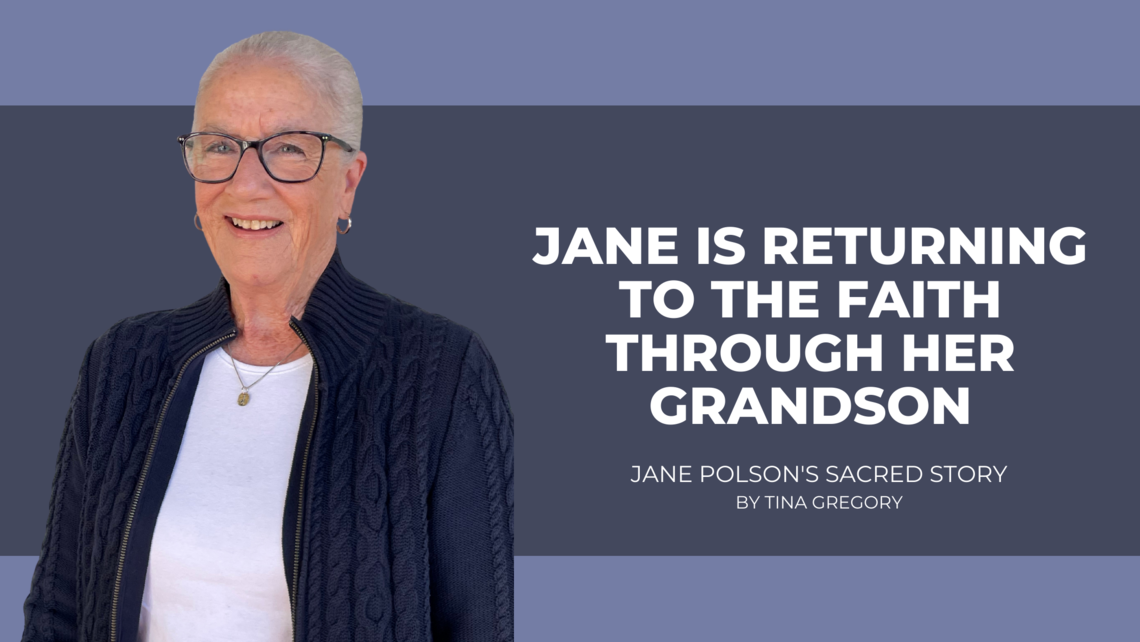 Jane Polson's Sacred Story
When Jane Polson's daughter-in-law died in her thirties from cancer, she moved back to Livermore to be with her grandson, Park.
Struggling through grief, she was angry at God. She lost her faith.  But now, as she is helping Park prepare for his First Communion, she has rediscovered the peace and healing of Christ and His Church.  Here's her sacred story:
When did you move back to this area?
Two years ago.  Park was only in the fifth grade when his mother died. We lived for years in Pleasanton, but when my husband and I retired, we moved up to the mountains. He died shortly after. That was about ten years ago, and definitely not part of the plan. Then my daughter-in-law was diagnosed with colon cancer in her thirties and fought it for five years. She died two years ago. It was so devastating. She was so young. I moved down here to help with my grandson. And then boom, the pandemic hit and everything stopped: his grief counseling, everything stopped. It just made a bad situation so much worse. And in the midst of all this, my brother-in-law died in August.
Wow, so much tragedy and pain. I'm so sorry.
Yeah, I really got to the point where I was like, "You know what, God, how much more are you going to give us? Just how much more do we have to deal with?" I mean, I really lost faith. I really, really did. We were hit with quite a bit in a short frame of time. I found myself just exhausted and angry. I really questioned. I went to Mass off and on. All the children were baptized and they received their formation and sacraments.  Part of me felt almost betrayed by God.
How was Park's faith?
Park was going to Mass with his mother before she died and with his other grandmother. But then after she passed it was hard. He's still close with his other grandmother and sees her weekly, but she's not very mobile and doesn't drive. Then with the shutdown, it was more challenging.
Park is a very quiet boy. He doesn't talk much about his mother. Although we talk about her all the time in front of him. He's processing it all on the inside. He does know how faithful his mother was, and he really wants to receive First Communion, partly because it was her wish for him. And he is motivated. When I say that it's time for a religion lesson, I don't get any complaints from him. None whatsoever. And we read and we talk and pray together.
Something shifted?
Yes, I do find myself returning to the Church through Park as we work on his lessons together. In going through the basic Catholic prayers, I'm revisiting all of them. I was explaining to him the Apostles Creed, and suddenly the words just came back to me. All of them, and they hit my heart. I remember saying, "Hey Park, let's read it again. What is this telling you?"  It was like God was leading us both step by step. It's not only about memorized words, but about letting the meaning of them really soak in. 
I also remember when we were on the chapter on the Eucharist. Park just looked at me and said, "So when the priest says those words, the bread really becomes Jesus in a special way?"  I said, "Yes it does. That's what we believe."  And it's in moments like that that I see through his eyes, and I'm reaffirming the faith along with him. It made me start to understand that all of this is not about me. There's some reason why all this is happening.
Were there other moments when you noticed God's healing?
Yes, right after my husband died, I was sitting in my husband's chair at our house in the mountains. The room is all glass and all you see when you look out are pine trees and the sky. It was the first time I was by myself, and I was crying. And I just happened to look out the window and saw a shooting star! It happened so fast. I could have missed it in a blink of an eye, but I saw it. What came with it was this profound calmness. A deep peacefulness. I knew my husband was telling me he was okay. And I knew it was God saying it's going to be okay.  I can get through this.
Another time was more recent. I'm the product of twelve years of Catholic schools led by the nuns on the East Coast. There were some nuns that were just lovely, but there were others that took it upon themselves to kind of beat the devil out of you. Smacking knuckles with rulers, you know? But I can probably still recite the Baltimore Catechism right now! Anyway, I grew up with the Latin Mass, and can still remember the Latin responses. Well, one Sunday we came to Mass here at St Michael at 8:00 am for some reason. It's not our usual Mass time, and I didn't know it was the Traditional Latin Mass.  But oh, my! It all came flowing back. I was nearly in tears.  It's like the Holy Spirit was showing me how He can recover and repair the past.
Do you think you would have returned to the faith if Park attended a class at the church?
You know, it's funny. All of my kids went to faith formation classes at the church. I would drop them off and they would go in and I would pick them up after. I think kids really do need to have the community part, being around others their age who are learning the same things. But the at-home learning brought it (literally) home for me. It is strengthening the bond with my grandson, and bringing me back to the Church. Maybe families need a bit of both.
Is your faith sustaining you now?
I think so, yes. It's coming back. I find myself praying the Hail Mary. I can just be driving in the car, and I'll say a quick Hail Mary. I just feel that God is so merciful. So if tragic and terrible things happen, God is working his mercy somehow. He doesn't cause suffering. But if He allows it, it must be for a merciful reason. I don't know what that could possibly be, but God's a lot bigger than I am!
It sounds like you discovered God's perfect timing.
You know, sometimes I think that, yes. I think I was always trying to find my way back. Deep down, I knew I was missing something in my life. I think maybe it took all of this to bring me home.  Maybe He was waiting for things to line up right. And now with Park, I have a reason. God does like to work in groups, in families! I am very grateful.
Thank you for sharing your very personal story. We will continue to pray for your family.
You are welcome. I was happy to tell it.