February 10, 2022 - 10:27am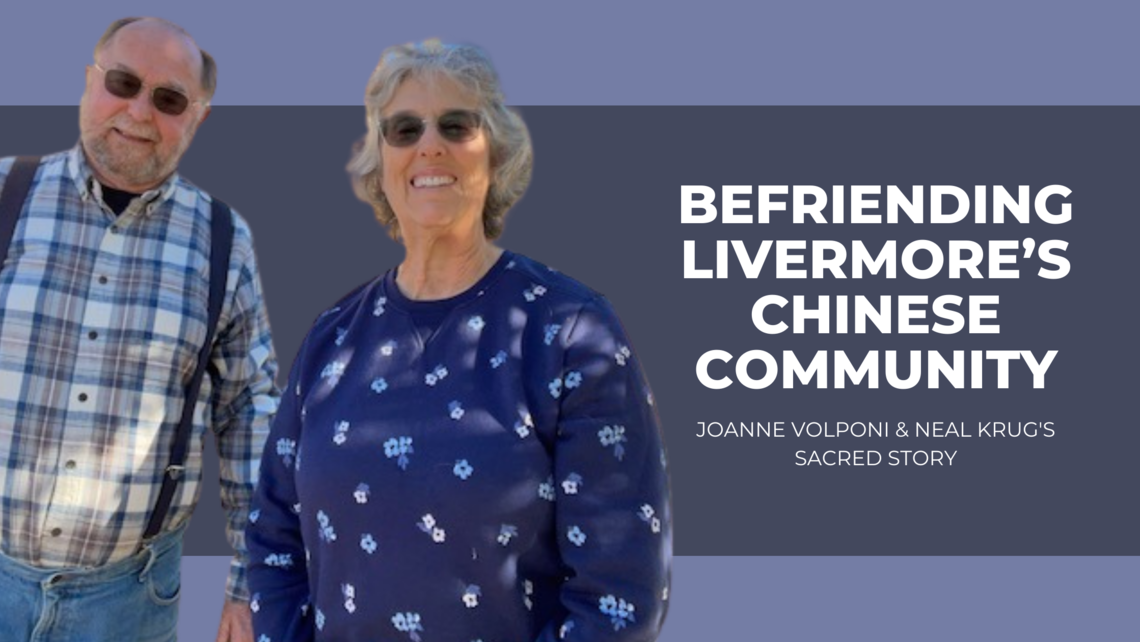 Joanne Volponi and Neal Krug's Sacred Story
Joanne Volponi and Neal Krug do not speak a word of Mandarin, but they have found an unlikely kinship with Livermore's Chinese community by delivering free groceries to them every Saturday.
They have discovered a connection that goes beyond language. Here is their Sacred Story:
How did you end up delivering groceries to our Chinese community?
Joanne: Initially, early in the pandemic, we saw the ad in the St Michael bulletin, looking for volunteers for Community Care. We thought it would be nice to help those in need. We were aware that many people needed food assistance during the crisis. We thought it was great that our Church was organizing a food outreach. It also gave us an opportunity to get out of the house during the lockdown.  We were still concerned about the virus, using hand sanitizer, masking, and social distancing certainly. Neal needs to be extra careful. But we thought that delivering groceries would be fun. We have an SUV so we have the space to carry a lot. 
Neal: We started doing individual deliveries, kind of going all over Livermore. And that was fine. We enjoyed it. We got a lot out of meeting the people, and everyone seemed to appreciate the service. These people were either homebound or didn't have transportation, so it was a big deal to them.
Joanne: One of our deliveries was to one Hispanic lady in this apartment complex where the residents are mostly Chinese. I guess the neighbors talked to one another, but it just exploded. Suddenly, we had 20 or 25 people in this one community, so it became our thing. We have gotten to know them a little, and they're so appreciative. It's really heartwarming. It really is.
And you've gotten into it, doing little extra things for them?
Neal: Yeah. A few weeks ago, I learned that red gladiolus are a traditional Chinese New Year flower. So, we bought a bunch and gave them each a gladiolus stem. It was really neat because they all smiled. They were really touched. We have also brought them oranges from our tree, which are considered good luck.
Joanne:  Early on, before St Michael Community Care partnered with the Alameda County Community Food Bank, we wouldn't always have rice. We would pick up a big bag for them all to share.  We like to grab items every now and then if we see something we think they might like.
Is the language barrier a problem?
Neal: To be honest, at first it was chaos! Elliot, our partner volunteer who speaks Mandarin, has just been wonderful. But before that, all the neighbors could manage was "Hello," "Goodbye," and "Thank You". That was it. We have no Chinese, and they don't have English. It was really hard.
It's gotten easier since the early chaotic days?
Neal: Yes, we have a flow now. The residents order their deliveries online. Elliot sends us the list. Joanne prints out the labels to put on the boxes. We stack them on the sidewalk and then they come out to get their food. Joanne stays by the car to hand out cartons of eggs and whatever extra bags that we have that week.
Were you surprised that there is a Chinese community in Livermore?
Joanne: We were. Well, we were surprised that there is an immigrant community that does not speak English at all.
Neal: We met some other Chinese residents at another community here in town too. We were wondering where they came from. How did they get to Livermore, of all places? From what we gather, many of them were in public housing in Oakland. Their building was going to be torn down, so the County relocated them here.
You've been getting a cultural lesson!
Neal: Yeah, for a while, week after week, I thought the one liaison guy in the community was always angry. It sounded like he was yelling and complaining, but Elliot just listens and nods. When Elliott starts responding, this guy would just start yelling and talking over him. I thought, man, what are we doing wrong. But no, Elliot explained that this is just a common way to communicate. They're used to chatting over other people.
Joanne: And there is a respect protocol, I think. There is one lady who insists on helping carry the boxes. She speaks a little English and just says, "No, no. Too hard for you!" She comes to the car with carts, three and four times to deliver to her neighbors.
Neal: They have really neat little apartments. And almost all of them have flowers and vegetables growing in pots on their porch areas. Tomatoes, greens, and the like. One time they gave us a whole bunch of Swiss chard, and it was delicious.
They like you!
Neal: I think we have become comfortable with one another. I remember one time when we were leaving, one of the ladies waved us down and brought us little Chinese candies. I thought it was touching.
Joanne: We were checking out the new 88 Seafood Supermarket that opened on Vasco. We went in there to see what they had and if there was anything we could get for our friends. We're going down the aisles, looking at stuff, and we saw a couple of ladies from the community. We waved, but they didn't recognize us. Maybe because we were out of context or wearing masks or something. But then suddenly, those two ladies got with a bunch of other ladies and came up to us. They had like two or three shopping carts, and they were shopping for their neighbors. They started waving and saying "hi" and bowing and thanking us. It was a warm little moment.
Has volunteering helped you grow in faith?
Joanne: Certainly, yes. You know, it feels good to do something for other people who really have a need, especially during these times. They need food, a basic need. But I have a sense that it's more than that. I think that forming a relationship, a connection might be just as important. This community is a little isolated. We think they have some family that come to visit, but the language and culture barrier is wide. And most do not drive or have cars. So, it's just nice to see their smiles.  It makes me feel like God is present.
Neal: Well, for me, this is a very positive thing that the Church does. The social service and community outreach aspect of the Church is an important thing. Obviously, these people are not Catholics but they're appreciative of the service. They depend on it, and as Christians, we are called to go out into the margins. And I like being of service to people that need it. It makes me feel good. Like it is something very much beyond language and culture.
Joanne: A big part of our faith is to bring kindness and compassion to others less fortunate. And to welcome the stranger. We have a great appreciation to St. Michael Community Care for giving us this opportunity. We just really enjoy helping out.
And we appreciate you for spending every Saturday morning helping our Chinese neighbors.
Neal: You're welcome! If anyone wants to join us, we'd be happy to have them tag along. Contact us and maybe we can make a trip to 88 Seafood Supermarket every now and then and get our friends an extra treat.