October 12, 2021 - 11:25am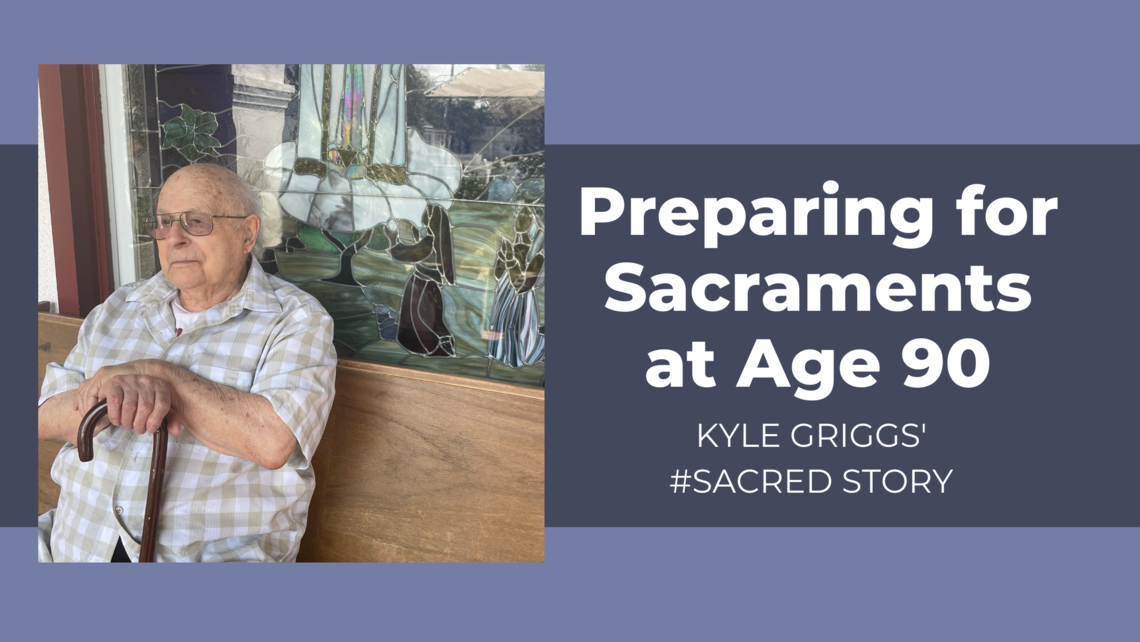 Kyle Griggs' Sacred Story
It's not often that you meet someone who decides to prepare for sacraments at age 90.
Married to Sylvia for 62 years, Kyle Griggs has been a widower for 4 years. Still heartbroken and a self-proclaimed pessimist, he thinks that she would appreciate his efforts.  Here is his Sacred Story:
Where did you meet Sylvia?
I grew up in Fresno, but I went to Taft, a junior college, for one semester before getting drafted into the Army.  I had an aunt and uncle who lived in McKittrick nearby, and they were like a second set of parents there.  So, when I went to school there, and I met her at a Beer Bust!  People would accumulate on weekends in such a hot climate over a case or two (or more) of beer. She was there, and I was there. She wrote to me while I was in Korea.  We were married for 62 years and had seven children. They have all moved out of the state. Oh, I have one hanger-on, still living here in California, but he and his family are on their way out too as soon as he retires.  They are scattered all over, including one in Canada.
What did you do in the Army?
I was drafted.  I went willingly, but not happily.  I was Army Infantry as a company clerk. I had taken typing in high school, and I had two years of college chemistry at that point, so I thought I could do well at a MASH hospital. I walked down there and talked to them, and they accepted me. When I showed up with my baggage, someone had blocked my transfer, and I got sent back.  That wasn't entirely bad because I spent a month or so as an infantryman - a rifleman, the lowest form of life! - but then the sergeant rotated home.  I took his job because I could type! And so that's where I stayed until I got out.  I came home and finished my chemistry degree at San Jose State in 1956.
Then you moved to Livermore?
Yes, we moved to Livermore in 1959, and I worked at the Lab as a chemist for 32 years. Sylvia and I were both Catholic. Well, she was really the Catholic.  She grew up Catholic; I did not. I was baptized at birth but didn't get any catechism, and I never received Communion or Confirmation. We were always at St Michael's Sunday Mass at 6:45 am.  I lost her four years ago to pancreatic cancer. I'm still suffering from it.
I'm so sorry for your loss.
Thank you.
What did you do at the Lawrence Livermore Lab?
I was a chemist at the Lab, and I mainly did an analysis of toxic materials.  I would analyze samples to ensure that they were being contained and that people weren't breathing them. It's not very exciting, but that's what I did for 32 years.
What made you want to prepare for First Communion and Confirmation?
I thought maybe Sylvia would appreciate it. Appreciate the effort. My daughter said it wouldn't be enough of a reason and that I should come up with a better one.  But I saw the ad in the Friday Flocknote on my computer, giving information about how adults could complete sacraments. After seeing it a few times, I finally got up enough courage to not delete it.  So I sent an email, and here I am.
Any reason is a good reason to start.  Where are you at in your preparation?
Confession.  Confession is going to really be something. I've got 90 years of sin piled up.  Father John says he has heard it all. I told him that if he's missed any, I'm going to fill in the gaps! I'm not looking forward to it.  And that's where I stand right now.  In talking to her on the phone the other day, my daughter reminded me that one of my worst sins is that I'm not very forgiving. I take exception to those whom I feel have offended me, and I hold a grudge. I hadn't even considered that at all until the conversation with her came up.
Well, that is a shift, to notice what your daughter pointed out.
I suppose. I can't think of anything else that has changed, but my mind is going. Yeah, happens with age.
One way to look at Confession is to think of it like a doctor's office with the perfect cure or a health spa for your soul.
Ha! That is a big reach in my case.  Well, I've not killed anybody!  I probably angered people. I had a typical adolescent male upbringing.  Shame, shame on me. I'm not proud of it. The only thing I don't know how to give up is that I can hold a grudge and keep it. Yeah, and that it's going to be a very difficult habit for me to break.
What would surprise you the most?
To actually hear the words of absolution. That would be surprising. [laughing] I would probably ask, "Are you sure you heard me right?" I honestly don't know. It seems too good to be true.
And you're back to celebrating Mass?
Yes, I come every Sunday. Well, lately I've been coming on Saturday evenings.  When Sylvia was here, we always went to 6:45 am. Always. Since then, I can't get up that early. Saturday at 5:00 pm works better for me.
Are you enjoying your catechism classes?
I think so. I'm meeting with Lisa Malone, who is very knowledgeable and very friendly. She's getting me up to speed. She and I think along the same lines, so we do get along well.
Is there anything that you need from the parish? Do you want people to pray for you?
Well, I know I should say yes.  But I will be truthful with you, and I'll say, "okay." Just okay, just all right.  But goodness knows I can use all the help I get!
Well, we will take your "okay" and happily pray for you, Kyle! Thank you for sharing your story. We look forward to your First Communion and Confirmation day!
Thank you for your time. It was a pleasure to meet you.
It's Never Too Late for Sacraments
Prepare for Baptism, Confirmation and First Communion
The Rite of Christian Initiation of Adults (RCIA) process at St Michael's is ongoing, year-round. If you are 18 years or older, we have a place for you, in either English or Spanish classes.