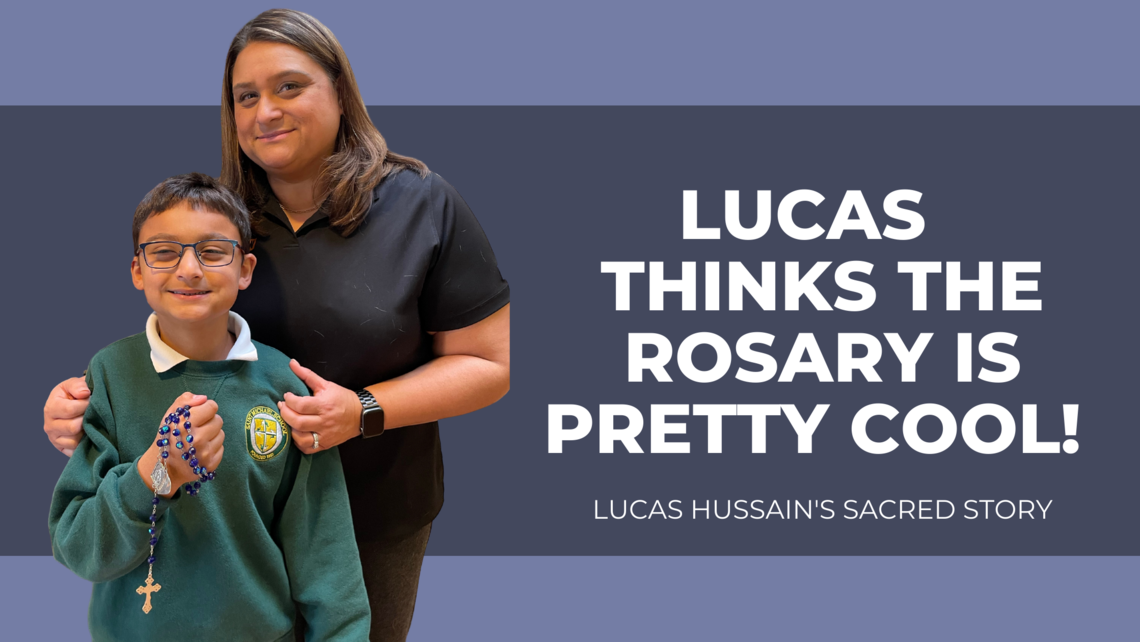 Lucas Hussain's Sacred Story
Lucas Hussain is in first grade at St Michael School. He wants to become Catholic because he really likes the prayers.
Now he and his mom, Catherine, are working together to prepare for his Baptism at Easter Vigil. Here's his Sacred Story:
Hi Lucas. What made you decide to become Catholic?
Lucas: I think I just would like to be. I like the prayers and stuff. They make me feel happy.
Do you pray at home?
Lucas: Yeah. My mom and my grandma pray with me. We pray at night, and I get holy water on my head too. A blessing.
Is that what made you want to be Catholic?
Lucas: Yeah. Mom can say it better…
Catherine: My husband and I come from two different faiths. I was raised Catholic. He was raised Muslim. We agreed when we married that if we had children, we weren't going to have the power struggles of faith. We planned to let our child make the choice. Things began to change when he was in kindergarten.
What changed?
Catherine: He was going to public school through the pandemic. We started to notice concepts and social ideas that were being put forth that just didn't sit right with us. We had a lot of conversations and ultimately decided that the best bet was to enroll him in Catholic school.  And we love it!
Lucas was exposed to Catholic prayers, through me and my mom, and we do pray at night. But we were not 100% living the faith. I remember talking to Lucas, saying that at St Michael School in the second grade, he would have the opportunity to receive First Holy Communion. But to receive First Holy Communion, he must be baptized first. I told him that he had to make the choice. I said, "This is up to you. What do you want to do?"
How did you respond, Lucas?
Lucas: I said YES! [with two thumbs up high!]
Catherine: He's going to receive Baptism and Confirmation at Easter Vigil, then will receive First Communion with his class next year. That way he can be with his friends and have a peer experience. I think having camaraderie and community are important.
What else do you like about becoming Catholic?
Lucas: I like going to MASS! I went to Mass for Ash Wednesday, and I got a cross on my forehead. I wanted to look in the mirror to see what it looked like, but we had to go back to school. But now we have forty days to get ready for Easter, to think about ways we could be nicer to Jesus. I really like going up to get a blessing at Mass. It makes me feel nice.
What do you like about St Michael School?
Lucas:  I like learning. Especially math. I like to write sentences too. I also like running track. I like baseball, but that's not at school. And swimming!
What have you learned while getting ready for Baptism?
Lucas:  I work on stuff with my mom at home. I know the Sign of the Cross. I know the Our Father. I know the Glory Be. But I like the Hail Mary the best.
Really? What do you like best about the Hail Mary?
Lucas: She's Jesus's mom. [shrugging]. The Hail Mary is easy. Not as easy as the Glory Be, but still easy. Moms are nice. I prayed the whole rosary last night for the first time! I started out first just praying some of it. But last night I did the whole thing.
That's really incredible! Good job!
Lucas: Thanks. It's pretty cool. Mary, she said yes to being Jesus's mom.  If she said no, there would be no savior.
Catherine, what was it like to pray the rosary with Lucas?
Catherine: He does amaze me. We prayed a decade together one night. And then the next day he said he wanted to pray the whole thing, but we ran out of time.  Then he made it a priority! He did not mess around, took a shower, got ready for bed, and was in bed by 7:30 pm. He completed his nightly reading to me, then busted out the Rosary. I think there were parts that I forgot, but we did our best, the two of us. 
Sounds like you are growing in your faith because of Lucas?
Catherine: I'm definitely revisiting the faith I grew up with. You could say he's the reason I'm becoming a more active participant. Growing up, my mom's best friend was a priest. Our families would mesh, and he was practically an uncle. The Catholic faith was very strong and present. I never totally lost faith, like I never said that I don't believe in God or anything. I guess things just got busy with school and work and, you know, going to Mass fell away a bit.
I'm impressed by how seriously you're taking his religious instruction.
Catherine: Thanks. Sometimes "mom school" is hard. But I want to make sure he understands these big concepts, so sometimes there's a lot of translating that I have to do to bring it to his level. The Ten Commandments, for example, I had to just condense down. Don't covet your neighbor's goods really means don't obsess about stuff and what other people have. So often I do a lot of reworking. It's important to me that we're not just checking a box and spitting out words. I want it to be meaningful, relevant, and applicable for him.
Well, I think you and Lucas are awesome. We will be praying for you both for sure.
Lucas: THANKS!
Catherine: Thank you very much.