January 20, 2022 - 12:36pm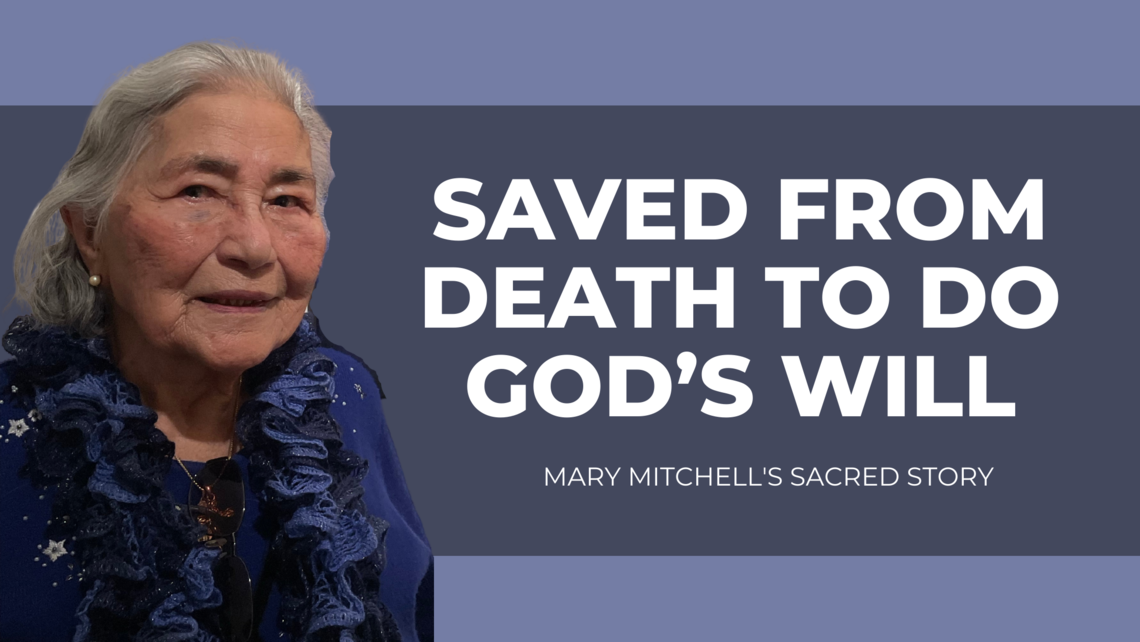 Mary Mitchell's Sacred Story
As a girl, Mary Mitchell escaped death during the Japanese occupation of Guam during World War II.
She and her family settled in Livermore where she feels the Holy Spirit called her to ministry at St Michael's. Now at age 90, she recalls the joy and comfort she feels when doing God's will. Here's her Sacred Story:
Tell us about life during the Japanese occupation of Guam?
I was 9 years old when the Japanese occupied the island during World War II, shortly after the bombing of Pearl Harbor. My father was in the American Navy in Australia, and the Japanese took my older brothers into forced labor, to carry ammunition for the soldiers. My mother had to care for me and my sisters alone, and the Japanese took everything. Our home and everything. But she kept us alive. She saw every grain of rice as a life.
Did your faith help you then?
We were very devout Catholics, but during those three years, we were denied Masses and sacraments. Our Chamorro priest was beheaded because they just assumed he was a spy. It was a very dark, trying time. None of us could receive Christ. I was young and we were just trying to stay alive, but the Holy Spirit gave us strength. Every day was a hardship. We were forced to obey Japanese rules, and we did our best, but my mother was beaten because she couldn't understand Japanese. Toward the end of the second year, we were taken to a cave pretty much as hostages. I escaped death more than once during that time.
What happened?
We had run out of food, and we were starving. My mother and I went out to look for food. The snipers almost got us; there were so many close calls, I tell you! Snipers were all over and if you were Chamorro or American, you were in danger. This was when the Americans were liberating Guam, and the Chamorro people were considered suspects because the Americans were our friends. We should have died then, but I think God was protecting us for a purpose.
You and your family made it?
The Japanese took over Guam in a day, but it took the Americans a few weeks to liberate us. But finally, we were rescued, and I will always love the Third Marine Division. They are the ones who found us. It was such a joy. A joyous day. Things in Guam simmered down, we were able to pray openly again, we had Mass again.
Somehow, we were reunited with my father and brothers. The whole family was safe and together, thanks to the Holy Spirit. My father decided to move us to California. It took us a whole month to travel because Japan had not yet surrendered. I remember being so seasick! But my mom is my saint. She guided us all through that time. She divided up the food rations among us children, and she was just skin and bones. I wouldn't be alive if it weren't for her.
You ended up in Livermore?
Yes, I graduated in 1952 from Livermore High. I got married, had children. I worked out at the Lab as a secretary. But you know, I have always felt like I was Samuel in that Scripture when he says, "Lord I am here to do your will." I know that God saved me from death during the War for a reason.
What did the Lord call you to do?
There were three main callings. The first call was when I was approached by Father Toronto here at St Michael's to teach catechism to children preparing for First Communion. I didn't know too much, but the Holy Spirit was nudging me on, almost saying, "I'm here. I will help. Let's do this together!" You know, when the Holy Spirit guides you, you can do anything! So, I took a crash course and trained as a catechist, and that's what I did for 18 years.
What was the second calling?
I remember seeing in the bulletin that the church needed regular ushers. I asked Father Adams if he didn't mind women helping because only men were ushers at that time. He said to me, "By all means you are welcome! We need all the help we can get." So, I sort of broke the ice. I was the first female usher at St Michael's, and I served for over 20 years.
And the third?
I was called to be a homebound minister. It was a thing to look forward to, to visit the sick and give them Communion. I was so grateful, and I guess I felt safe, knowing that I was doing what God wanted me to do. I just felt protected.
Well, I guess there was a fourth kind of calling too, now that I think about it. St Michael School used to have this program called "Discovery Day" or something. People from the community would come to teach something to the students like cooking or art. I was asked to teach tennis.
You taught tennis too?
Yes! I was a tennis coach at Livemore High for a number of years. But I love the game, so I was happy to show the 7th and 8th grade kids at St Michael School how to hit the ball. Seeing them fall in love with the sport was a joy! And even as recently as a few years ago, people would come up to me after Mass and say, "Mrs. Mitchell, I remember you teaching me tennis!"  Of course, they look much different now, so I'm not so sure I can remember them as much, but it does make me smile.
It sounds like you were meant to serve here at St Michael's?
It would seem so. I kept telling myself that there must be a purpose for me to be on earth. Because there were so many ways I escaped death, and now I'm 90 years old. My life has been a gift, and I thank Him for giving me a good husband, children, grandchildren, and a great-grandchild. And God's purpose for me has been small things, you know. Being a catechist, an usher, a homebound minister and even a tennis coach. But I know He wanted me to do it. I couldn't tell Him, "Go find someone else!"  I was needed for small things. So anyway, I haven't had any inkling from the Holy Spirit anymore. I guess He decided to let me retire! [laughing]
What's one thing you want people to know?
In all these 90 years and in all of my travels, and all the experiences that I've had, the Holy Spirit has always dwelled in me. I just came to the conclusion that His love has always been guiding and protecting me. And it's not just me, right? It's you too. So whenever Satan comes around, just tell him to get out!  Just wake up every day and say, "Lord, I come to do Your will." And you will have peace.
Mary, thank you for sharing your story and your life with our community.
Oh, there are so many more stories to tell! Thank you for letting me tell this part. God bless you.