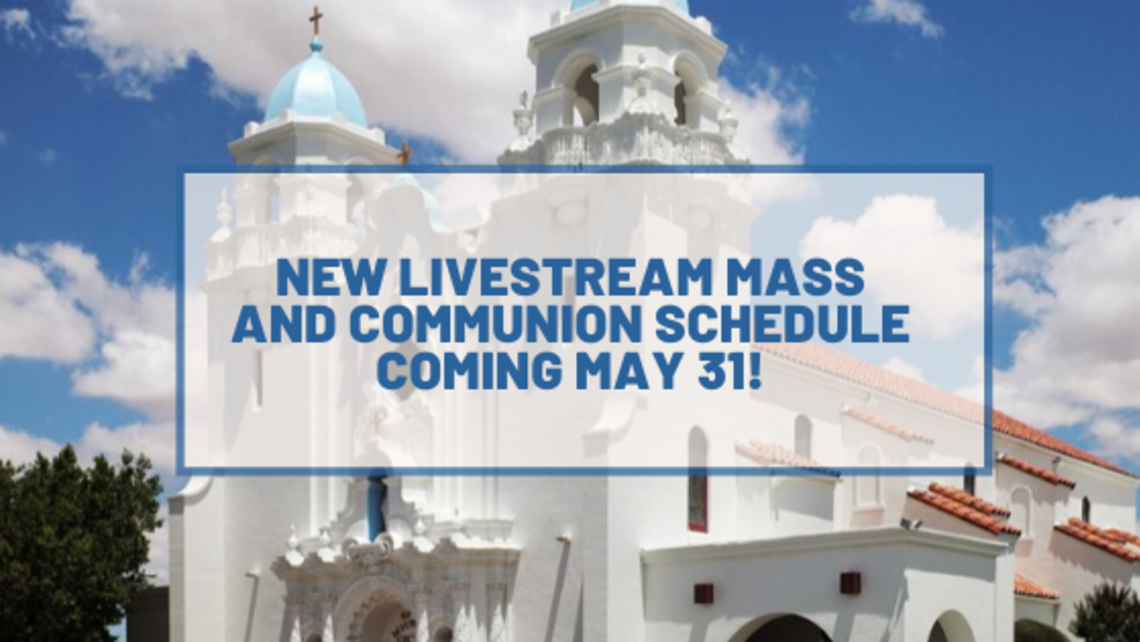 Livestream Mass - Communion - Confession
New Worship Schedule
Based on the guidelines by Bishop Michael Barber, this new schedule is effective Pentecost Sunday, May 31, until we enter Phase 3 as determined by Alameda County health officials.  
HERE IS WHAT IS NEW: 
Two livestream daily Masses, Monday - Saturday: one in English and one in Spanish.
Three livestream Masses on Sunday: two in English, one in Spanish.
Communion by walking into the church only (no more Drive-Up Communion).
4 hours of Communion opportunities on Sunday.
3 hours of Communion opportunities Monday – Saturday.
Communion to the sick and elderly available by appointment Monday – Saturday and to be administered by priests or deacons only.
Drive Up Confession available Monday – Saturday at 3:00 pm only: bilingual, with two priests available.
SUNDAY
Livestream Masses
Facebook.com/StMichaelParishLivermore
6:45 am Mass in English
9:30 am Mass in English
11:00 am Mass in Spanish

Holy Communion in the Church
(see instructions below)
7:30 am — 9:00 am
10:00 am — 11:30 am
12:00 pm — 1:30 pm
6:00 pm — 7:00 pm
MONDAY – SATURDAY
 
Livestream Masses
Facebook.com/StMichaelParishLivermore
8:00 am Mass in English
12:00 pm Mass in Spanish

Holy Communion in the Church
(see instructions below)
9:00 am — 10:00 am
1:00 pm — 2:00 pm
6:00 pm — 7:00 pm
Drive Up Confession
3:00 pm – 4:00 pm
In the courtyard
Two priests available
Bilingual 
Eucharistic Adoration
3:00 pm – 5:00 pm
In the Church
Face covering required
Limited to 10 people at a time
Social distance seating
COMMUNION INSTRUCTIONS
Pray the Mass on Facebook either live or previously recorded.
Park in the courtyard during one of the Communion hours.
Face coverings are required.
People will be instructed, three cars at time, to exit their vehicles to walk into the church through side door, closest to Maple Street.
Walk up the center aisle, remaining at least 6 feet from others.
Receive Communion by hand (preferably) or on the tongue (priest will wash his hands with sanitizer and dry it with a purificator).
Immediately exit through the door to the breezeway.
Return to your vehicle and exit the courtyard.
(Those who wish to just receive a blessing can remain in their vehicles. A member of the clergy will come to the vehicle to offer a blessing.)
ADDITIONAL REMINDERS
Dispensation:
Bishop Michael Barber has dispensed all the faithful in the Diocese of Oakland from celebrating Mass and receiving Communion until further notice.  Those who do not wish to receive Communion in the church or who cannot receive are encouraged to pray the Mass via livestream, recording or on television.
Those at Risk for COVID 19:
Those who are elderly, immuno-compromised or otherwise at risk for contracting COVID 19 should not enter the church for Communion.
Sick, Elderly and Homebound:
Communion to the sick, elderly or homebound will be made available by appointment only, Monday through Saturday, and administered by a priest or deacon only.  Please call 925-667-4052 for an appointment.