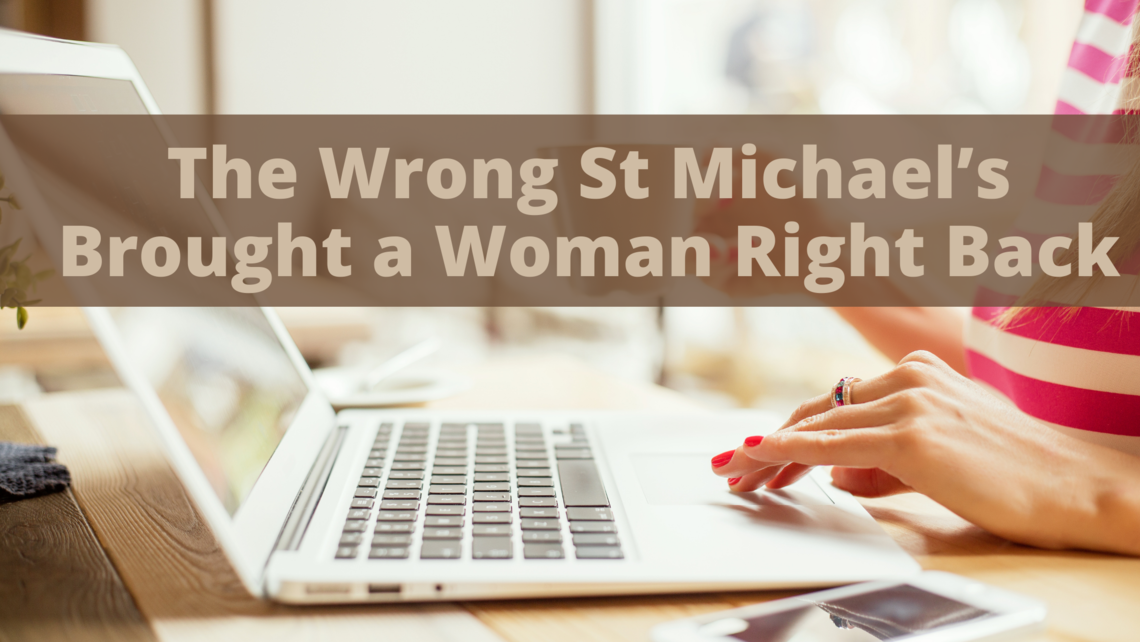 How Mass Livestreamed in Livermore Reached a Lapsed Catholic 2,500 Miles Away
Livestream Mass isn't a complete substitute for the Mass in person.  Because Jesus is fully human and fully divine, the sacraments are both physical and spiritual.  But the pandemic has taught us that livestream Mass does have some unexpected benefits that only the Holy Spirit could have orchestrated.
Meet Meryl*, from Erwin, Tennessee, who is part of our extended St Michael family all because she clicked on the wrong Google search result and ended up praying along with us at St Michael's in Livermore, California.  She chose to keep coming back, and after years of being away from practicing her faith, she is now back strong.
Here's her story: 
Meryl! Greetings from your family in California!  Tell us a little about yourself and how you arrived (virtually at least) at St Michael's in Livermore.

Hi Tina! Greetings from Erwin, Tennessee. I'm a mom of 3 adult children, grandma of one grandbaby and the second one is on the way, arriving this June. I work for a company that supports the Navy. I grew up Catholic, but I don't know. My story is probably less than unique. I went to church because that's what you did. I went to college and not one person was making me go, so I didn't. One Sunday went by and then another.  I remember one year realizing that Easter was the next Sunday coming up and I hadn't even given a blink's notice it was Lent.  I think I got caught up in all the little everything elses, and me and the church just drifted apart. Wow, now that I say that, it sounds sad and pathetic, doesn't it?

It sounds pretty common, actually. You're not alone in that story. So how does a grandma in Tennessee who's drifted from the faith end up finding St Michael's in Livermore, CA?

Oh! Well, that's where the story does get better.  By way of not better, if that makes any sense. I have friends and family all over the states, and one of my best friends from college lives in New York City. Earlier in the pandemic, she lost both of her parents to COVID, her father-in-law and her neighbor.  We were FaceTiming every day and it was like a bad dream. A disaster movie that you can't get up and walk away from. I struggled with what to say. Really what DOES one say when a friend is in the middle of so much loss? And it was walking with her in her grief that made me think of things beyond death. 
I decided that I needed to get right with God, so I Googled our local parish, St Michael the Archangel, clicked the link and found that Mass was livestreamed on YouTube, so I did that.
And I thought to myself, "Have they done some major renovations? I don't remember it looking like this?"
Ha! Then you realized you had subscribed to the YouTube channel for St Michael in Livermore by mistake?
Yes, ma'am, I did! But I know this is funny, but it felt disrespectful to stop watching, so I stayed right on.  And then I tuned in again the following week, and then a few mornings during the week and so on. Before too long, I felt like I knew your Fr Carl and Fr Ryan and Fr John!

That is such a wonderful mistake, isn't it? We are happy to have you as a member of our "remote" family.  Tell me more about how the livestream Mass helped bring you back to the faith.
 
I don't know exactly how to phrase it.  It was like Jesus was talking to me right though my iPhone, telling me it's okay. It's all going to be okay. I can't tell you how many times I broke down in tears. Especially praying along with the Spiritual Communion prayer. I hadn't heard of that one before, but it was like those words were MY words. And I just had this craving for more.

And did you get more?
 
Oh yes! Well, making a long winding road of a story shorter, I went to Confession.  My palms were slick, but I also had a sense of excitement, like getting back to where I needed to be.  I went through so many tissues during that confession! And after Confession, I don' t know. I felt at peace. A sense of calmness deep down. I felt … clean.  Then I just could not get enough. It was like I was racing to gobble up all the lost time. I re-learned the rosary, I looked up Church teaching, I started listening to podcasts. I know I have given my husband and children the fits and the groans, but I can't help it!

That is just beautiful, I'm so happy for you.  Thinking back to your friend in New York in her grief, how has returning to the faith helped you answer some of those big questions?
Well, I don't know if I have pat answers to all the questions, that is certain. But I guess I have a sense that God is real and present and doing His work in the middle of all this mess.  I have a feeling of comfort that death isn't the end. And I have shared that sense of calmness with my friend, and she seemed to feel a measure of it too.  I still haven't worked out in my head why all this pain happens. I'm still talking to God about that, and probably will be until the day I die. But guess you would say I'm more at peace in the storm.
It feels like this wasn't the "wrong" St Michael's after all!
No, it sure does not! 

Do you have a bit of advice for someone who has been away from the faith?
[laughing] Girl (or boy), just let me send you this YouTube link! We have so much available to us just on a little device that can fit in our pockets.  Just get in there and find good sources.  And even if you think you didn't hit the right one, trust that the Holy Spirit will get you there. Even in a parish miles away!
Now here's the big question: when will you visit Livermore, so we can meet you face-to-face?
That would be something, wouldn't that? I've never been to the west coast and would love to visit. I think if I met Fr Carl and Fr John and Fr Ryan I would just break down and cry buckets. 

Well, we would welcome your visit any time. And we will let our priests know that they reached you without even knowing it.  Any final thoughts?

I just want to say that miracles happen. Sometimes right out of our mistakes, even ones so silly and stupid as clicking on the wrong parish in a Google search. The Lord knows what He is doing, and He will get you there.
And also, if anyone out there is feeling adrift, like ya can't make sense of what life is throwing at you, maybe that's the Lord calling you back. 
Amen, Meryl! Amen!  Thank you so much for agreeing to this interview.  God bless you in your continuing journey and give our love to your family too.
Thank you! Everyone at St Michael's in Livermore is in my prayers.
*Meryl is our guest's assumed name. Due to her employment, she chose to remain anonymous. 
St Michael in Livermore still livestreams Mass on Facebook and YouTube every day.
St Michael the Archangel in Erwin, Tennessee does to.
Tina Gregory is the Communications and Adult Enrichment Coordinator at St Michael Catholic Church in Livermore, CA.