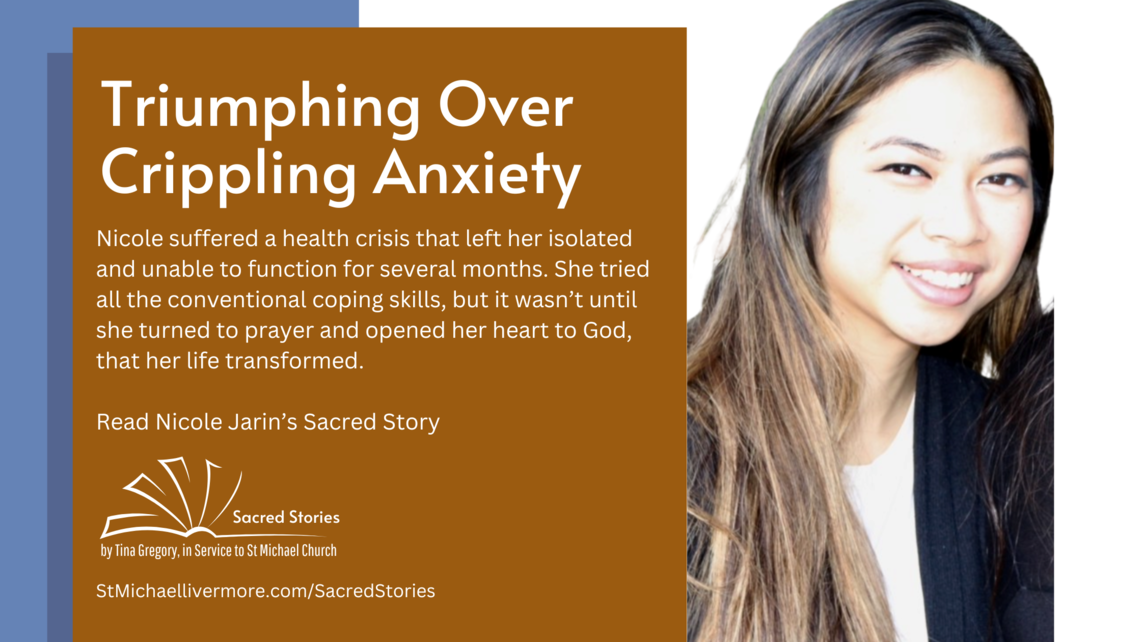 Nicole Jarin's Sacred Story
Nicole suffered a health crisis that left her isolated and unable to function for several months.
She tried all the conventional coping skills, but it wasn't until she turned to prayer and opened her heart to God, that her life transformed.
Tell us about the health incident.
Yes. In July 2021, I had a major health incident, a breakdown, in a restaurant that sent me to the hospital. It stemmed from a combination of overall anxiety, burnout, fainting, asthma and not taking care of my health. Doctors put me on meds, which had side effects. It was messy for several months, and it felt like I would never get better. I was so debilitated that it was hard to speak in full sentences without the anxiety in my chest feeling like it would explode. I couldn't be around people, and I couldn't even drive down the street. Sitting in a restaurant was terrifying. Just a horrible, mortifying experience. I felt helpless. I started therapy, did breathing exercises, practiced yoga, and all the other things you're supposed to do, which really did help quite a bit. But it wasn't getting me all the way. So, one day I had to be at a restaurant, and I was really struggling, and I was feeling the anxiety starting to take over. I said to myself that I was going to start praying.
You hadn't prayed before?
Yes, but it had been a very long time. I used to pray every single night at a very young age, maybe from around preschool until I was about seven or eight years old. I was baptized Catholic, but my parents separated and so we didn't go to church consistently. But praying at night was very embedded in my nighttime routine when I was little. Every night I asked, "Dear Lord, please don't give me any nightmares or bad dreams." And every night I would not have any. As I got a little older, I stopped praying, and I had bad dreams for like a week straight. I'm not saying God gave me nightmares, but when my nightly practice was off, everything was off.  Then like a lot of things as you get older, praying just sort of faded away.
But you remembered prayer at that moment in the restaurant?
Yes, I suddenly had an urgency to start a conversation with God again, but I felt like a fake, you know? Like, I knew God as a small child, and then only now because I'm desperate did I think to reach out to Him again. I was sort of embarrassed, but I did it anyway, though. I prayed "Dear Lord, please help me be able to sit in this restaurant without panicking." It felt like such a big ask at the time. And I was like, yeah, we'll see if this really works. Then (and this is so emotional for me) I felt Him calling out to me, in a way I cannot verbalize. I was bathed in an overwhelming sense of peace and safety and love. Oh, my goodness, it was like a high! Just this tangible feeling of God saying, "I AM HERE." All I could say from my heart was thank you thank you thank you, over and over. I made it through the meal without anxiety. It was such a blessing; such a confirmation of His presence and I never want to forget it.
How did that change you moving forward?
As I said, I couldn't drive down the street. It was too terrifying. But eventually, I had to do this big hour-long freeway drive. As I sat in the car, palms sweating, I talked about it to God, and there was that peace again! I was able to make the drive without a panic attack. I tell you, I was celebrating in the car and giving Him thanks because this wouldn't have happened if it weren't for Him. So that, and many other moments like that, are what inspired me to inquire about joining RCIA to prepare to receive the Sacrament of Confirmation. I felt so motivated to learn more about God and His Church. I kept praying to Him saying, "I'm going to strengthen our relationship, I'm going to go to Mass because now I have proof that you're real and here!" I was still recovering, but I felt like I could overcome anything, even if it was hard, with God by my side.
What was it like to go to Mass?
I was scared, to be honest. I was still very nervous in groups. I was telling Lisa, the RCIA coordinator, about my insecurities, and she was reassuring. She said to bring water, and sit in the back, or behind one of the pillars at the end of the pew in case I needed to take a breather. She made it okay to take it in small steps, and I was grateful. So that was my spot for a while: at the back behind the pillar. Then one Sunday, all the RCIA students were to sit together at Mass all the way up front.
Oh! How did you handle that?
I was freaking out a little for sure! But Lisa was motioning to me, and I couldn't say no to that. Before I knew it, not only was I up front but also in the middle of the pew. I was thinking, oh boy, okay. I started reminding myself that God is here with me more than I know, and more than anywhere else. I was sitting next to a very kind woman, and we were sharing the hymnal and she was motioning me to sing. I was thinking, oh my gosh, is she going notice I'm sweating? She doesn't know that I haven't been close to anyone like this. Will she notice that I'm freaking out and about to faint? But I resolved that this time to pray was between me and God, and so I decided to follow along and sing with her. Then the miraculous happened. My heart rate slowed, and my heart opened, and I was overcome with love. It was a brand new experience for me, being in a group and trusting and worshiping together… the connection was indescribable. It was a whole other level than praying at home.
Your story is incredible, and I am so happy for you! Where are you now in your journey?
Thank you. I'm still attending RCIA classes, and I've been loving it. I'm so thrilled in ways I didn't expect, and my faith is growing tremendously. The video lessons are top-notch and beautifully produced. The discussions we have with our fellow classmates lead us to deep places, which is something I would have never thought possible. God willing, I will receive the Sacrament of Confirmation soon. Mostly, I really feel like God is not done with me yet. This is just the beginning of something tremendous. I mean, I'm still working on managing the anxiety, but I'm also just soaking up the love, soaking up the trust. Because anxiety cannot exist in the face of trust, right? I just feel God saying to me, don't worry. You are safe. You are loved.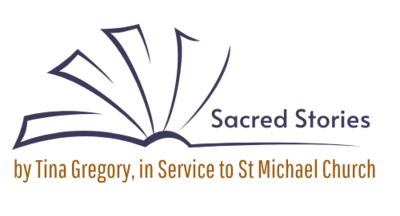 SHARE YOUR STORY!
How has God changed your life?  Have you experienced personal miracles? In what ways has your faith grown? Is there a difficulty that you have overcome with the help of the Lord? Your story is a unique and beautiful gift that can inspire, uplift, and motivate someone! Book an interview with Tina to share with the community God's Glory. 925-667-4051