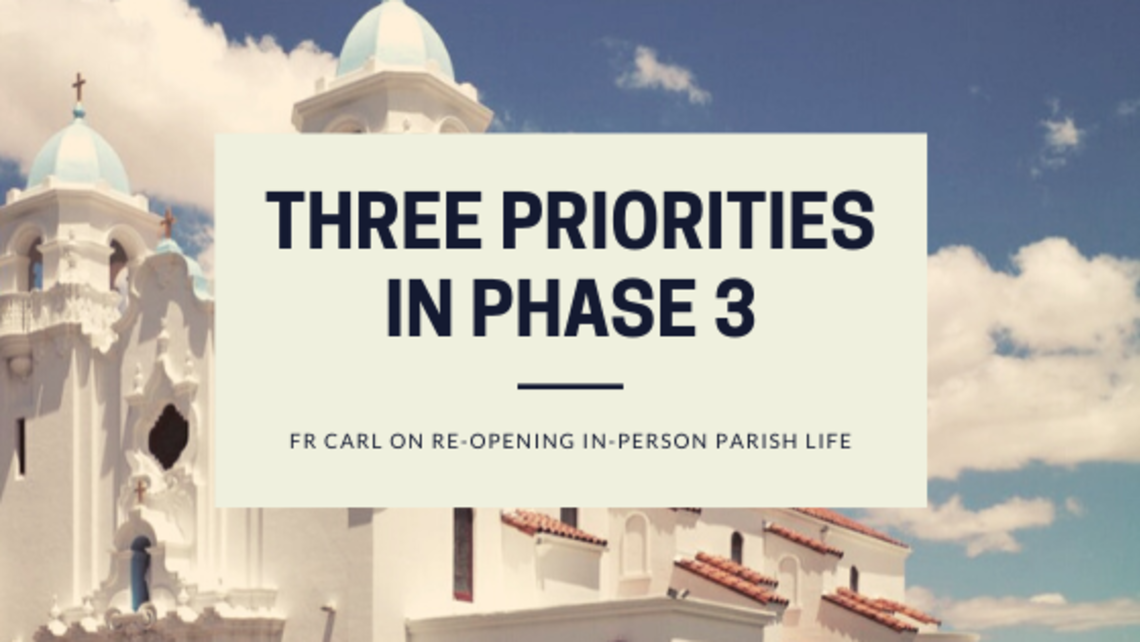 Fr Carl on Re-Opening In-Person Parish Life
May 17, 2020
Dear Parishioners,

There are so many uncertainties brought by COVID-19. People are sick and grieving.  People are worried about finances and job loss.  People are lonely and depressed in their homes.  St Michael family, do not lose hope!  St Julian of Norwich has been a comfort to me, and I hope she will be to you as well.  St Julian of Norwich was an English anchorite of the Middle Ages who wrote the earliest surviving book in the English language written by a woman: Revelations of Divine Love.  In this book, she describes a vision of Jesus informing her, "...all shall be well, and all shall be well, and all manner of thing shall be well."  For many centuries, Christians have experienced so many trials and hardships, but their faith shined during those times of uncertainties and sufferings. I pray the same faith of St Julian and countless Christians who have gone before us also keeps us going.
As we trust in the Lord, I also humbly ask that you trust me, our clergy, parish staff and ministry leaders.  Together, we will continue to serve you with dedication and love.  We know how eager you are to bring back Mass in person and our community's vibrant ministries.  However, we must carefully follow the precautions and orders given to us by the State of California and the County of Alameda, for the safety of us all.  Our governor has outlined a four-phase plan for re-opening our community.  As of this writing, we are in the beginnings of Phase 2.  In Phase 3, churches will be allowed to reopen for worship, but with a limited in number of people and with restrictions in place.  It appears that Phase 4 – resuming unrestricted community gatherings – is a long way off. 
As we move toward Phase 3, I would like all our ministries and committed parishioners to focus on three things:  St Vincent de Paul, Liturgy and Pastoral Care.  Please see below for details on this vision.
It is my hope and prayer that we can continue to work together as a united parish on mission and that these services and liturgies will give us assurance that God continues to strengthen and nourish us.
Your pastor,
Fr Carl
P.S.  As always, thank you for your continued financial support of St Michael parish.  We are able to continue on our mission because of you!
Three Priorities in Phase 3
Start Date to Be Determined by Local Officials
 1. St. Vincent de Paul Food Drive
We will need many more abled-bodied volunteers to help stock our shelves, clean the pantry and prepare for distribution.  We would like to expand hours of service to Monday – Saturday.
2. Liturgy
Mass
Mass will be by reservation, limited to a small number to celebrate in person in the Church. All Masses will also be livestreamed with Drive Up Communion available.  No congregating before or after Mass. Entrance and exits at separate doors. Temperature check upon entering. Masks/face coverings will be required. Sanitization stations at the doors.
Daily Mass, Monday – Saturday: 6:45 am and 8:30 am in English
Wednesdays: 7:00 pm in Spanish
Saturday Anticipated:
5:00 pm in English
7:00 pm in Spanish
Sunday:
6:45 am in English
8:00 am Traditional Latin Mass
9:30 am in English
11:00 am in English
12:30 pm in Spanish
3:00 pm in English
4:30 pm in English
6:00 pm in English
7:30 pm in Spanish
Drive Up Confession
Monday- Friday at 7:15 am, Saturdays at 9:15 am and 3:45 pm in the Courtyard.
24-Hour Adoration and Exposition
Limited number of people (perhaps 4-6 people) by reservation. Social distancing, face coverings and other county health provisions will be required. 
3. Pastoral Care
We will focus on growing our Homebound Ministry and Grief Support Ministry.  Since, many of our current ministry members are above 60 years old, we will need younger volunteers to be trained as ministers. Email FrJohn@StMichaelLivermore.com for more information. 
Additional Limitations
Non-Essential Ministries
During Phase 3, all non-essential ministries will refrain from having  in-person meetings and gatherings at St Michael's.  If you wish to gather with your groups, please use social media resources such as Zoom or Webex.  At your own risk and as determined by local officials, you might be able to gather in your own homes during Phase 3.
Essential Ministries
Essential ministries are those dedicated to Sacramental preparations and parish operations. First priority for facilities use will be given to ministries such as First Communion, Confirmation, Faith Formation, RCIA, St Michael School and Parish Council, Liturgy and St Vincent de Paul.
Let us focus on these three priorities of St Vincent de Paul, Liturgy and Pastoral Care.  And please assure me of your 100% cooperation with the limitations and guidelines for the safety of each parishioner and for the spiritual nourishment of all.
May God bless us and thank you all for your generous support to our mission and our parish!
Your Pastor,
Fr. Carl