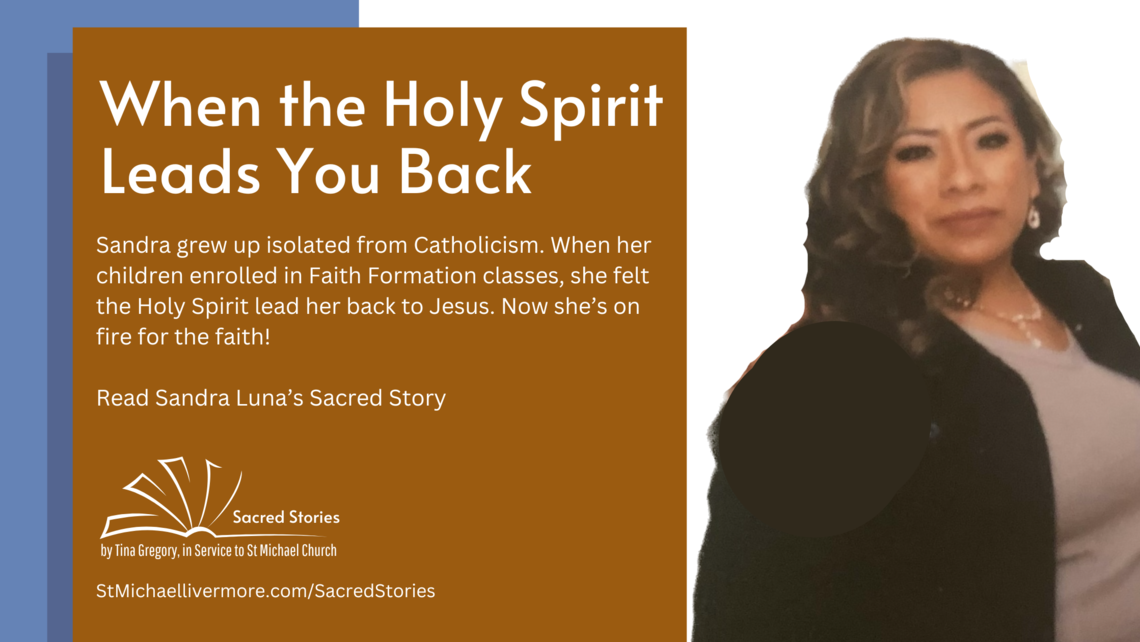 Sandra Luna's Sacred Story
Sandra grew up isolated from Catholicism. When her children enrolled in Faith Formation classes, she felt the Holy Spirit lead her back to Jesus. Now she's on fire for the faith!
How did the Holy Spirit call you back?
Well, growing up my parents attended some kind of other religion, like a kind of spiritual temple or something. I didn't attend as a child and I don't know much about it, but later they wanted me to follow too. I just didn't. I went along without knowing much of anything about God. I was definitely in darkness, and had no one to guide me. No guidance at all.
What's strange is that no one person suggested that I look into the Catholic Church. It was 100% the Holy Spirit. I was going through some very difficult times and suffering with anxiety and other illnesses. I felt an unexplainable pull, like a calling to come back to Mass. I know now that it was the Holy Spirit. When I did come back, I felt peace at last!
Is that when you decided to prepare to receive First Communion and Confirmation?
Soon after, yes. My children were taking their classes to receive Sacraments, and they would tell me things. And I didn't have a clue! So, I decided it was my turn to learn about the faith.
What is it like now that you are attending classes?
It's like a big WOW! I had no idea how much I didn't know, how beautiful the Church teachings are, and how much Jesus loves us. Every moment that I learn something new it is really powerful. I feel like it has changed my whole world, like my life is brand new!
How has your life changed?
For one thing, I do not have anxiety anymore! I was going to counseling for anxiety, and it helped a little, but not much. But now? I feel like Jesus has healed me. Every morning when I wake up, I feel like the Holy Spirit is there with me and throughout the day, everything is more easygoing. Everything is brighter and better.
Prayer is everything! As a family, we pray before meals now, which is a big change for us. It has made a huge impact on our family life. I'm also learning to memorize the Rosary prayers, so I won't have to look at the paper, and I want to attend the Rosary groups to pray together. And I'm paying attention to those "God Moments" too.
Do you mean noticing God as you go about your day?
Yes, that's how I understand God Moments. There are a lot throughout the day and throughout my life. One example is when I got into an argument with my husband. I got so angry, but instead of continuing the argument, I stepped out and went for a drive. I ended up driving by St Michael Church and heard the bells ringing. Without thinking too much about it, I parked and went into the church, and Mass in Spanish was just starting! I had no idea that there was Mass on Wednesday evenings, so I think it was Jesus just saying, "Come to me. Let me help." Then after coming home, we apologized to each other. There was no more arguing, no more fighting.
It sounds like you've fallen in love!
Yes! I want to learn and grow more and more about God.  I love watching the educational videos and reading about the faith. I used to have a fear of God, I think, but now I feel protected and safe and so hungry to learn more. I just want to stay on track and my heart feels like it's finally full. Before, it was empty. That is why I'm preparing to receive First Communion and Confirmation. My husband and I were married civilly, and we are preparing to be married in the Church too. I can't wait!
I love your energy.
Thank you, I do have a different energy than before. I just want everyone to have what I have found! I want to tell the world to come to Mass, get close to Jesus. He will send you light and peace and joy to make things better. I wish everyone could see the world in this different way.
So don't wait. Don't hold back. Go to Mass, you know, attend church because there is a cure for your hurt. Everybody needs more light in their heart, in their homes, in the community. Everyone needs the love of Jesus. He will only make things way, way better.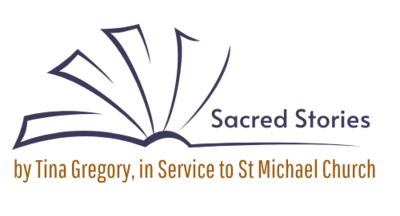 SHARE YOUR STORY!
How has God changed your life?  Have you experienced personal miracles? In what ways has your faith grown? Is there a difficulty that you have overcome with the help of the Lord? Your story is a unique and beautiful gift that can inspire, uplift, and motivate someone! Book an interview with Tina to share with the community God's Glory. 925-667-4051