February 23, 2022 - 10:31am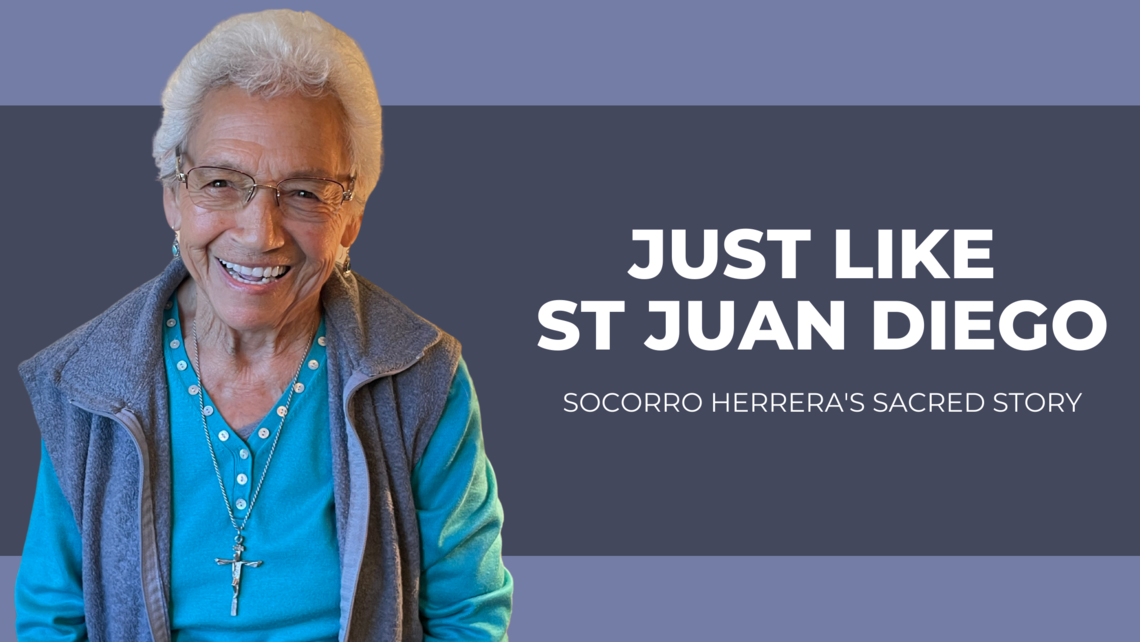 Socorro Herrera's Sacred Story
Before Vatican II, Mass was celebrated in Latin throughout the world. 
When Socorro Herrera was a young parishioner at St Michael's in the 1960's, the "new" Mass began but was only celebrated in English. With the help of Our Lady of Guadalupe's intercession, Socorro met with then pastor Fr Adams to start a community of faith for Livermore's Spanish speakers. As the founding member of the Hispanic Community at St Michael's, she is often brought to tears by how far we have come at our parish. Here is her Sacred Story:
When did you come to the United States?
My brother lived here, in Santa Clara, and had asked me to come and stay with him in 1959, instead of being in Mexico. He decided that my life in Mexico wasn't going to be good at all. I was very shy, and very stubborn and gave my parents problems. He was a mechanic and wanted me to come here to California, so I did. He said I had to work over here, but I didn't know much English. He said I could be a nanny and take care of babies because they didn't speak English either!
That's how I met my husband, actually. He had lost his wife to cancer and had three young children. I was helping care for them and then six months later we were married. Yeah, we moved fast! We had his three children, then we had one together. He was a wonderful man. He worked for Lawrence Livermore Laboratory and that's how we moved here.
And that's when you came to St Michael's?
Yes, we were married here! But by then Mass was not in Latin, and not in Spanish either. Only English, but I didn't speak English then. I remember talking to the priest and he told me to just say "yes" to whatever was asked of me. Oh, I did not like that! It was so difficult having a language barrier and missing the Catholic traditions that I grew up with.
What helped you feel more at home here?
My father took a bus here all the way from Mexico for our wedding. He brought as a wedding gift a huge replica painting of the image of Our Lady of Guadalupe to give to St Michael's. He had the canvas rolled up in a tube, and he traveled with it. I don't know how it happened, but when he got off the bus in Livermore, he accidentally left it on the bus! Oh, he was crying and so upset. We called the bus company and were told that the bus was on the way to Texas already. I don't know how they were convinced to come back, but I think it was Our Lady who knew that we needed her image. But they did come back all the way to Livermore just to stop for two minutes for us to grab the tube. We sat at the bus station for so long because we didn't want to miss it. But we got it and we were so happy.
Is this the image that is in the church today?
It was supposed to be, but it isn't. See then, the pastor said that we could not have it in the church. There were no images of Guadalupe anywhere and no Mass in Spanish. No catechism classes or prayer groups or anything in Spanish. At the time, the Dominican Sisters didn't want to have anything to do with the Spanish-speaking community, so they did nothing. It was much later that one of the Sisters bought the current image and put it in the church, but that's another story for another day. 
What finally changed?
It was when Father Adams came to St Michael's. We met and he said he wanted to learn to speak Spanish. I remember him saying, "I'm a Mexican too, you know!" Even though he was not! He was often silly like that. I told him how so many of us have a devotion to Our Lady of Guadalupe, and how there were no statues or images or anything in Spanish. He would just listen and nod. Then he surprised me when he drove to Mexico and bought a beautiful mosaic of Our Lady of Guadalupe. He put it at the front of the Church right near the Holy Water, and that was the first image of her at St Michael's. Now you can see it in the foyer near the entrance to the parish office and the chapel.
You were like St Juan Diego, bringing Our Lady here!
Ha! Yes, maybe so! After that, I really started talking with Fr Adams. We talked about how Latinos were not coming to church because they couldn't understand anything. He was listening, he was soaking it all in. And I think Our Lady did a miracle or something. I asked Fr Adams if we could have a celebration in December, you know, for the feast day. He got permission from the bishop, and then the planning started. It was amazing how everyone came together, everyone was so excited and full of energy. I had friends that I called my "crazy tamale ladies" who made chicken, pork, vegetable tamales. There were ladies making the special bread and the hot chocolate. And people helped make a beautiful float for the procession with a statue of Our Lady that my dad also brought with him.
Is that the same statue that we see every year to this day?
Yes! Over the years, her hand broke, but we found a way to replace it. But it is the same Lady in the procession from the very first one at our parish.
After that first celebration of Our Lady of Guadalupe, the Hispanic Community began?
Yes, after that Fr Adams knew that there was a large number of people who needed a spiritual home. He was the first to take us seriously. That's when we started to have a Sunday Mass in Spanish. You know, he learned to speak Spanish pretty well because of that first conversation I had with him. He was dedicated to meeting the needs of the Hispanic community.
And if it wasn't for you, there wouldn't be a Hispanic Community here either!
Well, I don't know. But I think I was in the right place at the right time. And I also think that Our Lady had a lot to do with it. She is our Mother, and she heard the cries of her children. Fr Adams was in the right place at the right time too because he didn't just ignore the situation. He acted. He got the Dominican Sisters involved too.
Now, look at where we are all these years later! It brings tears to my eyes when I think of how many children and teens and adults have learned about the faith because there were groups taught in Spanish. Imagine how many souls celebrated Mass in Spanish, people who may not have come to church at all if it wasn't in a language they could understand. And celebrating the Feast of Our Lady of Guadalupe every year - keeping our culture and traditions alive - it makes me remember how it all began. God really is good!
Yes, He is! Thank you so much, Socorro. You are our parish's treasure!
Oh, thank you, Mija. I am very blessed to be here.