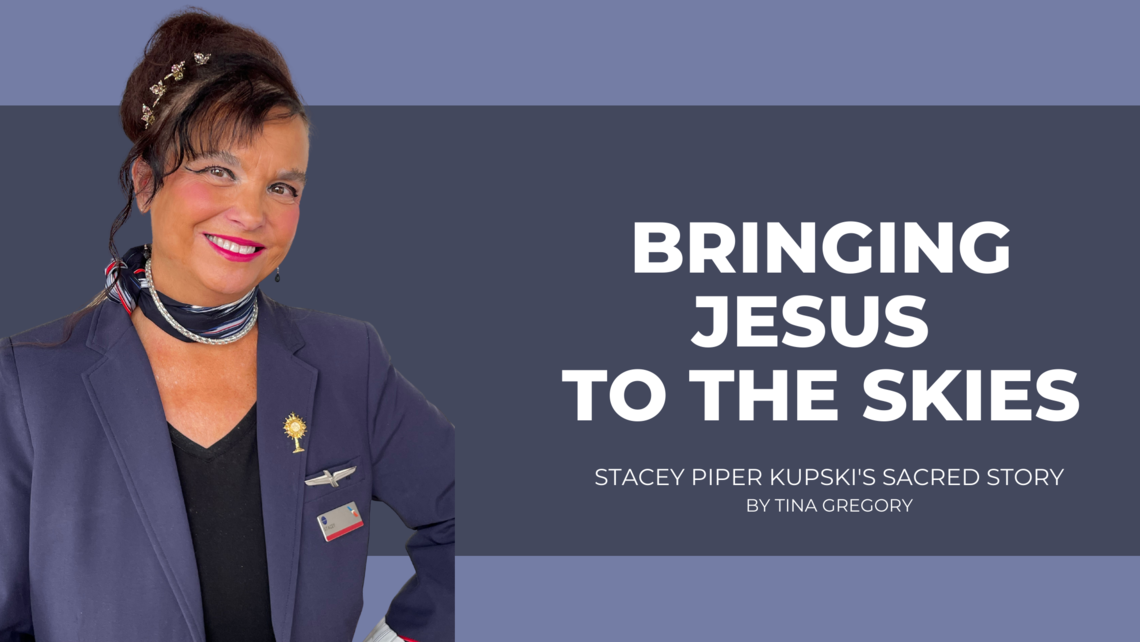 Stacey Piper Kupski's Sacred Story
Stacey Piper Kupski has been wearing a Monstrance pin on her flight attendant's uniform for sixteen years.
She sees it as a gleaming reminder of Jesus' peace, protecting our human fragility. Over the years she has experienced moments of grace by bringing Jesus to the skies. Here's her Sacred Story:
Tell us about this pin.
The Monstrance is the gilded frame that holds the consecrated Host for people to adore Jesus' presence. My pin is a little depiction of a Monstrance, and the image of the host has JHS, the traditional monogram of Jesus. My husband, John, bought it for me when I became an Extraordinary Minister of Holy Communion. I would wear it to Mass, but then started thinking, what if I just put it on my uniform at work?
Did it feel strange at first?
Not at all. I wear it because I find it comforting and a beautiful sign of my faith. If there's any spreading of the Word beyond that, of course, I'm thrilled. But I just wear it humbly because I find on good days and bad days it reminds me of God's presence. We've all been through so much lately with the pandemic, civil unrest, economic craziness. Now more than ever, we're being reminded of our fragility. I find myself touching the pin throughout the day, and it reminds me that God is in charge.
Have you ever had a negative response to it?
Never. Not even once. I wear it quietly and with humility. Actually, I'm amazed by how many people recognize it. Sometimes someone will look at it, and then look again and pause. They usually say something like, "Wait a minute, that looks familiar. I was an altar boy long ago."  Or sometimes they say, "That's something really special, isn't it?" Every now and then passengers will notice it, and we make a knowing eye contact. I think in those moments of grace, they feel comforted too. It's a nice little connection… and then I bring them extra treats!
What was it like as an Extraordinary Minister of Holy Communion?
I haven't been able to serve for some time, due to work, but it's very clear in my mind. I remember being so humbly honored. I remember standing there with the Body of Christ, which can be just breathtaking. Then looking into people's eyes and just imagining what our Lord would be thinking right now looking into their eyes. Sometimes I would be overcome with a feeling of magnificent grace. While my Monstrance pin obviously does not have a consecrated Host in it, it does bring me back to those moments.
Were you always this solid in your faith?
I've always been a Christian but became a fully initiated Catholic in April 2001. When I met John and we were ultimately discussing marriage, our spirituality was extremely important to us. The timing was right, as I'd wanted to become Catholic. It was very cool that my parents were also initiated into the church at the same time!" Looking back, I think that the grace I received then is what got me through so much.  September 11 was just five months after that.
You were in the air on September 11?
I flew out of Manhattan, New York on 9/11, very early in the morning. I was "deadheading" which means I was a passenger going back to my base in Los Angeles. We were in the air for about 45 minutes when the first tower fell.  I could just tell by the way the flight attendants were acting, that something was up. We didn't know what was happening. We were forced to land in Indianapolis.  We stayed there 3 days as all air traffic was grounded. It was terrifying. It was awful.
I can see how bringing the Peace of Christ to the skies makes sense, given that.
Yes. I started wearing the pin a few years after 9/11, especially as my faith grew. With everything we've gone through as a society and not to mention our own personal challenges, it's nice to have a touchstone. It reinforces my faith and love of God and brings me back to the present moment.
Do you pray on flights?
I have a special prayer for takeoffs. "I trust in you Jesus. I adore you, Jesus. I will follow you. Please bless our aircraft and keep us safe from harm." It's just a small, simple prayer, but it's become my habit. Oh, and I'm not crazy about turbulence, so when it gets kind of rough and tumble, I'll say the St Michael prayer. He's an incredible saint, and what could be better than to fly with an angel!
I bet you're not the only one who prays!
I've seen pilots with bumper stickers on their flight cases, that say, "God is my pilot." I love that! It just reminds me that I'm the co-pilot of my life. God really is in charge.
When we change crew, it's customary to introduce ourselves to the pilots. I've had several pilots notice the pin when I go into the cockpit. "Hey, isn't that a Monstrance?" It makes me smile.
And you'd be surprised how many passengers pray on flights! It's very encouraging when I see passengers on my plane praying the rosary in their seats. I just give them a thumbs up. It's these little holy moments that are gifts, you know?
Your Monstrance pin is seen by hundreds each day!
Oh at least! Airplanes hold hundreds of people and I often have several flights a day. Then there are all the people I see in the terminals, then I'm in the hotel van and everything in between. It's a lot of people every day. I try to keep the Lord in my present moment, and I hope those prayers reach others that I encounter. I give all the credit to Jesus, of course. But I like to think that Jesus, who is so much a part of me, just overflows out!
You make quiet evangelization sound so easy.
Well, it is! I think the important thing, if you're going to wear a religious piece of jewelry, is that it comes from an authentic place. If it helps you recall Jesus and your relationship with Him, it will bring you peace. It's not a magic charm, but a reminder. And that peace can't stay only in you. It radiates out like perfume!
Thank you, Stacey, for sharing your story.  Maybe you'll start a Monstrance pin trend!
You're welcome. And wouldn't that be amazing!
WHERE TO GET YOUR MONSTRANCE PIN
If you would like a Monstrance pin like Stacey's, check out the ones offered at the any of these online religious stores:
Prospect Hill Co: www.ProspectHillCo.com
ETWN's store: www.EwtnReligiousCatalogue.com
Catholic Company: www.CatholicCompany.com
You can also try Holy Angles Books and Religious Articles in Antioch  (925) 778-2855