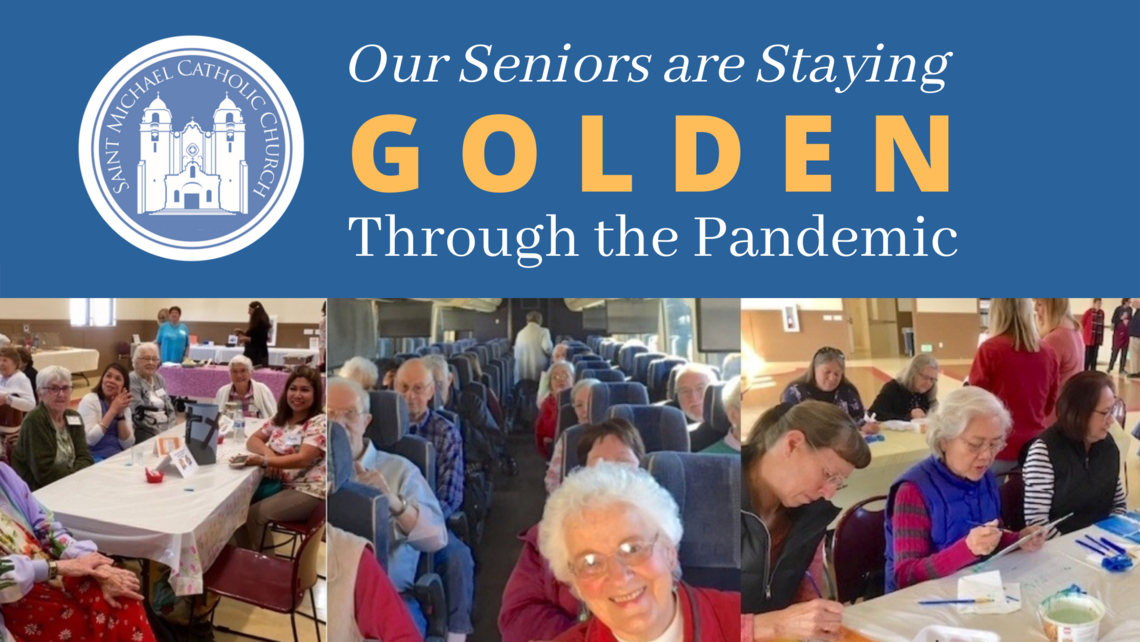 The pandemic forced our culture into a nearly mandatory digital world, which proved especially hard on our seniors who were not used to technology. But our Golden Friends, St Michael's social and spiritual group for seniors, stayed true to their name and have been shining brightly through these difficult times.
I was excited to meet with Golden Friends Joe and Toni Smith, Mary Pineda, Suzanne Gutierrez, and Mary Ann Johnston over Zoom to get their story on how they have kept their ministry vibrant and faithful:
Welcome Golden Friends! It's so nice to see your faces on my screen. Tell me a little about the challenges that you have had through the pandemic.
Toni: Technology! Thriving through the pandemic has meant a heavy reliance on internet technology for so many things, and many in the older generation don't have the skills.
Joe: About 15 or so of our members don't even have email, so getting them to tune into livestream Mass was out, unless a caregiver or family member set it up for them. Some did, but I think some just missed out.
Toni: For many, our monthly Mass and luncheons were their only social outing. Without that in-person contact, it has been hard.
I can imagine how isolating that must be. Were you able to reach them in a different way?
Mary: Suzanne did some well-being checks and called everyone just to say hello and see if anyone needed anything.  The good news is that they were all doing well.  They had other community resources, like friends and family caring for them, which is great.
Suzanne: Yes, everyone had a family member or friend that was looking after them.  But I do get calls from seniors often asking for basic parish information, because they might not have a hard copy bulletin or know how to check the website.  So I'm happy to look things up for them.
Toni: Mary Skelly, one of our members, also sends cards in the mail to those who are sick, and sympathy cards to families when there is a death.
Mary Ann: Oh! And Scout groups made Valentine's Day cards and we sent them out those who had given us mailing addresses. It was so nice. We got some nice feedback about that.
Sounds like you found work-arounds. Did you find that some of the "non tech" members gained some skills because of the pandemic?
Mary P: A few of us did the Lenten Retreat online, which is more than I expected.  And I think several caregivers and family members have helped by setting up livestream Mass for them, which is nice.
Mary Ann: My granddaughter put the Zoom app on my phone for me, so it is easy. I just push a button. It has really helped me feel like I'm part of the community, especially with Toni and Joe.
Let's talk about your amazing Flocknote newsletter! It goes out every Monday at 2:00 pm to 106 members, with a consistent email open rate around 60%, making your group the most active and well-received group on St Michael's Flocknote network.  (For reference, the Friday Flocknote, the parish-wide newsletter, hovers around a 40% open rate).
Joe: Ha! Well, I wish more were reading it and opening it.  Mary Ann is our number one commenter on our newsletters. We get other comments too.
Mary Ann: I like the unity that I feel when I get the newsletter. It makes me feel connected to the group. And Joe does a great job.
Toni: Mary Ann and Mary are our reviewers and proofreaders of the newsletter. We want to make sure everything is good before we send it out. And it makes us feel involved!
Joe: I like to include a nice balance in the newsletter: fun stuff like terrible jokes and pictures from past events as well as parish information and prayer intentions.
The Golden Friends are the prayer anchors of the parish!
Joe: Oh, I don't know about that, but we do get prayer requests, and I put it out there to the group. Maybe they pray along too, even if they don't reply.
Toni: Well, our doctor passed away, and we prayed for him. And Joe's friend, who was a Vietnam vet, passed.  We prayed for him, and on a powerful level, we feel united in prayer this way. We do get some prayer intentions when people are sick.
You haven't had a Golden Friends Mass and Lunch since the pandemic began. Have you made movements toward resuming?
Joe: We see a "phased" re-entry to our social events, as more of us get vaccinated.  Maybe outdoor events, especially as the weather is warmer.  Then perhaps slowly we can resume to something like the way things were before.
We're excited to announce that  Friday, April 30th at 10:30 am will be our first returning Golden Friends Mass inside the Church. It will be great to see everyone in person again.
Understanding that some may still not feel comfortable yet reentering socially, I am going to make sure to include in the next newsletter the Park&Listen option, where people can stay in the car and tune in to 87.9 FM to listen to Mass.  It's a nice way to ease back into proximity yet still feeling comfortable.
That will be nice to see faces again.  The pandemic has caused many of us to think "outside of the box". What new ideas are the Golden Friends looking toward?
Mary P: Once most of us are vaccinated, we would like to get back to art classes with Monique Makepeace, maybe outside in the Courtyard. Art in the Open Air!
MaryAnn: And we can make bag lunches instead of catered meals like we used to. Art in the beautiful courtyard and a lunch kit.
Mary P: I'd also like to see events that help connect the younger generations with the Golden Friends.  Like a walking rosary group once a week, where teens or young adults could walk with us. Maybe just start by walking around the church and school property.
MaryAnn: And those who are not physically abled, maybe some volunteers can join to push them in their wheelchairs. We all enjoy when the youth visit with us.
Suzanne: We're just ready to get back! Mary had an idea to deliver "May Day" flower baskets on the Golden Friends' doorsteps.
Mary P: Yeah, it would be easy! Just drop off flowers, ring the doorbell and run! Maybe get some of our youth groups and scout groups to help us.
Joe: We are also thinking about maybe forming small discussion groups at homes, maybe in back yard yards.
I love all the positive forward thinking! What do Golden Friends need from the greater St Michael community?
Suzanne: We just want to welcome more people to the Golden Friends, even if they are not "Golden" yet, but it's a great place to be of service
Joe: You know, there are those who join us to receive, and those who join us to serve.  It's a great opportunity to connect and build community across generations to meet both of those needs. And everyone will be "Golden" sometime!
Dare I say it is a GOLDEN opportunity?
Mary: Ha! Yes.
Thank you for taking time to share today. All your members are in our prayers, and we look forward soon to ways to sign up to serve the Golden Friends!
All: Thank you too! See you soon! Bye!
If you are interested in joining Golden Friends – as a member or as a helper – please see the form here
Here's a flashback of fun times at Golden Friends from April 2019
 
DO YOU HAVE A #SacredStory TO SHARE?
Contact Tina Gregory, Communication and Adult Enrichment Coordinator at St Michael Catholic Church at TinaGregory@StMichaelLivermore.com or 925-667-4051