August 17, 2021 - 10:36am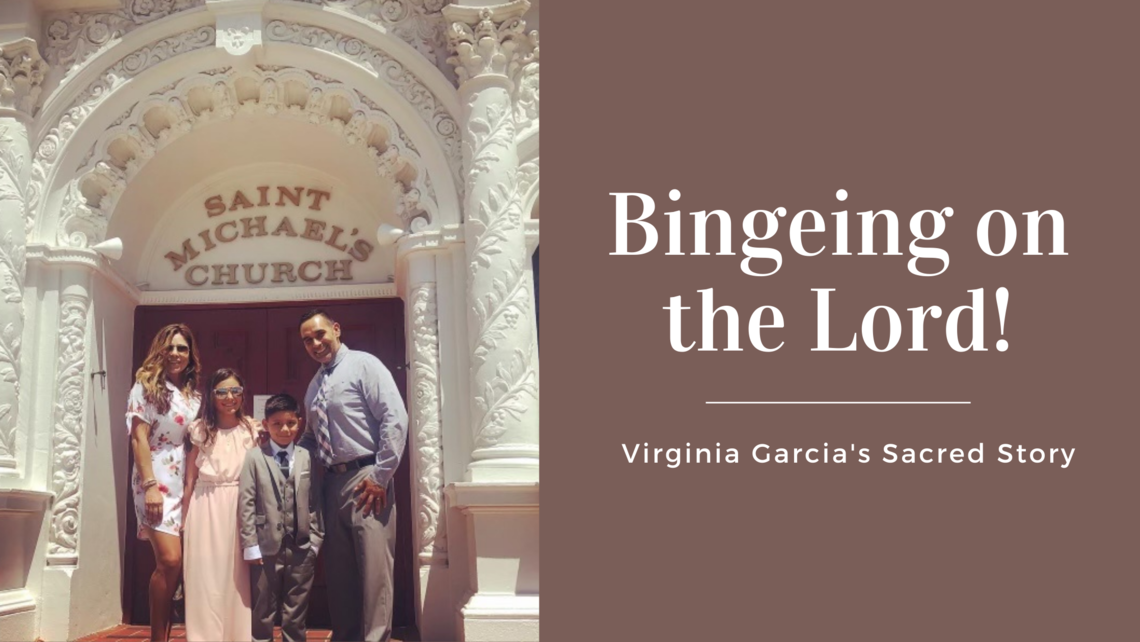 Virginia Garcia's Sacred Story
During the pandemic, Virginia Garcia had a lot of time on her hands.
Rather than binge Netflix, she decided to start listening to Catholic podcasts. She is now stronger in the faith, and hungry for more!
Here's her Sacred Story:
Thank you for agreeing to share your story! So, you were always a devout Catholic?
I think, as I've gotten older, I've gotten more devout. But yes, I'm cradle Catholic and I grew up in Maderia. Throughout most of life I went to Mass every Sunday and holy days. It was always important.  Growing up, I remember going with my family to rosary vigils at night too, and that was always special. Spanish is my first language, and even now still Spanish at home, and I think Spanish is my spiritual language too. So yeah, I'm from a big Catholic family: I am the 10th of the 11 children!  My mom always said that she would have as many children as God would give her.
So, you're more devout now than you were before. What changed?
Ha! Well, I think LIFE happened, you know? In my 20s, living in San Jose, and for a while I was like, "I don't feel like I need to go to Mass, because I just pray to God. I'll talk to God on my own."  That seems like a typical 20's thing to do, right?  But then my husband and I got married in 2006, we moved to Livermore and then we started going to St Michael's more regularly. But I didn't become involved in the parish.  Then fast forward to the pandemic!
The pandemic meant changes everywhere! For the better for you?
Actually, yes! I mean I was not stressed about the pandemic. Because of my faith in God, I know that He's got it all under control. But it was just that I was home. And I'm like, well, what else am I going to do?  I mean I tried to watch Tiger King on Netflix, but oh my gosh.  I just couldn't! [laughing]. Oh, don't get me wrong, I do have my TV vices! I like the Real Housewives of Beverly Hills! But I felt really called to use the time on something that would enlighten me. You know, bring me closer to God.
So, you started bingeing on the Lord?
Ha! That is one way to put it, yes! I started reading the Bible more, and I started taking notes in this little binder that I have.  I also started listening to podcasts like Catholic Truth Podcast with Bryan Mercier. He's really good about explaining the Catholic faith. I also really like the Godsplaining Podcast with the Dominican Friars.  Oh, then I started following Ascension Presents on Instagram, which lead to Bible in a Year with Fr Mike Schmitz and also his homily podcast.  Then I joined the Unlocking the Mystery of the Bible study group online here at St Michael's, which was awesome.  It's all just been so amazing.
How was the Bible Study class for you?
It was amazing because I started really retaining the information. I was actually able to enter the discussions or debates. Sharing and hearing other people's stories just brought study to a new level. Jeff Cavins system for understanding the Bible is outstanding.  I realized that the academic study is one part. Prayer is another part.  But discussing matters of faith with other people, that community part, is something that was missing for me.
What other Scripture study are you bingeing?
I think that simply understanding the Sunday Mass Readings is an overlooked kind of Bible Study. I really like Fr Mike Schmitz' homily podcast, because he puts it all together in context.  He helps you make the connections between the Old Testament readings and the Gospel. I mean, I've read the Bible, but I really need someone to help me unpack it, so that I can understand it better. And the Church decided to group these readings together in one Mass for a reason, right?  Really digging in to how the Old Testament foreshadows Jesus has really opened up the Mass for me like never before.
And it helps with your daily life?
Oh my goodness, yes.  It doesn't matter how many times I read or hear certain gospels, honestly, every single time it has a different meaning for me. It's just because of what's going on around me in my life at that point.  It always amazes me! Like God knew exactly what I needed to hear. I can't be the only person who thinks this!  I don't know how else to describe it… it's just the most wonderful feeling.
In addition to study, service is important to you too?
I always used to volunteer when I was younger: suicide and crisis centers, soup kitchens and the like. I strongly feel the need to give back.  Now I'm enjoying volunteering with St Michael Community Care, especially with my kids.  I think it is important that they know that not everyone is as fortunate as they are, and that this is what we do as Christians. In the future I'd really love to be involved with Vacation Bible Camp or anything with kids and teens. I think that's really where my heart is and where God is leading me.
It seems like you are doing so much! What keeps you going?
Staying focused on God's purpose for me absolutely keeps me going.  I'm always praying, "What do you want for me? What do you want me to do next?"  You know, there is a reason each of us is here in this moment, and He never has led me wrong. I mean I think God has to dumb it way down and repeat a lot! I feel like he's guiding me toward something. I'm still not 100% sure, and I don't know if I ever will be, but I just keep trusting.  I just keep praying, "What do you want me to do?"
How has your renewed spirituality effected your family?
Great, I think! My kids are now students at St Michael School, and they are really loving it. We're at Mass every Sunday, so they know that this is extremely important, and God comes first. And it has only enriched their lives and our connection as a family. They come home and say things like, "Today I learned this about God," and sometimes they tell me things that I need to know too! They'll be in sixth grade, and fourth grade. And I'm starting a new position at St. Michael School as a teacher's aide part time! My husband, David, is a firefighter, so he's busy a lot. But I share with him what the latest thing I learned from my podcasts, and he enjoys it too.  I guess the whole family's bingeing on the Lord!
You are so full of joy and passion! Thank you for your time!
You are welcome! We are usually at the Sunday 9:30 am Mass, so if you see us, say hi!