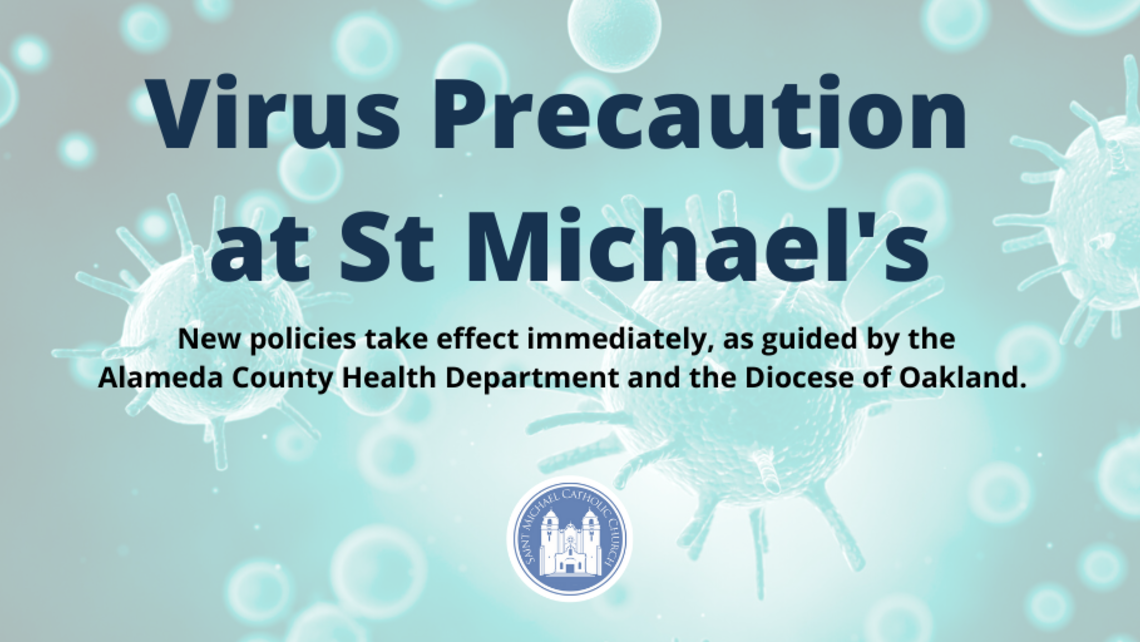 Recommendations and New Policies
UPDATE: March 24, 2020
FAQ During COVID 19 Shelter in Place 
What about Masses?   
All public Masses have been suspended until further notice.  
Is there a livestream of Mass?
Yes! Join us on Facebook for daily Mass at 6:45 am in English and Sundays at 9:30 am in English and 12:30 pm in Spanish.

Will there be confessions offered? 
Our regular confession format has been suspended at this time.  However, our clergy is offering "Drive Up Confession" every day, 11:00 am - 12:00 pm (Bilingual) 3:00 pm - 4:00 pm (English). Only one occupant per car during confession. If you have passengers, they must step out briefly while one person confesses at a time. Drive up to the courtyard driveway and remain in your car.  A priest will keep a 6-foot distance from your car window to hear your Confession and absolve you. 

What about receiving the Sacrament of Anointing of the Sick?  
Anointing of the Sick will be strictly for those in danger of death. The emergency number for the sick and dying is 925-521-4117. 

What about baptisms?  
Baptisms are still possible based on pastoral urgency.  

What about funerals?  
Please call Holy Angels Catholic Funeral and Cemetery Services at 925-455-9696 or Callaghan Mortuary at 925- 447-2942. They will walk you through all the necessary decisions during this difficult time. They will be in contact with St Michael's parish office. 
 
What about ministry to the sick and homebound?  
In compliance with the Shelter in Place order from Alameda County, ordinary in-person visits to the sick and homebound have stopped for the duration of this emergency.  
How can I continue to support our parish offertory if all our Masses are being canceled?  
May God bless you for your generous planning! You have three options to continue your offertory.
Option #1: Mail in your weekly offertory to St. Michael Catholic Parish, 458 Maple Street, Livermore, CA 94550.  
Option #2: Make donations online through FaithDirect
Option #3:  Drop off your donation envelope (cash or checks) in the secure mailbox located on the door just past the St Michael statue. 

What is Parking Lot Benediction? 
Parking Lot Benediction is an innovative way to come together – safely in our individual cars – and be gazed upon by Jesus, present in the Eucharist.  It is offered twice every day at 8:30 am and 6:00 pm. If raining, please drive through the courtyard driveway. A priest with the Blessed Sacrament will be positioned under a canopy for you to adore as you slowly drive by.
Park in St Michael's parking lot and remain in your car. Our clergy will process with Jesus present in the Eucharist and pass by your car.  While in your car, pray this prayer three times:  
O Sacrament most Holy, O Sacrament Divine, All praise and all thanksgiving, Be every moment Thine.  
Is the Church open for private prayer? 
Yes, the Church is open every day, 6:00 am – 12:00 pm and 2:00 pm to 6:00 pm and is a quiet and peaceful place to be with our Lord present in the tabernacle. Please remain 6 feet from others and follow all the health guidelines. The Church will be professionally cleaned during the break each day. 
Is the Church Office Open? 
The parish administrative office will be available to assist you remotely only:
Via Live Chat: on Facebook or on the home page of StMichaelLivermore.com 
Email:  Office@StMichaelLivermore.com
Phone: 925-447-1585