January 11, 2022 - 10:19am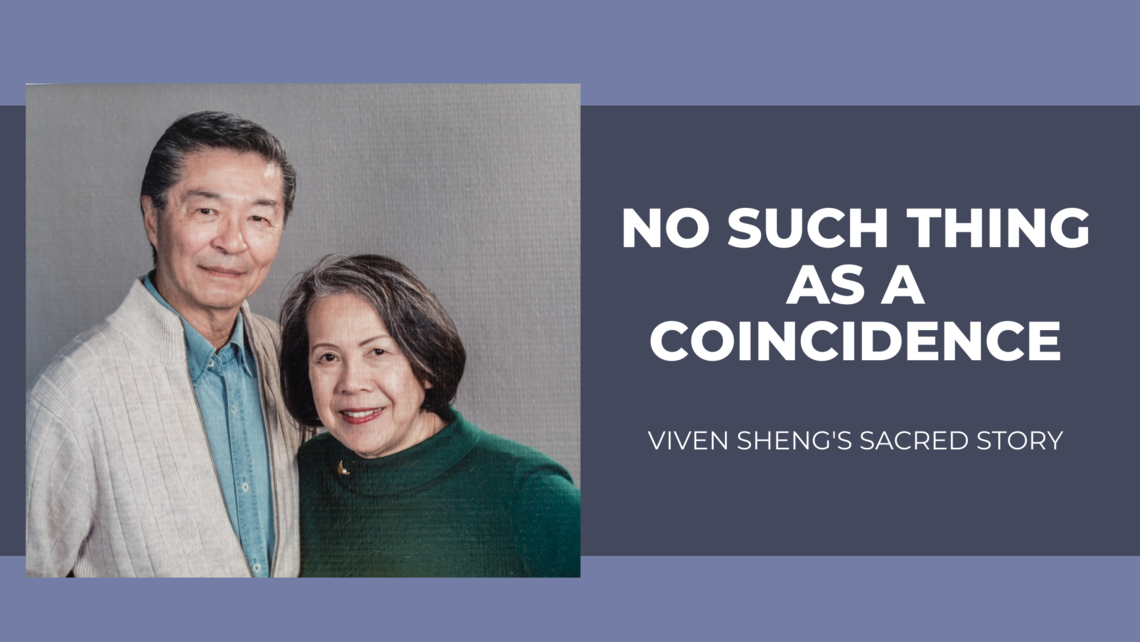 Vivien Sheng's Sacred Story
Vivien Sheng learned a while ago that there is no such thing as coincidence.
Rather, she discovered that the Lord speaks to us through these little seemingly random moments. It was through these encounters that she grabbed onto His lifeline to pull her out of a deep sense of despair and found herself awestruck by God's immense love. Here's her Sacred Story: 
Where did you start out? 
I was born in Shanghai, China. My parents moved us to Hong Kong when the Communists took over in 1950. My parents were not Christians, but they sent my sister and me to Catholic school because it was the best education. St. Rose of Lima and Mary Knoll were my schools, and I was baptized in junior high. I will be forever grateful for the foundation received by the Catholic nuns.  
Then I came over to the United States in the 1960s, and kind of fell away. You know how America was in the sixties, and I was in my twenties. I stopped going to Mass, stopped praying the rosary. I just left the faith.  But when I got married and we had our daughter, that's when we decided that we should get back. Even then, though, it was like we were living in two worlds: we would go to Mass, but then go about our lives.  God was not at the center.  
What was the turning point? 
It was the sheer grace from God bestowed on me in my late 40s.  It happened during a very dark and painful time in my life when I was in the midst of a bitter family feud. It was so overwhelming that it even threatened my marriage. I found myself unable to forgive, and "forgive us our trespasses as we forgive those who trespass against us" made praying the Our Father difficult. It was in this state of despair with no hope and relief in sight that God sent a stranger into my life. 
A stranger? What did they do? 
Well, I attended an evening Mass on All Souls' Day, where a couple talked about the healing powers of the Rosary. I listened with interest. I hadn't prayed the Rosary for years. I asked the priest in the vestibule where I could get a rosary. He suggested coming back when the bookstore opened in the morning. Just then, the wife of the couple that gave the talk approached me and handed me a beautiful blue crystal Rosary. She said it was from a Marian shrine in Europe and that it had been blessed. At first, I said, "No, this is too precious of a gift. I cannot take it." But she insisted that I have it. So, I accepted it and went home and put it in a drawer. I didn't start praying the Rosary until 6 months later. 
What made you pray the rosary 6 months later? 
Well, my best girlfriend told me there is this book on this place in Europe, a shrine. She said that she wanted me to read it. It turns out that the shrine in the book was the same shrine where the rosary was from! I read the book, from beginning to end.  
No such thing as a coincidence, right? 
No, not at all.  I took it as a message, an invitation to conversion. I went to Confession, and daily Mass. I started praying the rosary and fasting on bread and water alone on Wednesdays and Fridays.  The Lord was giving me a beautiful lifeline.  I decided to hold on to it.  
Did things start to change for you? 
Oh yes. Things started changing in the most amazing way. I just felt God's loving presence all around me. I was awestruck, because why would God address my problem, out of all the billions of people. I was touched to the core to think that I am important to Him.   
And things improved in your family? 
Yes. My husband and I went to retreats and joined faith groups. We went to Marriage Encounter.  All these things were new and wonderful, and we were so captivated.  Everything about our lives improved, and there was peace again. And from then on, any time there was a difficulty or a decision to make, we prayed about it, and the Lord always answered. Usually, it was in the little coincidences that we heard God's voice. The trick is to tune in to it, so you can hear.  
It's about trust, then, isn't it? 
Exactly. A saying that we have adopted in our family is "just go with the flow!" We try to not have an agenda for the day, or at least be consciously open to listening for the Lord's voice. It really is kind of very amazing. No two days are the same. Even though we are now retired, and it seems like our life is rather mundane, no two days are the same. When you go with God's flow and manage everything that comes your way with great attention to what would be pleasing to God, there is tremendous peace. 
What advice do you have for someone reading this who may be in a dark place of despair? 
Just know that God loves you and is seeking you.  Open your eyes and tune in to the little coincidences.  There's no coincidence in life! The love God has for you is so profound. He wants the absolute best for you. 
I remember one time when my husband was working in Gloucester, and I was alone, feeling sorry for myself. I was making dinner for myself and all of a sudden, the thought came into my head was that Jesus said, "Whoever that loves me and follows my command, my father and I will come to him and dine with him." I thought, "Oh, this is a lovely thought."  I went to turn on my radio to a Christian channel, and you know the first thing I heard? That exact verse! I remember just laughing and feeling like I was having a feast with the Trinity!  This is how God is to us.  
Lastly, I cannot encourage you enough to pray the rosary, pray the rosary, pray the rosary!  No one knows Jesus better than His mother, and it is her delight to bring you to Him. The power of the Rosary is tremendous. It is such a beautiful gift of the Catholic Church.  
Thank you, Vivien, for your steadfast faith. You are an inspiration! 
You are very welcome. I owe it all to God!