January 27, 2020 - 3:49pm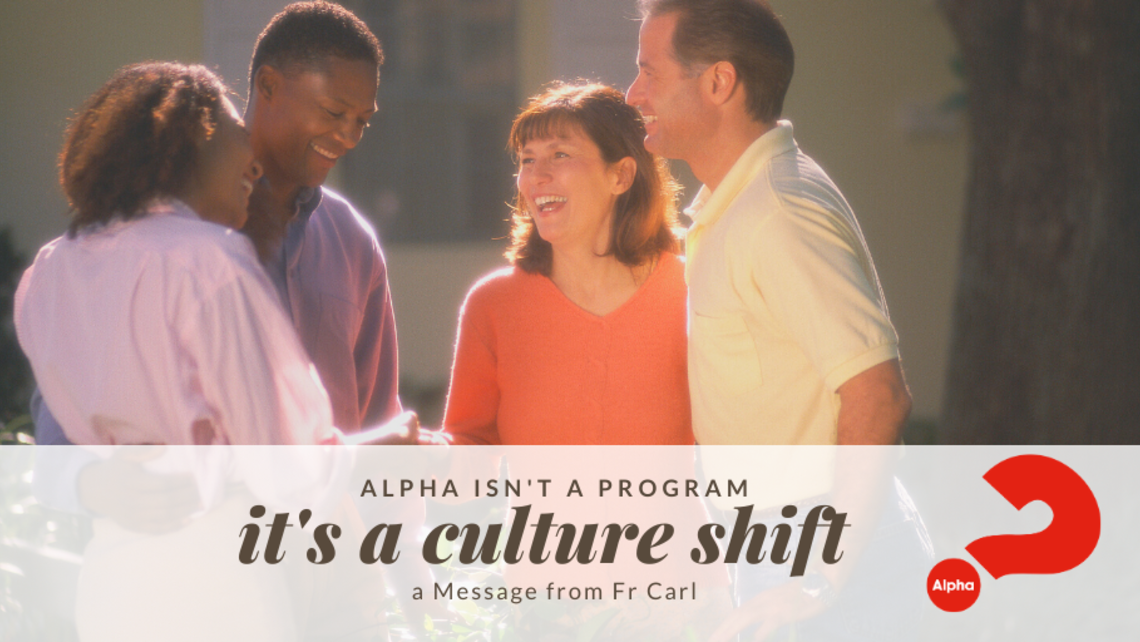 Matthew Kelly, motivational speaker, author and founder of the Dynamic Catholic Institute, is fond of saying, "Our Lives Change When Our Habits Change." 
Similarly, we can also say that "Our Parish Changes When Our Habits Change".  And habits, repeated consistently by a significant number of people, change a culture.
What culture exists at St. Michael? As we can observe, we are strong in the culture of prayer, traditional devotions and the celebration of the sacraments. We are also improving in the culture of catechesis, as seen in our faith formation and enrichment opportunities for children, teens and adults.
However, there is one big challenge and opportunity for growth:  Evangelization.
Every one of us at St Michael's can do better at inviting others into our community and into a relationship with Jesus.  How often have we extended an invitation to loved ones, friends and acquaintances to be active in their Christian faith and greater involvement in the church? Tragically, there are countless number of people right here in Livermore who may be waiting for an invitation to explore the faith, and we haven't reached out to them.  St Michael family, the mission of the Church is to form missionary disciples. It is our reason for existing as a parish community. This is where we need the most improvement.
Let me be clear that evangelization is not the same thing as catechesis.  Catechetical programs explain and teach the details of our faith as seen in RCIA, Sacrament preparation classes, guest speakers and faith studies.  Catechesis is obviously a very important ministry. However, one can only effectively catechize to people who have already heard the good news – the kerygma.  Evangelization leads people toward the desire to know more.  Therefore, catechesis comes AFTER evangelization.
Alpha meets people at the evangelization stage of their journey, often before they are ready to hear all the teaching of the faith.  It is designed to embrace radical hospitality, a welcoming culture based upon the very deeds of Jesus who welcomed sinners, strangers, outcasts into His community. At Alpha, we invite guests to a no-pressure, informal dinner.  Then we watch an engaging video on the basics of Christianity, followed by time to share thoughts with a small group.  We treat all guests with respect, honoring wherever they are in the spiritual path, fiercely trusting that the Holy Spirit does the job of transforming hearts.
Some guests at Alpha are already Christian or are practicing Catholics.  But often Christians and Catholics know "about" Jesus, but don't "know" Jesus.  Also, there are many parishioners who just come to Mass on Sunday and do not have a smaller community of friends.  Alpha is the perfect place for people in these situations, to experience community and encounter Jesus in maybe a new way.
Hence, Alpha is not a program. It is a means to cultivating a parish-wide culture of hospitality, inviting people outside our community to the inside.


How can we become part of Alpha?

1. Invite friends and family members who don't know Jesus, have been away from the church or who are looking to feel better connected in a small group to come to Alpha.

2. Sign up to volunteer on a Monday to set up and greet, wash dishes or clean up.
3. Join me every Monday at 5 pm in the Chapel for a Holy Hour for our Alpha guests.

4. Make a financial contribution to help offset the cost of hosting eleven dinners.

Our goal is for St Michael's to be the place where anyone can feel at home, feel loved and have a chance to explore the faith. Thank you for joining the process of shifting our culture.
May God bless you and your families.
Fr Carl