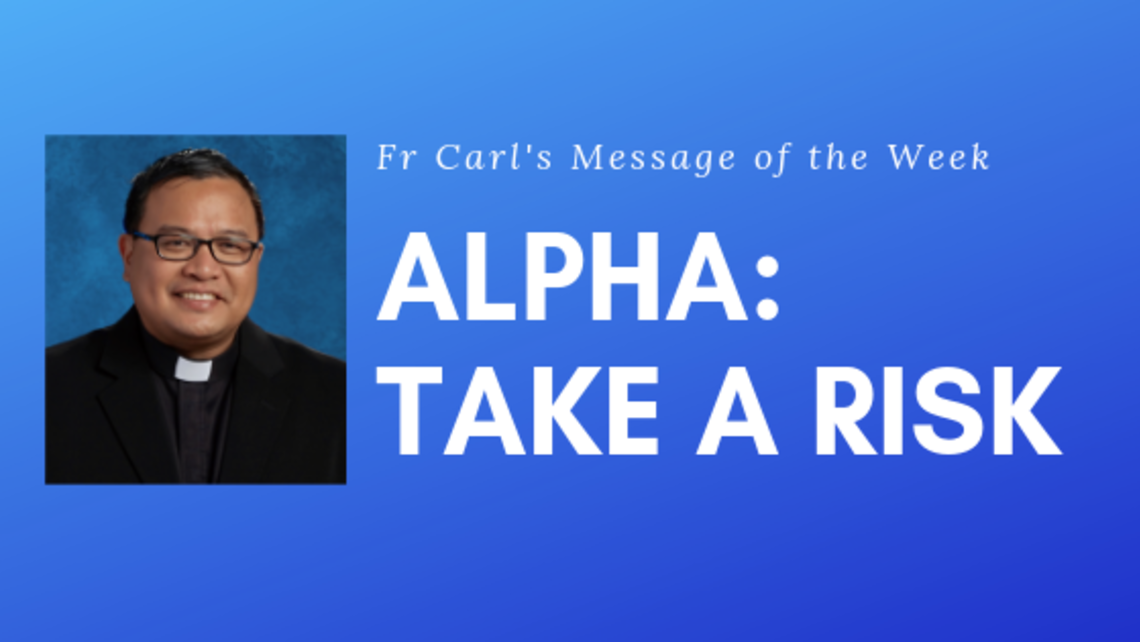 Fr Carl's Message of the Week
Someone once said that the way you spell "faith" is R-I-S-K. 
It's a vulnerable thing in our day and age to talk to someone about faith.  They might laugh at us.  They might think we are weird or one of "those strange religious freaks". Many of us were taught to never bring up politics or religion, because it is considered in poor taste.  However, as your pastor, I'm asking you to take a risk, to follow the prompting of the Holy Spirit to invite someone to the Alpha dinner on Monday, September 9 at 6:30 pm in the Hall here at St Michael's or Sunday, September 8 at 5:00 pm at St Charles.  That's it!  They may say no.  That doesn't matter.  We measure success by how many we invite, not by how many agree to come.  You get a free meal too! 
Who is Alpha for?   
Alpha is designed for someone who doesn't identify as a Christian or as a religious person.  It's for someone who may be frustrated by the seemingly pointlessness of life.  It's for someone who is struggling to find balance and peace in their life but can't seem to find it.  It's for someone looking for a place to meet new friends and talk about meaningful topics. 
Alpha is also for Catholics and other Christians who may have been raised in the faith, received Sacraments, but never really allowed Jesus to enter their hearts and are not living Christian lives.  It's for those who might come to Mass on Christmas and Easter because "that's what you do" but never fell in love with the Lord.  It's for those who were raised in the faith, but never got the point and drifted away. 
How to invite someone to Alpha? 
Firstly, pray about it.  Spend time in the Adoration Chapel or in your favorite quiet prayer space, asking the Lord to guide you.  If you recently Consecrated yourself to Jesus Through Mary, offer a rosary asking Our Lady to guide you.  Ask to be shown who to invite.  Listen. 
Secondly, pick up a few invitation postcards outside in the Courtyard after Mass or in the church office.  It has all the information to give to the person you're inviting.  You can also share this link:
StMichaelLivermore.com/Alpha for details.  Pray some more for courage! 
To get you started, here are some ideas of how you might phrase your invitation: 
Are you free on Monday, September 9?  Alpha has free food, an interesting talk & honest conversation. Will you join me? 
I'm going to check out this free Alpha dinner and conversation thing. Would you come with me? 
You mentioned that you were really struggling with_____.  What do you think about coming with me on Monday, September 9 for dinner and an interesting talk? 
It seems like you wonder if there's more to life than this. There's a dinner party where people are gathering to have a conversation about it. Think we should go? 
Lastly, get comfortable with "no".  No one likes being told "no", especially when it's to an invitation! However, getting the "yes" is God's job.  Just remember this: God is already working on the person, long before you invite them.  Maybe the person needs to be invited 20 times, and you're only the first!  Trust in God.  Don't be discouraged by "no". 
Thank you for taking a R-I-S-K for someone whom Jesus thinks is worth dying for! 
Who will you invite? 
Fr Carl 
Pastor